Employer Project with Alibaba
Project Title
Alibaba GET Employer Project
Programme
Bachelor of Business
The Issue
SMEs from the Alibaba Ecosystem collaborated with INTI International University to help them solve their Alibaba account problems. 50 participating students solved marketing and branding related problems and learned how to improve an Alibaba account for an SME, despite not knowing how to handle the Alibaba online platform.
The Outcome
Students successfully improved traffic for the employer Alibaba account, while solving marketing and branding issues.
Key Learnings from the Participation
Students learned how to operate and improve an Alibaba account for an employer. They also learned how to solve marketing and branding problems, how to pitch ideas, and how to work as a team.Students learned how to operate and improve an Alibaba account for an employer. They also learned how to solve marketing and branding problems, how to pitch ideas, and how to work as a team.
Employer Project with Maybank
Project Title
Making Maybank the Employer of Choice
Programme
Diploma in Business
The Issue
180 INTI students from the HRM2100 (Fundamentals of Human resource Management) had the privilege of collaborating with Maybank, in an employer project called, "Making Maybank the Employer of Choice". The objective of this project was to recommend practical and relevant practices, in the areas of Employer Branding through the Engagement Programme and College Recruiting for Maybank.
The Outcome
10 teams presented their research outcomes in the form of presentations, several short videos, and also submitted a hardcopy of their presentation slides for grading purposes.
Maybank were impressed with the students' presentations and research findings, as they were creative in their ideas, especially the team who came up with the Snapchat idea.
Employer Project with AirAsia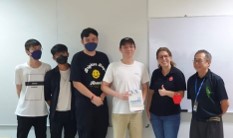 Project Title
Case Study Challenge
Programme
Bachelor of Business in collaboration with Swinburne University of Technology, Australia
The Brief
AirAsia presented students with a captivating case study that required a comprehensive analysis in strategic management, marketing, operations, and finance. Teams were assigned the task of presenting their well-researched and innovative recommendations in under 15 minutes to the executives of AirAsia. The competition served as a showcase for the students' exceptional analytical abilities and problem-solving skills.
The Outcome
The INTI team showcased a profound grasp of the task, securing their victory as champions. The case study provided students with exposure to real-world issues, highlighting their prowess in both creative and analytical thinking.
Employer Project with Digi
Project Title
Excelling in Sales & Marketing, A Challenge with DiGi
Course
Finance & Accounting
14 students from the 3+0 BA (Hons) in Accounting & Finance in collaboration with the University of Hertfordshire, UK programme were given the opportunity of a lifetime to collaborate with DiGi, one of the top telecommunications companies in the country.The team of students were assigned to an employer project that involved strategic planning and execution of the sales and marketing plans for the DiGi Store. After various challenges and training on the services offered by these chain of stores nationwide, the ultimate project finale came in the form of a one-day Group Sales Challenge.
The Project Brief
Before the students could start working on their project, they attended a number of sales training workshops which were conducted by DiGi representatives to ensure that they had the fundamental knowledge of Digi's line of products and services, and understood the effective sales methods used in approaching new customers. The students were divided into smaller groups to complete the various tasks that would eventually lead them to the final challenge – setting up a booth on campus to promote DiGi's products and services to fellow students with a seed fund of RM1200.
The Real Test
In addition to the technical expertise they gained, students also had the opportunity to practice important soft skills including communication, collaboration, creativity and critical thinking skills throughout the project. With DiGi's prime understanding of the student target market and sales approach, it was a significant opportunity for the students to have a taste of this real working experience. DiGi also put the students into situations faced by their own employees on a daily basis, empowering the students to think and develop solutions as young professionals would.
From on boarding exercises to training and work placements by DiGi, the students took on various roles and produced industrystandard sales and marketing plans, which included a proper financial analysis surrounding forecasting, budgeting and balancing of financial statements – all leading up to their final challenge.
Cultivating a Holistic Experience
By exposing these students to industry experiences which take them beyond their classrooms, they gained practical insights into how accountants in established organisations work together with other teams to understand all of the essential aspects and components of the business, including sales and marketing.
At the end of the challenge, the top three winning groups were rewarded with cash prizes as recognition for their sales strategy and hard work. By adapting the knowledge they had learned in the classroom to a real business issue, students were able to broaden their practical experiences in adapting to the working world.
Once-in-a-lifetime Opportunities
Apart from honing their soft skills, the collaboration with DiGi also proved to be a great confidence booster for these students as they shared their views, disputed certain ideas and eventually came together to build an effective strategy for their team. Furthermore, working in diverse groups of local and international students, they learned to understand and embrace cultural uniqueness, while keeping the group members' creative juices flowing to develop an impactful plan in the long run.