INTI International University & Colleges is partnering with IBM Malaysia to introduce the IBM Innovation Center for Education (ICE) program – the first ever program of its kind to be integrated into curriculum.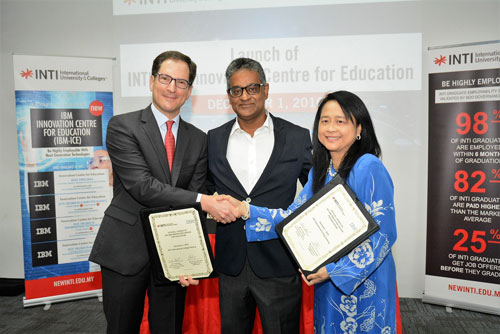 (From L-R) Mr. Tim Bulow, Mr Gopi Ganesalingam, Vice President, Enterprise Development Consulting, MDEC, and Chong Chye Neo.
Taught by IBM certified experts, IBM ICE is a series of Undergraduate Programs and Academic courses for the Computing & IT and Business verticals. The Undergraduate Programs include:
IBM ICE to complement BBUS in meeting employers' demands
Earlier in October, INTI announced the findings of its landmark survey called the "Dichotomy of expectations among employers and new graduates" which revealed several gaps in expectations between employers and new graduates in terms of competency deemed essential to excel at a job. The most pressing dichotomy in expectations concerned digital literacy, where 30% of employers regarded it as the most essential competency needed for job performance. Meanwhile, most graduates rated it as the least important competency at only 4%.
To further complement the newly launched Bachelor of Business (Hons) (BBUS) and INTI's existing Diploma in Business and Diploma in Accounting, a selection of the IBM ICE program courses will replace current subjects to help students meet the current and future needs of an increasingly digitized business field.
In the Diploma in Business and Diploma in Accounting, IBM courses such as Introduction to Business Analytics and Statistics for Management will replace the Principle of IT and Quantitative Methods for Business subjects respectively.
Other IBM courses embedded into BBUS include courses on Business Analytics, IT Infrastructure Landscape, Data Mining and Predictive Analytics, Data Warehouse and Multidimensional modeling, Social, Web and Mobile Analytics, Big Data Analytics, Web programming through PHP Cloud Computing and Mobile Apps Development using Android.
The focus on digital literacy from Year one in Diploma itself will ensure that students are equipped for lifelong learning and are able to establish their careers right from the start.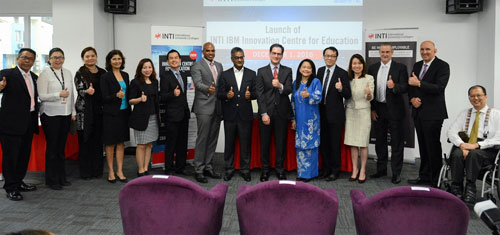 IBM & INTI representatives at the launch.
IBM ICE to tackle Malaysia's IT talent shortage
Malaysia's rapid expansion of regional IT hubs in recent years has engendered an acute demand for talent in key positions, particularly in the field of big data, cloud services, and social computing.
A study commissioned by Malaysian Digital Economy Corporation (MDeC) echoes the gap, noting that Malaysia needs more Big Data and Analytics (BDA) professionals to maintain a global competitive edge . The severity of the situation is made clearer when we factor in Malaysia's goal to raise 2,000 data scientists and 16,000 data professionals by 2020. Currently, there are only 300 data scientists in Malaysia – both local and foreign .
Recognizing the urgency to fill the IT profession gap in Malaysia as well as the potential of the Malaysian younger generation to helm the field, the IBM ICE program also offers a series of Undergraduate Programs and Academic courses in IT which are aligned with the industry's needs as well as IBM's vision for the future of the IT field. The core focus of the program includes cloud computing as well as big data and analytics. It also addresses the rising centrality of mobile computing, security, and social computing.
Tim Bulow, CEO of INTI International University & Colleges said, "As a progressive mover in higher education, INTI is taking the initiative to address the IT talent void that is confronting Malaysia. Given the dire situation, we have activated a solution we think most effective, which is to collaborate with an industry leader like IBM in delivering the most updated and industry-relevant education to our students – equipping them with cutting-edge skills that will prepare them to not only bridge the gap in IT expertise but to be a leader in the field."
"IBM has also been actively involved as a member of INTI's Industry Advisory Board, lending their professional expertise to ensure our curriculum continues to meet market expectations. With their support and that of over 400 industry partners, we have recorded incredible graduate employability outcomes which has been validated by BDO Governance Advisory. This includes the fact that 98% of INTI graduates securing jobs within six months of graduation, 82% receiving higher salaries than the market average and 25% receiving job offers even before they graduate."
Also speaking at the launch, Chong Chye Neo, Managing Director of IBM Malaysia said, "In a practice as dynamic as IT, it is imperative that students are updated with the latest knowledge and direction of the industry in order to continue in their abilities to be active contributors in the cognitive era. The ICE program is underscored with elements like the Subject Matter Experts sessions and the Teach the Teacher workshops to keep everyone industry-relevant."
"But more than producing industry-relevant graduates, the mission of IBM ICE is to equip the next generation of IT professionals to drive the future of the field by arming them with an education which is aligned with IBM's vision of the IT industry. Through our partnership with higher education institutions like INTI, we hope to generate graduates who are ready to hit the ground running be it at IBM, our clients or the industry," says Chong.
About the IBM ICE program
Devised in consultation with INTI and local industry experts, the IBM ICE program differentiates itself through a courseware developed by IBM Labs, its Learning Services Team, and several partners. The courseware is tailored according to the area of Specialization chosen, with the inclusion of links to reference materials, further study and Self-Assessment Questions. Upon completion of the IBM ICE courses students receive IBM badges and once they complete all the courses within the program, they receive an IBM Academic transcript.
The IBM ICE program includes guest lectures and webinars by Subject Matter Experts (SMEs) who will share the latest trade knowledge and updates with students. Incorporated as part of the Dynamic Paradigm courses to keep the curriculum current, the SME sessions are delivered to students in the form of guest lectures and webinars. Meanwhile, Teach the Teacher (T3) workshops are hosted to keep the faculty updated with the industry and to further equip them to deliver the curriculum effectively. Faculty members obtain T3 certification by completing tests which are designed to assess their understanding of the curriculum, before becoming IBM experts.
The INTI and IBM ICE program will be accepting enrolments starting January 2017 onwards.