Star-struck, wide eyed and hungry for knowledge – an apt description of INTI students Charmaine Sze Ka-Mei, 18 and Nur Azre Abdul Aziz, 24 who share a common experience participating in global events like WOBI on Leadership in Mexico and the World Business Forum in New York respectively.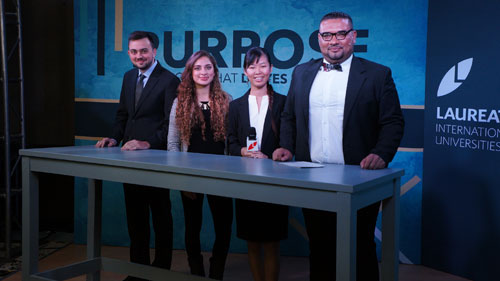 Charmaine (second from right) with fellow Laureate students backstage at WOBI on Leadership in Mexico City
Exclusively available to students within the Laureate International Universities network, the once in a lifetime opportunity offered Charmaine and Azre an all-expense paid trip to the host country of the respective events and networking opportunities to meet and greet some of today's world renowned subject matter experts over and beyond connecting with fellow students from other Laureate institutions around the globe.
A marketing undergraduate from the University of Wollongong programme at INTI, Charmaine Sze Ka-Mei, was the first to embark on the Laureate Live journey that landed her in Mexico back in June 2016 after having successfully gone through a rigorous round of auditions and selection process at INTI. Representing INTI as a participant of the WOBI on Leadership in Mexico City, the eye-opening experience was unlike any other for Charmaine who had the chance to listen to some of today's most prominent leaders, global speakers and business people.
With the likes of educationalist, Sir Ken Robinson, CEO of Futtera North America, Freya Williams and CEO of Imperative, Aaron Hurst, the event was a showstopper for Charmaine who also had the chance to not only meet but interviewed her idol, Tim Leberecht, a renowned expert in marketing and innovation in the workplace. She first heard of Tim Leberecht after having watched his TedTalks videos and was inspired by his thought provoking insights on how romance can revive the humanity that is slowly fading away in today's capitalist dominant society.
"Knowing Tim Leberecht was going to be a speaker at the forum was motivation for me to do my best to earn that spot to Mexico. When I found out I was selected, I was baffled and extremely excited for the adventure that awaited me. Being able to experience something of this scale as a student really changes something in you. You realize how truly important each person's role is to ensure success on all levels. I'm truly grateful to INTI and Laureate for such an amazing opportunity," shared Charmaine.
Budding entrepreneur and final year International Business and Management student from INTI's Northwood University programme, Nur Azre Abdul Aziz got her own unique experience when she traveled to the Big Apple to be a broadcast anchor at the World Business Forum in late October 2016 where she networked with some of today's world renowned entrepreneurs, business moguls and leaders. Nur Azre was only one of two broadcast anchors of the Laureate Live broadcast platform to engage with the likes of the world's premier and toughest brand building expert, Martin Lindstrom; social psychologist and Associate Professor of Harvard Business School, Amy Cuddy and world-renowned expert on macroeconomics, Dambisa Moyo among others.
Aptly themed Be-BETA, this year's forum focused on the notion of starting from smaller scale, smaller data, smaller experiments and taking learning as a process towards bigger innovations. Being a young entrepreneur with two startups under her belt and three more joint ventures which she supports, this year's forum was destined for the 24 year old who has constantly immersed herself in industry-related events hosted by INTI's Career Services Officer from the onset of her education journey at INTI.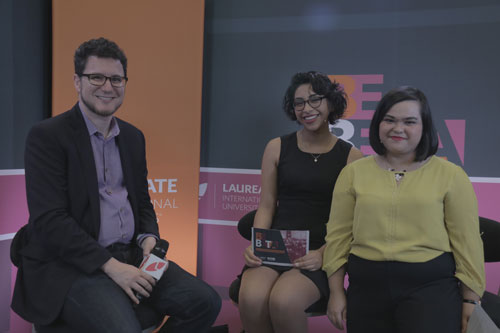 (right to left) Nur Azre with her fellow broadcast anchor, Ariana from Peru after interviewing her idol, Eric Ries
Being part of the event has helped launch her entrepreneurial endeavors internationally and further increased her understanding and knowledge of current trends in the market. Furthermore, Nur Azre was giddy with excitement to have met and interviewed her idol, Eric Ries, a world renowned entrepreneur and New York Times bestselling author of The Lean Startup, a book she says is a staple for any individual hoping to start their entrepreneurial journey.
"If I could sum up my experience at the World Business Forum in two words, it would be 'empowering' and 'refreshing'. Hearing these successful figures share how they started from humble beginnings with noble causes and are still fighting for what they believe in is truly the experience young entrepreneurs like myself need to hear. Beyond that, meeting fellow Laureate students from around the globe has taught me that although we are from different parts of the world, there is no denying that we all share similar visions and similar aspirations and I believe collaboration might just be the key to unlocking our potentials which will positively impact our societies and the world," shared Nur Azre.
Through its linkage with the Laureate International Universities network, INTI has the tremendous opportunity of sending its students, like Charmaine and Nur Azre, to global and exclusive events which are attended by public figures, business moguls, and social activists. INTI students have seen success over the years at being selected by Laureate to represent the institution at such prestigious events, making them ambassadors for both INTI and Laureate.
"INTI continues to provide its students with endless opportunities to engage in international initiatives and events which enhance students' industry experience and knowledge. Through initiatives like these, INTI students are able to stand out amongst their peers to get ahead in the working environment. Understanding the importance of graduate employability as the end goal for its students, INTI also works alongside over 400 industry partners to give INTI students insights and experiences needed to be industry ready and meet the growing demands of today's employers," share Tim Bulow, Chief Executive Officer of INTI International University and Colleges.
INTI's strong industry linkage has resulted in 98% of INTI graduates being employed within six months of graduation with 82% earning incomes higher than the market average and 25% of graduates receiving job offers even before they graduate.