From entrepreneurial competitions to leadership sharing sessions, as well as its own curation of the renowned TEDx series, INTI International University & Colleges' 30th anniversary celebrations centred on what it does best – empowering young minds. As part of its commemorative programmes this year, INTI sought to also recognise the exceptional achievements of its past students, and welcomed back some of its outstanding alumni for the annual INTI Homecoming celebrations, organised at INTI Subang.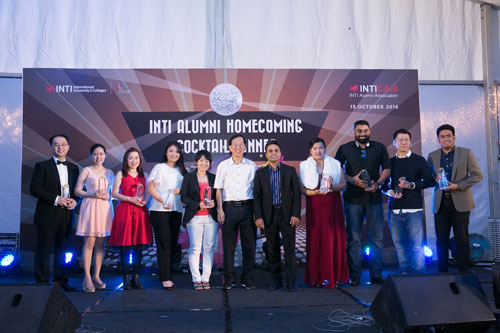 (From L-R) William Du, Petrina Goh, Dr Jane Lim (representing Wong Chiun Chiek), Samantha Kong, Ng Sock Khim, Tan Yew Sing, Co-Founder and Chairman of INTI International University & Colleges, Rohit Sharma, CEO of INTI International University & Colleges, Associate Professor Dr Leong Wai Yie, Ganeshkumar Karunagharan, Chiew Ruoh Peng and Rizmel Nazrin Abdul Malik after the presentation of INTI's Outstanding Alumni Awards.
Attended by Mr Tan Yew Sing and Dr Lee Fah Onn, the Co-Founders of INTI; as well as Rohit Sharma, INTI's Chief Executive Officer, the event honoured ten outstanding alumni from various graduating classes. Alumni were awarded across a number of categories including excellence in academics, entertainment, community service and entrepreneurship, and emphasised the diversity of skills and capabilities INTI's alumni have brought to both the Malaysian and international markets.
Mr Tan Yew Sing said, "It is an honour to welcome back a generation of established leaders and entrepreneurs from our past cohorts, who are now champions of change in their own industries. As part of our celebrations, we have shared the success stories of many of our alumni with our present students over the last 10 months, with the hope of encouraging them to realise their own potential and follow in the footsteps of these outstanding individuals."
Highlighting the significance of these awards, Mr Tan explains, "Beyond just a recognition for excellence, these awards reflect how far we have come as an institution. Being able to boast the quality and capabilities of so many of our graduates, and to proudly see them make their mark in the world is the driving force behind why we strive to be a champion of change in Malaysia's higher education. Offering our students every opportunity to realise their dreams is what we have strived to deliver over the last 30 years."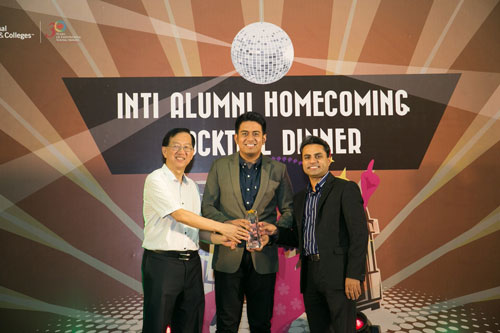 Winner for INTI's Outstanding Alumni Award for Youth Leadership, Rizmel Nazrin (middle) receiving the award from Tan Yew Sing (left) and Rohit Sharma (right).
Rohit Sharma, CEO of INTI added, "Collaborating with our alumni not only offers our present generation of INTI students the opportunity to learn from those who shared similar struggles as they do, but links them with some of the nation's leading game changers, be it in business, art, entrepreneurship, sport or technology. Bringing these exceptional individuals back to our campuses helps to connect our students with industry and gives them insights to the wealth of experiences they bring."
The awards were awarded across the following categories: Outstanding Alumni Award for Academic Excellence, awarded to IR Assoc Prof. Dr. Leong Wai Yie; Outstanding Alumni Award for Excellence in Arts and Media, awarded to Chiew Ruoh Peng; Outstanding Alumni Award for Excellence in Entertainment, awarded to GaneshKumar Karunagharan; Outstanding Alumni Award for Business Excellence, awarded to Wong Chiun Chiek; Outstanding Alumni Award for Community Service, awarded to Samantha Kong Wing Man; Outstanding Alumni Award for Sports Excellence, awarded to Ng Sock Khim;Outstanding Alumni Award for Youth Leadership, awarded to Rizmel Nazrin bin Dato Abdul Malik; Young Entrepreneur of the Year Award, awarded to Petrina Goh; and Entrepreneur of the Year Award, awarded to William Du.
The tenth award was presented earlier in October for INTI's Alumnus of the Year. The award was presented to Mr SY Lau, Senior Executive Vice President of Tencent and President of Online Media Group, China's most successful online media matrix.
INTI firmly believes in the importance of equipping its students with more than just an academic qualification. For many INTI alumni, their success does not only come from what they have learnt in the classroom, but also what they gained from the programmes, workshops and independent courses that moulded their interests and capabilities. Reflecting excellence in all things, the evening also saw a number of performances from INTI students and alumni, including Funk Connection, an upcoming local band headed by alumnus Calvin Chung; iChoir, INTI's in house student choir group; the INTI Dance Academy Club; and the INTI Concert Band, INTI's student brass orchestral group.
"This has been our commitment to students since our inception: to reinvent education to meet the dynamism and diversity of today's generation of learners. Through a series of additional programmes geared at helping our students grow their potential, which includes the industry related projects they carry out with these successful alumni, we continue to see our students excelling in the workplace, be it by 97% of INTI students securing jobs within 6 months of graduation, 16% securing jobs even before they graduate, and 78% receiving higher salaries than the market average.
As we ramp up to meet the expectations of future generations, the lessons and experiences we have gained from our close to 55,000 alumni over the last 30 years will help us to pave the way forward in offering an education that empowers our students to discover their true potential," concluded Sharma.