When deadly floods hit north-western Wisconsin in the United States of America in July 2016, little did Angelene Koid Sook Lee know that part of her daily technological pursuits in developing mission-critical two-way radios, had indeed helped to save a life! During that incident, when high levels of water swept away a vehicle from a demolished bridge, a deputy sheriff managed to escape and got his portable radio out of the water. The durable and careful construction of the radio – built to address exactly such situations – kept the unit transmitting, which enabled emergency crews to rescue him from a tree, a quarter of a mile from the washed-out bridge.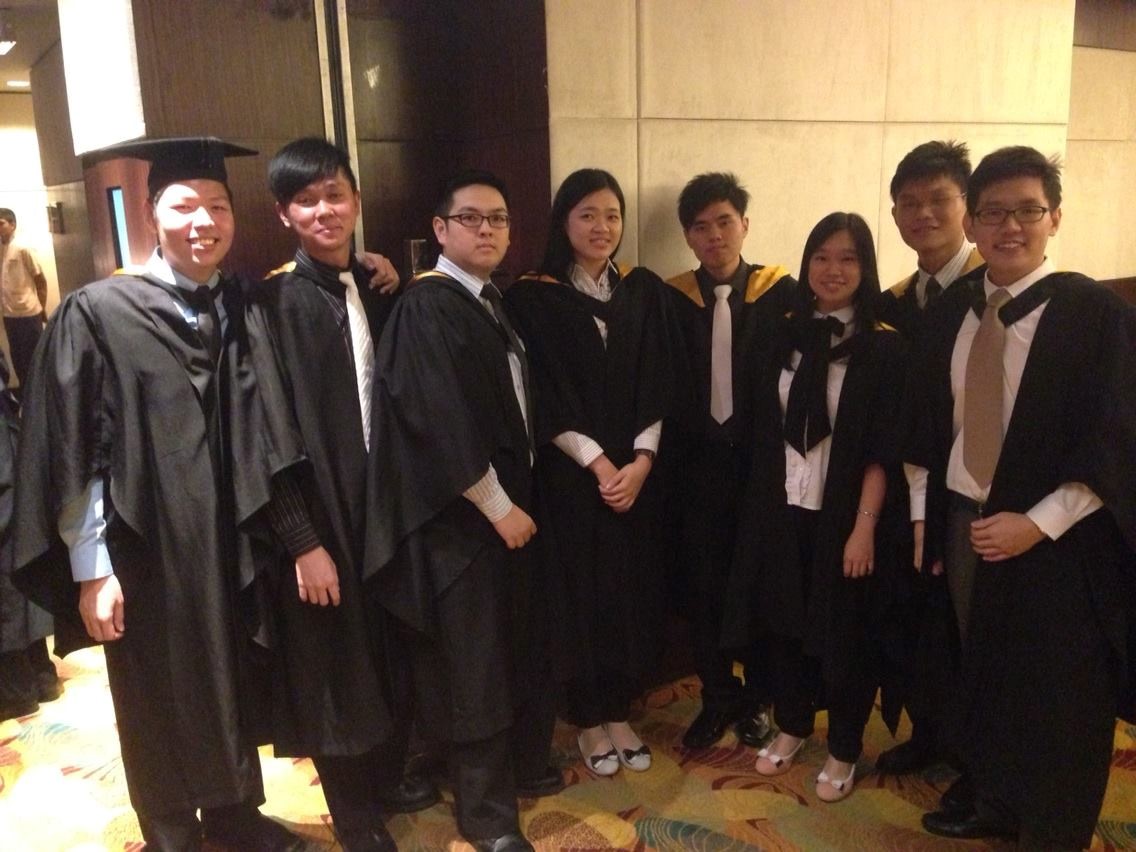 Angelene Koid Sook Lee (centre) poses with her coursemates during their graduation ceremony for the Diploma in Microelectronic Engineering programme in 2011.
"While people often refer to these devices as 'walkie-talkies', the TETRA two-way radios I help to develop are much more powerful, durable, reliable and secure communication devices which play a crucial part during disasters and emergencies. It has a huge range of features designed specifically for different sectors, including public transportation, the military, the police, at airports and is highly secure, water-proof and even haves features to prevent eavesdropping," explained Angelene, 31, a senior software engineer who works at Motorola Solutions in Malaysia.
Angelene recently won The Critical Communication Association (TCCA) Young Engineer of the Year Award 2019. A globally-recognised award, TCCA represents organisations from around the world, bringing together all those with an interest in the provision of wireless communications in a mission critical or business critical environment.
Receiving this award solidified Angelene's teenage dreams of becoming a fully-fledged engineer who has made outstanding contributions towards society. Realising the potential of TETRA two-way radios to enable interoperability across national borders; and also becoming a feature-architect who successfully interprets standards and design documents with her strong communication skills were among the reasons why she was selected as the 2019 winner. However, her achievements came from very humble beginnings. In her early years, STEM was not a strength for Angelene and she did not have the resources and support she needed to advance her education.
Educated in a Chinese vernacular school in the small town of Mak Mandin, Butterworth in Penang, Angelene's learning pathway was a bumpy one as she needed to adjust to the then-newly implemented policy of learning Maths and Science in English.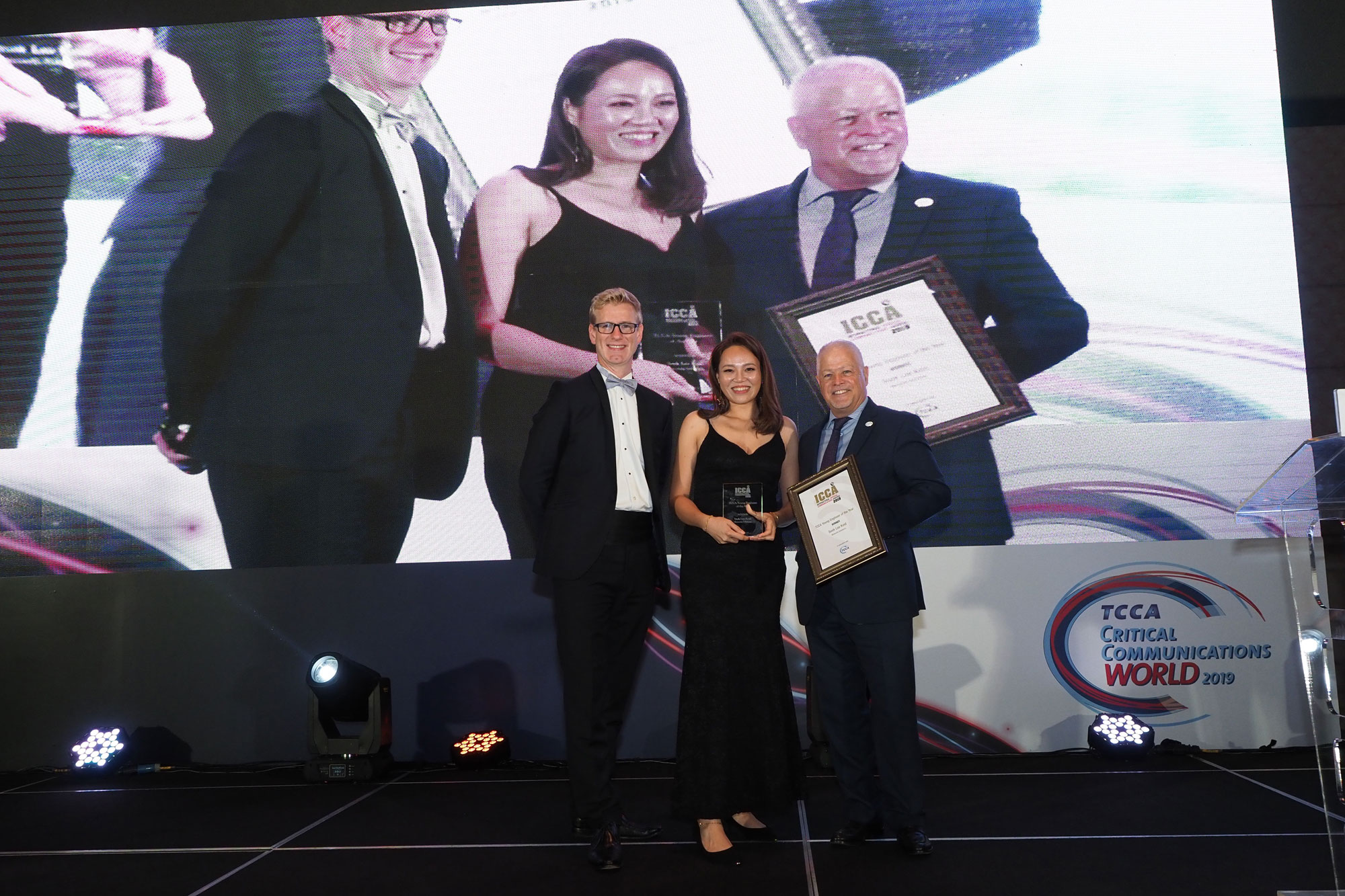 Angelene Koid Sook Lee (centre) received The Critical Communication Association (TCCA) Young Engineer of the Year Award 2019 from Mr Tony Gray, Chief Executive of TCCA (right). On the left is journalist and television presenter David McLelland who hosted the awards ceremony.
"My parents were not highly educated and were always busy with their small business which involved collecting and selling recycled items. Struggling to put food on our table, they couldn't help me much with my studies. Luckily, the year I spent in 'Remove Class' – because my grades were too low for Form 1 – helped me improve my language skills," recalled Angelene who attended the SMK Mak Mandin secondary school.
Having a great interest in Science subjects, Angelene scored As in Chemistry and Physics. But due to financial constraints, she was not able to study a Chemistry-based programme overseas. Instead, her parents enrolled her into a local institution closer to home – INTI International College Penang, where she pursued her Diploma in Microelectronic Engineering in 2008, followed by her Bachelor in Engineering (Hons) in Electrical & Electronic Engineering. Angelene graduated with a first-class honours degree in 2013.
"I remembered a particular year during college when the Motorola Solutions' experts came to INTI. They demonstrated a drop test and water resilience test on their two-way radios for engineering students. I was so amazed and immediately wanted to be part of their engineering team to work on this fantastic technology," Angelene explained.
She continued, "Luckily enough, a hiring manager from the company walked into our campus one day to recruit new engineers, and I got a job offer on the spot, right after the interview!"
Upon securing her dream job before graduation, Angelene, who describes herself as a "go-getter" who is "eager to make progress quickly", was determined to work hard to prove herself in her career, from the very beginning.
"I do not give up easily when finding a solution to new issues or challenges. I tend to get very focused and immerse myself fully in the exploration process," said Angelene, frankly.
Angelene attributes her strength and abilities to her sense of resilience. Diving into her passion for STEM, Angelene persistently works on upgrading TETRA radio features, debugging issues found by testers, actively involving herself in cross-component development, attending to customer issues and providing quality solutions. The project she is proudest of so far is the Norway-Sweden "Common cross border" feature. She was given the opportunity to lead a team in developing the first feature to enable seamless cross-country communications.
"I am also proud to have created devices that work for police officers regardless of which countries they are located in. These devices were required to handle both intense mobility and the easy location of terminals while using the different infrastructures of different countries. Bringing together different elements cohesively at the end of the project was one of the best moments in my technical career," enthused Angelene, who has been promoted twice in her job within the last seven years.
"I am a firm believer in staying determined and never giving up. This award was a huge recognition of what I have contributed to the mission-critical communications industry so far, and motivates me to keep on striving to meet my goals in future. It has also encouraged me to continue inspiring female students to join the STEM industry, and to embrace emerging technologies including AI and IoT that will support the future growth and security of this industry," said Angelene.
Keeping healthy has another important part of her success. She shared, "I jog every morning before going to work and maintain a healthy lifestyle. It gives me the energy to stay focused, and have the determination and belief in myself to succeed in life!"
Angelene is one of INTI's many alumni who not only gained knowledge and competencies through their academic studies but were also empowered by industry experts to successfully launch their careers and accomplish their dreams to become leaders, innovators and game-changers of the future.