Starting university can be simultaneously exciting and terrifying for the new university student who is just starting their higher academic journey. It is quite liberating to be away from home, completely in control of your own life for the first time, away from the strict scrutiny of your parents. But bear in mind, the success of your university stint depends on how well you plan your life. In the first semester, life at university can be quite a huge adjustment for those who are used to strictly regimented school life and do not know what to expect in university. If you are starting university soon, we have put together a handy list for your first day at university.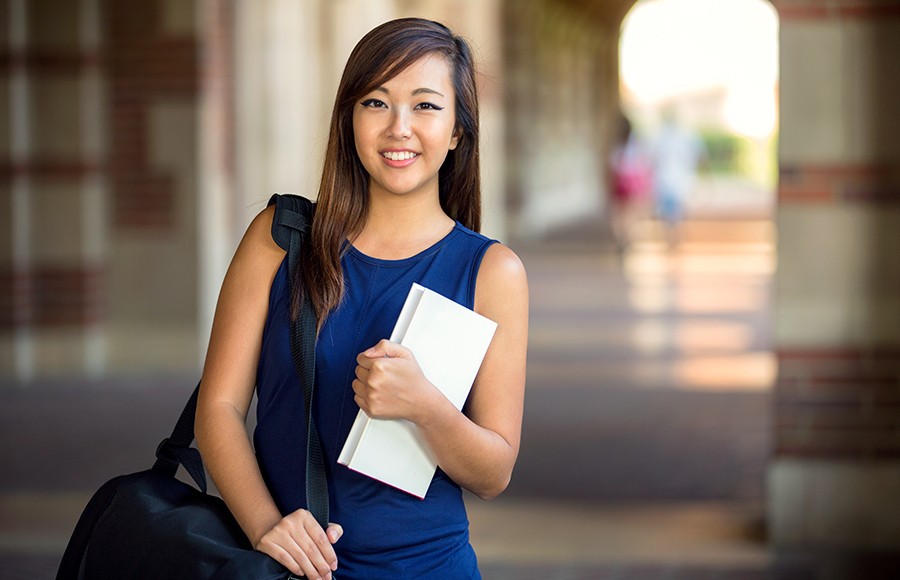 Young asian college student on her first day at university
1. It Pays to Be Proactive
On your first day at university, arrive early at the campus to get to know the surroundings. If you already have your schedule, familiarise yourself with where all your classrooms are. Walk around to locate all the nearest water coolers and bathrooms so that you will know the nearest one whenever you need them. Locate your lecturers' offices, as well as the library and the cafeteria. You can also locate your ideal study area while wandering around familiarising yourself.
2. Expect the Unfamiliar
Every new university student has to understand that university is not the same as school. Many students experience syllabus shock and also a completely different teaching and learning environment than the one they are used to in school. In school, teachers chase after the students to ensure that they keep up with their homework and assignments. In university, the assignments are usually outlined in the syllabus of every class, and it is up to the students to manage their time to complete and hand in their assignments by the due date. It is also up to the students to keep up with the syllabus with a lot of self-study.
3. Stay Organised
Staying organised in university can help you manage your time well, and help you achieve a balance between studying and having fun. Set a daily schedule that allocates certain blocks of time for studies and activities ensures that you are spending an appropriate amount of time on a certain activity. Having a fill-in calendar also allows you to keep track of the due date of your projects and assignments. For smart device users, you can find an organiser app online that is suitable for your needs.
In the first semester, university students may not be too familiar with the concept of a syllabus. However, understanding the syllabus will help greatly as it is the outline of the whole course. Following the syllabus will help you establish a study plan, look for extra reading materials, and organise your notes accordingly. It also helps to keep track of the projects and assignments that you are supposed to do. Thus, take your time to study the syllabus well.
For the first day at university, it would help to prepare your backpack the day before — make sure that you have your laptop, snacks, water, notebook, pencils, pens, headphones and others to avoid any distraction during your classes. 
4. Build Good Relations
Universities are not only a place to gain knowledge; it is also where you learn to network and maintain good relationships. Thus, before starting university, make it a point to seek out your academic advisors and your lecturers. Send them an email introducing yourself. First impressions are particularly important, and by doing this, you are showing that you are ready and eager for their class.
Make friends with your classmates and hostel mates. Many people tend to stick to their own course mates throughout their university life. However, it is important to make friends across faculties because you never know when you might need the help of someone from a different faculty to complete an assignment or a project. A good way to make friends outside your classroom is to join clubs and meetups in university.
For new university students, we hope that this article helps to illustrate what to expect in university. We at INTI believe that a wholesome education prepares our students to face the world. We encourage our students to achieve their highest potential with our various extra-curricular clubs and activities. Visit us at INTI to find out more!