Worrying about switching your field of study halfway through your tertiary education? Yeschindha Gunasegeran @ Yesh, 24, a graduate of Bachelor of Computer Science (Hons) in collaboration with Coventry University, UK, has proven that there is nothing to be feared as one can make a breakthrough and excel with the help of experienced and supportive lecturers.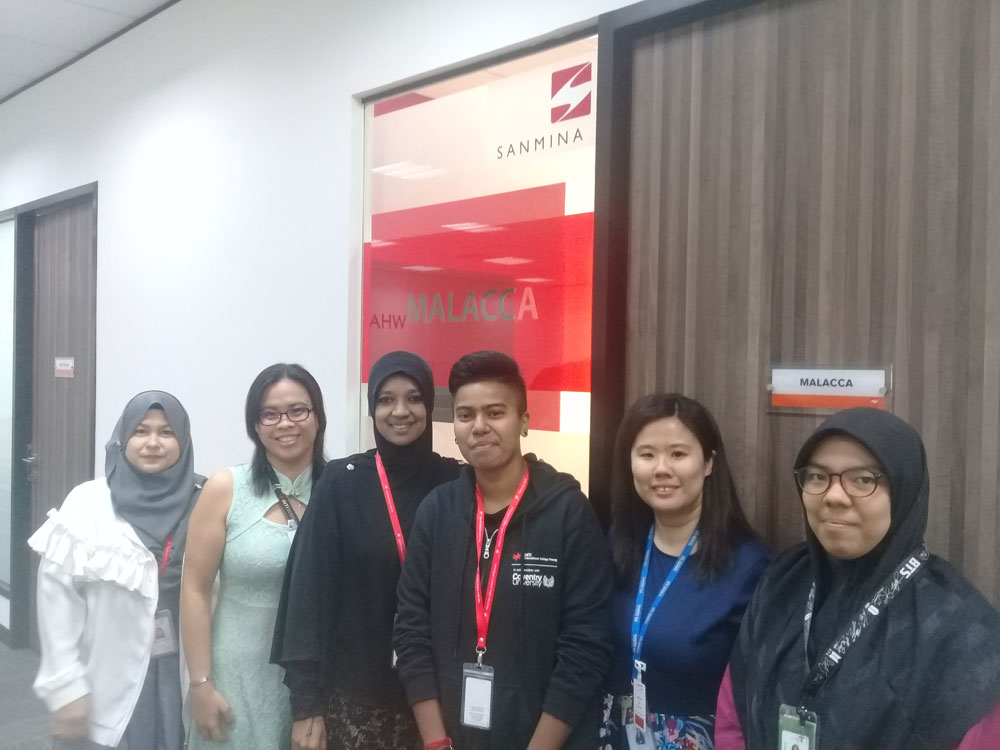 Yeschindha Gunasegeran (4th from left), completes her employer project at Sanmina Corporation. With her are representatives of Sanmina and INTI – (from left) Zamidah Zakariah, Sanmina's Senior Supervisor – Human Resources; Cherish Chee, INTI's Executive of Career Services; Hafsah Mydin, Sanmina's Quality Analyst; (from right) Nurul Izzati, Sanmina's Operator – Manufacturing; and Dr Lim Chia Yean, INTI's Head of Programmes in Information Technology.
In August 2013, Yesh enrolled herself in the Diploma in Electrical and Electronic Engineering programme at INTI International College Penang. In spite her best efforts, she struggled to perform in the field of engineering.
With the support and suggestions offered by INTI's Chief Executive, Hemalatha Murugiah, and through an explicit analysis of her strengths and capabilities, Yesh made up her mind and transferred to INTI's Diploma in Information and Communication Technology programme in January 2015. At that juncture, this young soul who was once at a crossroads of searching and identifying the right field of study didn't expect to have such a fabulous turning point in life.
Aside from finding her new passion in information and communication technology, Yesh smoothly completed her diploma within two years with a good standing of CGPA 3.0 and soared from there. She enrolled in the 3+0 Bachelor of Computer Science programme in collaboration with Coventry University, UK, offered by INTI.
During an employer project, a programme that enables students to work on actual business case studies and industry-relevant problems before graduation, Yeschindha further proved her mettle by winning multiple awards based on a project titled 'Virtual Customer Test (VCT) Electronic System' that she developed for Sanmina Quality Team, an American electronics manufacturing services (EMS) provider whose plant is located at the Bayan Lepas Technoplex plant, Penang.
In a nutshell, the VCT Electronic System developed by Yesh is an effective real time record management system to ensure a product meets a customer's essential requirements. This system carries significant values in transforming the current manual paper recording process in Quality Assurance production lines into electronic automated entry processes.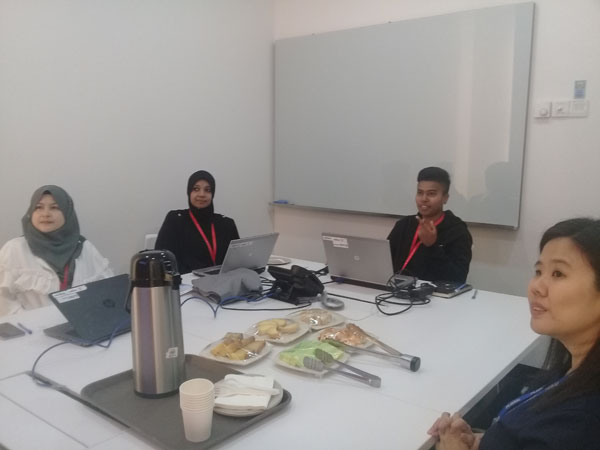 During the employer project wrap-up meeting, Yeschindha Gunasegeran (2nd from right) presents on the Virtual Customer Test (VCT) Electronic System that she developed for Sanmina Corporation.
"The output of the system includes tracking query support, summary report and dashboard. By implementing this system, Sanmina is able to save more than RM139,000 per year," explained Yesh when asked about the details of the system she professionally created.
Stunning her lecturers and course mates with her innovative idea, Yesh's high competency in computing skills ultimately enabled her to clinch a second runner up in Sanmina's Teaming for Excellent Award; a Gold Award in the Regional (Penang) Malaysia Productivity Competition by Malaysia Productivity Corporation (MPC); and another Gold Award in the National Malaysia Productivity Competition by MPC.
"From the feedback during her five months' internship as a System Developer at Sanmina, Yesh could work independently and received compliments from the supervisors. As such, Sanmina offered her the opportunity to continue working as a part time employee," said Dr Lim Chia Yean, Head of Programme, Information Technology, at the School of Engineering and Technology (SOEAT) at INTI Penang.
"While she struggled in the field of electrical and electronic engineering, Yesh discovered her strength in Computing and IT with the support and guidance provided by the INTI's dedicated faculty. Besides that, the School arranged various skills based workshops, including interview and resume writing workshops, internship briefings and soft skills training, to enhance students' skills prior to their internships," Dr Lim further elaborated, citing the efforts of faculty in discovering students' hidden talents, building up their confidence as well as paving career paths for them.
Reflecting on the breakthrough that she made, Yesh chirped heartily, "As an INTI graduate, I have been inspired by my lecturers, friends and seniors to be a proactive and responsible learner. I believe that taking the initiative in learning and exploring something new is the best way to achieve your goals in life."
Switching study programmes may set you back initially, but this is not the end of the world, Yesh testifies. On the contrary, it could be a huge relief as you are doing what you are good at and capable of. As such, you are more likely to succeed as a new programme may be what you are truly interested in. Ultimately, it can offer an easier path to future employment and lifelong success.