The COVID-19 crisis is unprecedented, both in terms of its disruption to everyday life and the scale of its impact across nations. Yet despite this gloomy backdrop, many people have decided to take matters into their own hands and create small initiatives to help solve some of the more immediate challenges they are facing.

Dr.Nurrul Iiyana explained to the participants the key characteristics of embracing entrepreneurship during the webinar.
Entrepreneurs help bolster economic development, create jobs, and invent products or services that can make the world a better place. An entrepreneurial mindset is exactly what needs to be inculcated into the young minds of today to enable them to tackle the big challenges ahead of them.
The Faculty of Business, Communications and Law at INTI International University, Nilai organised a webinar titled, 'Entrepreneurial Mindset: What Do You Need To Know' last November, in line with its efforts to create a fruitful and holistic learning experience for its students to ensure they are well aware of the latest market trends.
"While the traditional image of an entrepreneur might be a businessman or woman, an enterprising engineer, and maybe even a go-getting student with a great idea are now becoming the norm of what an entrepreneur looks like. Modern entrepreneurship is not necessarily about creating the next big thing, though of course it could be, but having a problem-solving mindset is what matters today," said Dr. Nurrul Iiyana, a SME Advisory Manager at Credit Guarantee Corporation (CGC), Malaysia.
Having said that, Dr. Nurrul asked, "So, are entrepreneurs made or born? There's been a debate for decades as to whether entrepreneurs are self-made or enter this world already possessing their distinctive gifts. Can you acquire the skills to be successful, or do you have to already have what it takes in your genes?"
"Frankly, it doesn't matter. An entrepreneurial mindset is acquired through various experiences. Once you get the knack of it, it will be eye-opening, and living out these experiences and developing them will be even more so life-changing," addressed Dr.Nurrul, about the nature of adapting an entrepreneurial mindset.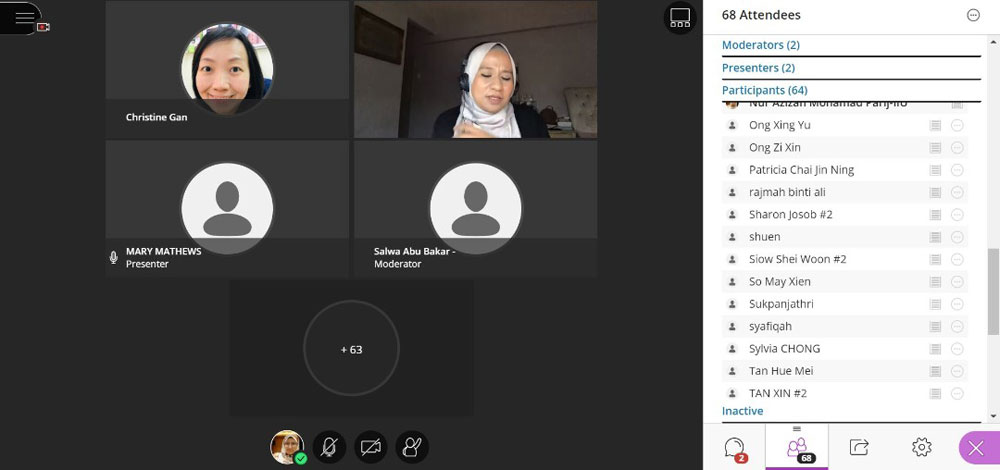 The 'Entrepreneurial Mindset: What Do You Need To Know' webinar was organised by the Faculty of Business, Communications and Law at INTI International University, Nilai last November.
Dr. Nurrul is currently leading the Market Access Advisory unit in CGC Malaysia. She has been serving various organizations through portfolios covering investments, learning and development, and entrepreneurship. She is passionate about assisting Small and Medium Enterprises (SMEs) and advising start-ups within in her capacity.
According to Dr. Nurrul, in order to craft success, entrepreneurs must develop a growth mindset. In short, an entrepreneur with a growth mindset is able to learn from mistakes and use them to enhance their businesses, whereas those with a fixed mindset might dwell on failures and see setbacks as a reason to give up.
She also shared with the participants that there is no magical formula to succeed in business. An entrepreneurial mindset may mark the difference between a lucrative business and one which shutters its doors before the first year is over.
"Much of what determines whether a business has longevity has to do with the planning process. Business planning should start well before you open your first store and place your first advertisement. Of course, there are always influences outside of your control, from big changes in the stock market to unfavorable weather. But there are some steps you can take to help your new business succeed: evaluating your business goals, creating a business plan, conducting a market research, defining the business structure and logistics, setting aside funds for the business, designing prototypes and obtaining feedback, developing the product and finally getting the word out," explained Dr. Nurrul.
Salwa Abu Bakar, a lecturer at INTI who was also a part of the webinar said, "The dialogue between students and industry should no longer only focus on how to increase students' employability. A shift needs to be made to encourage the building of entrepreneurial minds, and by letting students know what companies are outsourcing these days so they can fit themselves into these niche areas."
"Our students are gifted, talented, and resilient; after all, getting through online learning in the midst of a pandemic is not a small feat. They have the traits needed to become wonderful entrepreneurs. As educators, let us help them create more dialogues like these with industry to build their entrepreneurial minds," Salwa said about the importance of such webinars to nurture students with industry relevant capabilities.
"Starting up your own business and running your own company may be the most exciting, rewarding, and positive thing you've ever done. It may also be fraught with challenges, self-doubt, and worries. That's normal. Learning how to embrace the entrepreneurial mindset and cultivate key characteristics linked to success will help you build a thriving business," concluded Dr.Nurrul.