They say choose a job you love, and you will never have to work a day in your life. While for some that may be a distant if not impossible dream, but Mohd Khairul Irwan Mansor seems to be living the life.
Fueled by a passion for the creative arts, Mohd Khairul, or Erwan Mansor as he is known in the local creative scene, began showing his skills in school through his involvement in the theatre club and writing for stage performances. Though he had dabbled in some acting throughout secondary school and tertiary education, his writing was what landed him his big break.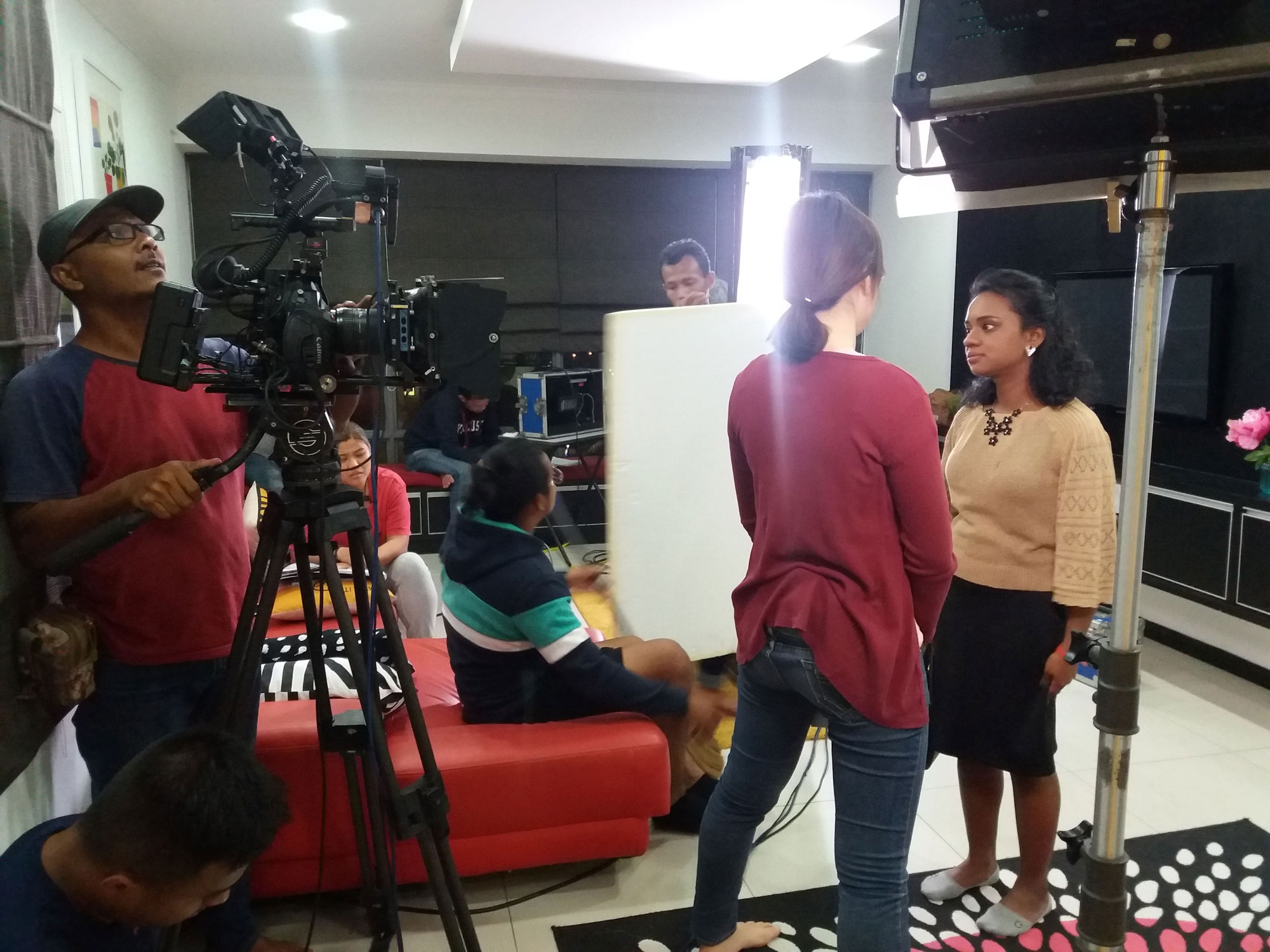 On set of Antara Dua Deru, a telemovie directed by Along Kamaludin, aired on RTM.
"I was doing my diploma when a friend introduced me to producer Mariana Hashim. My friend was working part-time for her and it just so happened that Mariana was looking for a scriptwriter," said Mohd Khairul who pursued his Diploma in Communication and Media at Universiti Teknologi MARA (UiTM).
After the meeting with Mariana, he passed some assessments and was hired for a project with Astro, kickstarting his career in scriptwriting. His first hit script, a telemovie production for RTM titled Nahi Mungkar, has aired for several reruns on the station's Maulidur Rasul slot. Other titles under his belt includes Adiguru, Antara Dua Deru, Cahaya di Hujung Terowong, Gadis dan Gua, Nur Balqis, Pria, Raja Lumba, Antologi Cinta Buat Rania, Mahsuri, Tuna dan Sandwich, 23:55, Pemburu Hantu, Silang the Animation, Shufflemania, and La Dolce Amira, among others.
Through 15 years of experience in the local film and television industry, Mohd Khairul has seen changes in the process of scriptwriting. According to him, some stations have become stricter.
For example, a scriptwriter could previously pitch an idea in a session at RTM and then prepare its treatment, or synopsis of the flow and each scene, to show to the director. It is only after that that the script would be written.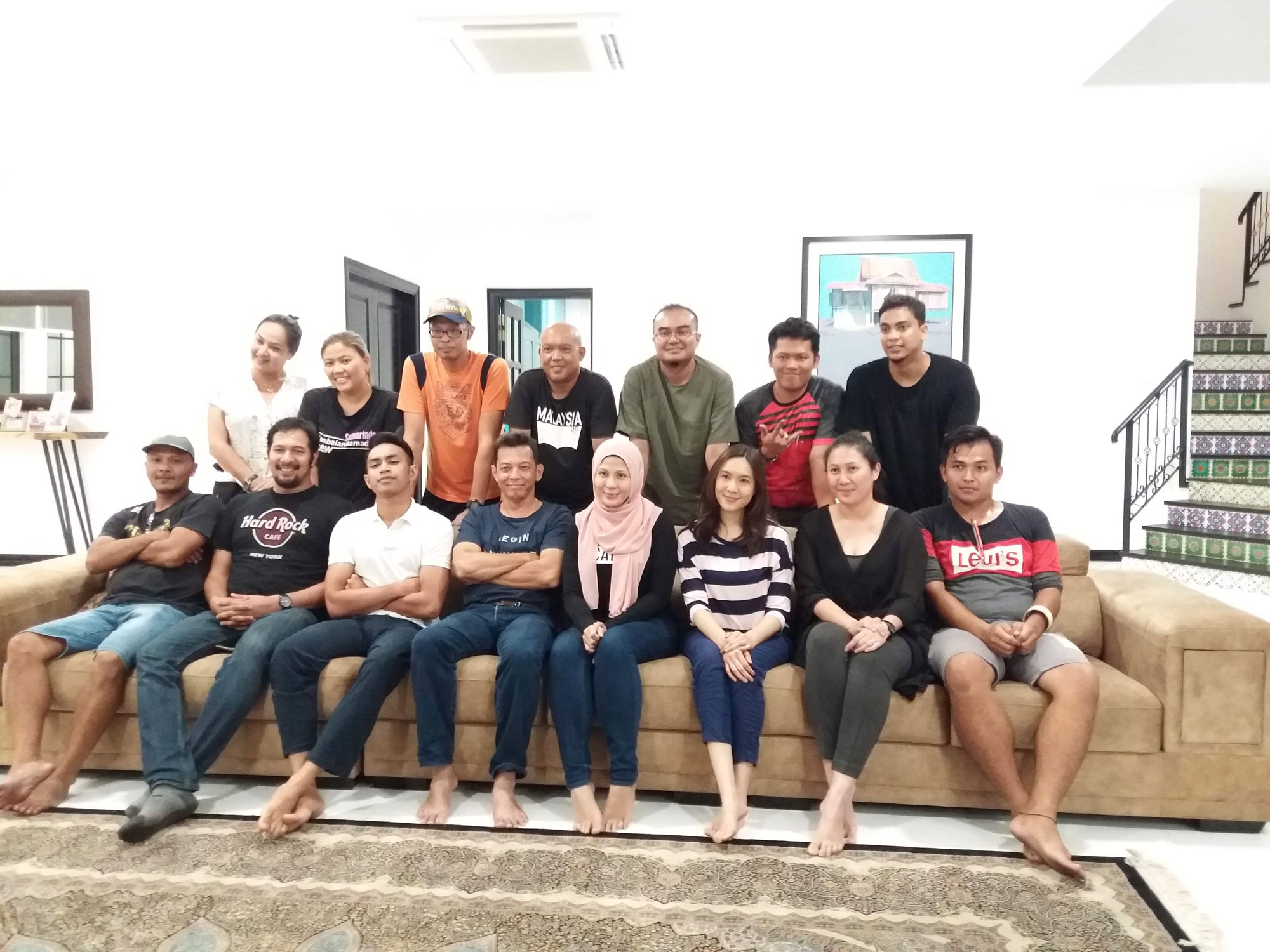 With the crew and producers of Antara Dua Deru
"Now, the treatment must be sent to RTM first. They will go through the treatment and give their suggestions on what to amend. Then the scriptwriter will have to write the draft script and send it back to RTM to go through again," he said, adding the process had become lengthier and more complicated.
According to Mohd Khairul, RTM has also become stricter in terms of genres for its dramas and telemovies. Horror dramas, which were once allowed, are now no longer acceptable. It is also a policy to avoid hugging, touching, and kissing scenes. Police scenes also need to be evaluated and verified by the Royal Malaysia Police (PDRM) first.
"RTM is a platform for national ideologies, so there is a need for the government to monitor the quality of programmes aired for public consumption. This does present challenges to the creative process," he said.
But the hat of scriptwriter is not the only one that he wears, as Mohd Khairul also wears the hat of educator. Among his students at INTI International College Subang, he is popularly known as Mr. K.
As Head of the Mass Communication programme and lecturer with the School of Business and Communication, Mohd Khairul makes it a point to teach his students how to do things the industry way.
"In the first few weeks of class I will ask my students to watch local content, do research on local actors, and look at current trends. Students need to understand the local situation so that they will not be 'syok sendiri' when they start writing and producing content.
"My students are also exposed to movies that follow the three-act structure, as well as other movies to learn about characterization, structure, and how to create twists," said Mohd Khairul who notes that Jogho is his definition of good local film.
Preparing students for the reality of the industry is important and assignments reflect industry practices, from preparing a proposal to pitching, to treatment and scriptwriting. He takes a problem based learning approach, giving students real-life situations so that they can also learn how to budget for a production in Malaysia. This includes considering cast, location, and storyline.
To youngsters who hope to one day become scriptwriters in Malaysia, his advice would be to determine their objective, whether it is to create art films or more commercial type productions.
"You can definitely make money as a scriptwriter in Malaysia, but you must know what it is you want. Is it money that you are after?
"If it's money you want, then just follow the trend. Produce what the audience want and what the TV stations ask for. Follow what the director and producers say," he said.
However, if the satisfaction of creating art is what you are after, be sure to have your own team to work with you and find your platform, whether it is YouTube or short film festivals. He added that those who want to stray away from the mainstream need to be strong because the Malaysian audience is not yet ready for a different kind of content.
"Our audience is still developing its appreciation for a diverse range of arts and content. Until our people have a healthy appreciation for all types of arts, that is, when indie films and art films can thrive in our cinemas, only horror, comedy, and action genres will reign. Mainstream is what sells now," he concluded.