Psychology is a broad discipline which focuses on the study of the mind and human behaviours. While a more common field of study in the West, Malaysian parents often have their doubts about the long term career prospects awaiting students who pursue a degree in psychology.
Students study Southern New Hampshire University's Bachelor of Arts in Psychology program locally at INTI, participating in an Employer Project with Zomi Education, a refugee centre in Kuala Lumpur.
As the study of psychology encompasses multifaceted disciplines and sub-fields, such as human development, sports, health, clinical, social behaviour and cognitive processes , which are broadly divided into clinical and non-clinical psychology, education and training for each of these fields are carried out in different forms . This creates yet another layer of uncertainty in choosing which form of training to receive when pursuing this field of expertise.
"My daughter always wanted to learn how the human mind works, especially in understanding criminal or child psychology," said Daphne Lim Fei Chern, whose daughter Isabelle Lim Nudalo, 19, is pursuing her second year in the Bachelor of Arts in Psychology program from Southern New Hampshire University (SNHU), in the United States of America. She is currently pursuing the 4+0 program locally at INTI International College Subang (INTI).
"Isabelle is someone who has tremendous patience when dealing with people. She has a great interest in studying the minds of an individual and how it works, or what makes people do what they do. Her study also helps her to understand how childhood and upbringing mould people towards becoming what they are as adults," Lim explains.
"Based on this passion, she wants to help young children to stem the potential negative effects of their childhood at an early age, and minimise the issues it could bring to adulthood," Lim continued, "Isabelle decided to study psychology on her own, I merely supported her in what she had decided, as I could see that this was truly something she was passionate about."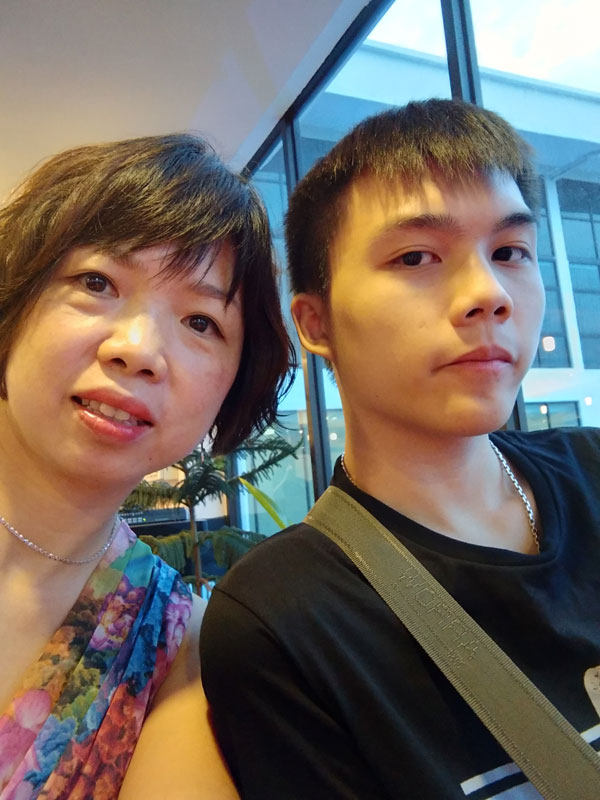 Yan Mun Yee (left) with son Joshua Chong Min Yuan.
For Yan Mun Yee, whose son Joshua Chong Min Yuan, 20, who is also a Year-2 student in the same program, her reasons for signing up her son in this field was not only based on the strong interest in psychology which her boy has but because she was convinced of the credibility of the program and possible opportunities that could await Joshua.
"I was assured that psychology was a credible program, and doing it through SNHU would provide my son with internationally recognised qualifications since SNHU is highly ranked in the world and the program structure mirrors what is offered at its campus in the United States," Yan shared.
"The counsellor cleared my scepticism and doubts, especially about how this program was being taught locally. After our discussions, I understood that local lecturers are trained by SNHU, and to supplement this learning, there are also visiting lecturers from the U.S.A," explained Yan.
Yan admitted that one of her main concern was her child's future career path. Before enrolling her son into the program, she did her own research on what a psychology degree holder could do in the job market.
She shared, "I learnt that a graduate with a Bachelor of Arts in Psychology gains a variety of skills that are needed in various work roles. As they develop a good understanding of human behaviour and individual thought processes, they can explore numerous job opportunities that require these skills."
"My son, for example, is planning to explore the field of marketing and human resources, and I believe this degree will help him stand out from traditional business graduates when he begins looking for a job later," opined Yan, who added that her son Joshua is doing well in his studies so far.
As SNHU's program is a "4+0" degree offered locally, both mothers found that the tuition fees were also within their families' financial considerations. "I did a comparison in terms of the overall fees and realised that studying locally at a college like INTI was quite competitive, while still allowing Isabelle to have the international exposure she was hoping to gain. The counsellor and the faculty members that we have spoken to were very helpful in giving us a clear picture of what the course entails and what Isabelle could learn from it," said Lim.
Yan also made comparisons with more than four higher learning institutions around the Klang Valley, and shared, "For an international degree by a globally ranked American university, the fees were significantly more reasonable than we expected. All in all, we found there was a big difference of about RM10,000 between this program and other similar programs offered locally!"
For Lim, given Isabelle's hopes to do criminal or child psychology in the future, she is optimistic that her daughter could pursue a Master's degree in Psychology in the future, leveraging her degree to better position herself to work within her preferred scope.
"While the program she is currently pursuing is a general psychology degree, the modules and experiences she is gaining will serve as a good stepping stone to help her realise her ultimate goal," Lim stated.
"Isabelle is doing great in her studies and thoroughly enjoying herself. I am pleased to see that she is enjoying what she is doing. She has just started her second year in January and is doing very well at the moment, as she puts a lot of effort into her studies," enthused Lim proudly.
Leveraging the flexible and holistic American education system, and offering specific modules including Child and Adolescent Development and Mental Health, students pursuing this 4+0 Bachelor of Arts in Psychology program can also opt for minors in Communication or Business, to expand their career choices.
Before they graduate, students will also participate in practical experiences in their chosen fields, and enhance their knowledge through internships. For those who plan to further their studies, the program opens up pathways for students to continue their Masters' program in Psychology (Master of Science or Master of Arts), Social Sciences and other business disciplines (MBA) in Human Resources and many others, which would ultimately help them to widen their professional horizons.