In Traditional Chinese Medicine (TCM), physicians diagnose patients' conditions by observing, listening, asking and feeling – as well as using certain natural herbs and treatments in curing disease and ailments. With the emergence of numerous new technologies brought about by Industrial Revolution 4.0 (IR4.0), human intelligence and traditional diagnostic methods have been simulated and even extended through the use of Artificial Intelligence (AI), Virtual Reality (VR) and Augmented Reality (AR). As the cradle of TCM, China is now at the forefront of bridging traditional and novel diagnostic and treatment methods, and with recent reports of the use of TCM in treating patients of Covid-19, is set to become an exemplary standard to the world in this field of alternative medicine.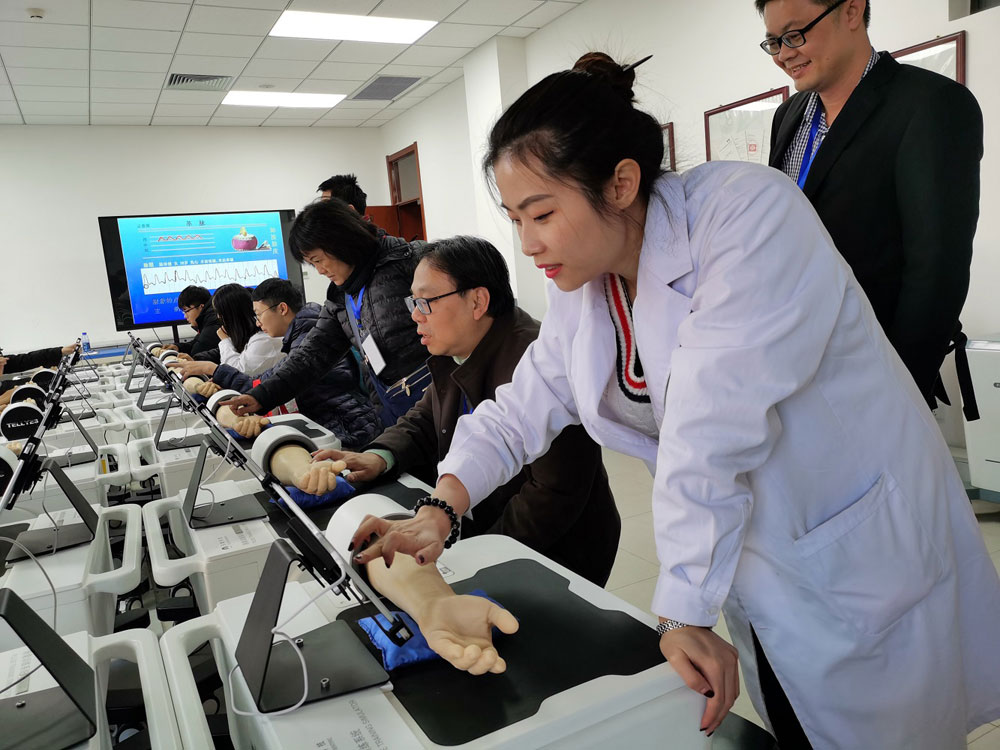 Dr Joseph Lee (2nd from right) and INTI's TCM faculty experience pulse manifestation training, by using an Artificial Intelligence (AI) driven Pulse Training Simulator, guided by a lecturer from Tianjin University of Traditional Chinese Medicine, while Dr Heng Aik Teng, INTI's Head of Programme for TCM, looks on.
Backed by established partnerships with world-class TCM universities in China, and one of the few Malaysian universities to offer this incredibly specialised programme in the country, TCM academicians from INTI International University's Faculty of Health & Life Sciences (FHLS)had the opportunity to envision the future growth of teaching and learning in TCM through the adoption of these advanced technologies.
Led by INTI's Vice-Chancellor, Dr Joseph Lee; and Dean of FHLS, Professor Wong Ling Shing, INTI's TCM faculty landed in Tianjin, the beautiful city on the shores of the Bohai Sea in China last December. Their aim was to attend the Advanced Seminar on TCM Education in the Asian Region held at Tianjin University of Traditional Chinese Medicine (TUTCM), a partner university for INTI undergraduates completing their clinical internship.
"Apart from understanding new teaching methods, scientific research and medical treatments influencing TCM, we were brought to the Clinical Expertise Training Centre which is affiliated to the university; and visited a private company which manufactures teaching software and equipment. We were introduced to different types of advanced equipment that TUTCM is currently researching which were a real eye-opener," enthused INTI's TCM Programme Head, Dr Heng Aik Teng.
Some of the impressive advanced equipment that is already in the pipelines were: Pulse Training Simulator, an AI-generated artificial arm with embedded technology to mimic the pulse of an actual person. As pulse reading is a fundamental component in TCM practices, this prototype simulated a variety of rare pulse conditions, especially the ones suggestive of serious illnesses, and would enable learners to feel and understand the different types of pulse readings, allowing them to more accurately and quickly diagnose a sickness in their patients.
Tongue Condition Reader, a teaching tool that provides a more thorough means for patients to get their tongues checked. In TCM practices, analysing the appearance of a patient's tongue helps provide physicians with a greater understanding of the patient's overall health. By using this reader which has a camera installed in it and connected to a computer screen, the lecturer will be able to explain the different characteristics of an individual's tongue and hence achieve the objective of effective teaching and learning.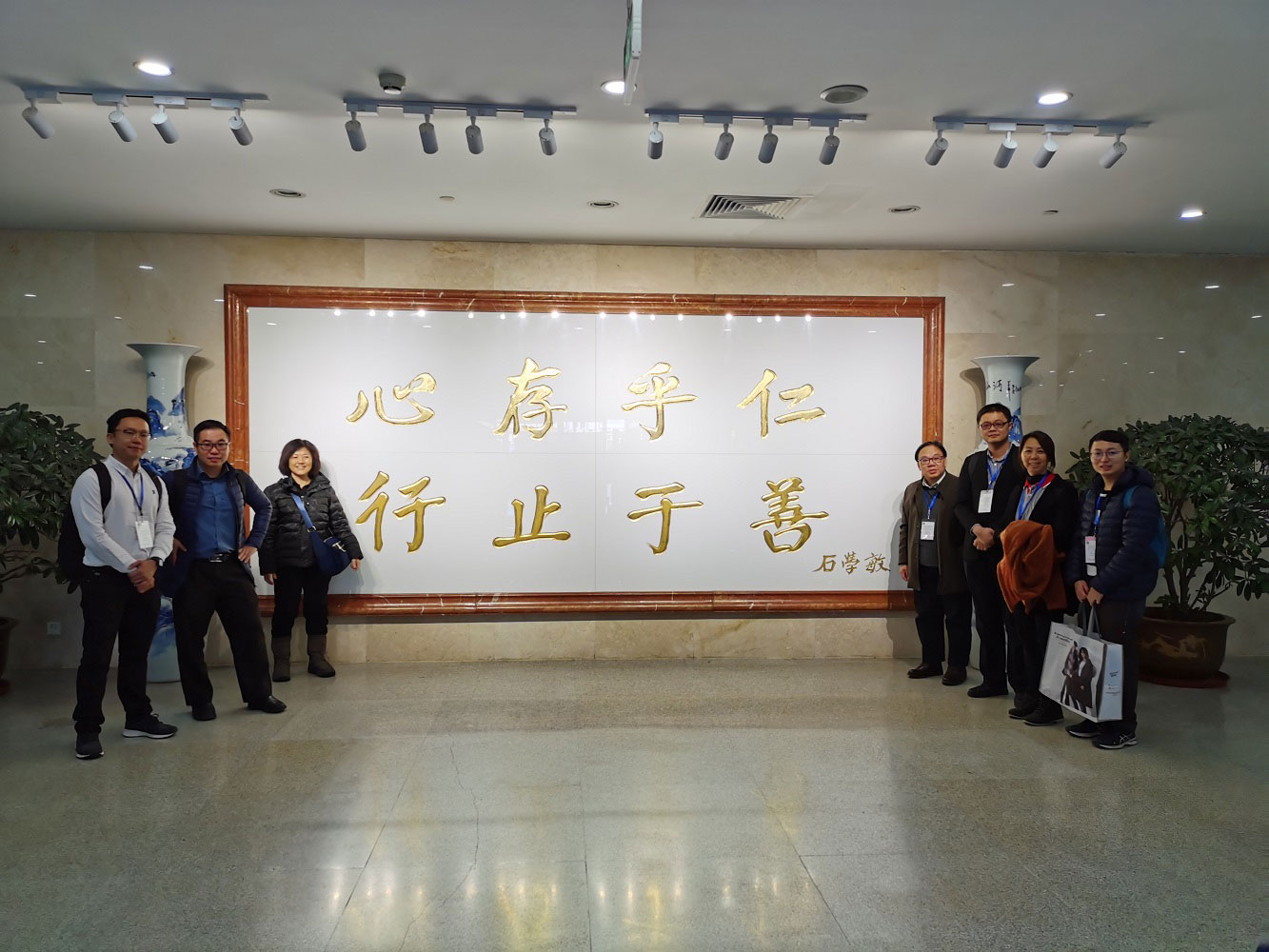 INTI's academicians attended the Advanced Seminar on TCM Education in the Asian Region at Tianjin University of Traditional Chinese Medicine (TUTCM).From left – Nyaw Too Nyean, lecturer; Prof Wong Ling Shing, Dean of FHLS; Dr Yeoh Beng And, Senior Lecturer; Dr Joseph Lee, Vice-Chancellor; Dr Heng Aik Teng, Head of Programme; Ooi Lay Khuan, Director of Operations and Chong Jing Yuan, lecturer.
The Modern Bronze Acupuncture Figure, a statue which has acupuncture points made out of simulated human skin covering it. Providing the real sensation of touching human skin and acupuncture points, TCM students learn how to identify points accurately and minimise trials on a real person. Linked to a computerised system, the tool will provide a signal whenever the points have been identified accurately and improve students' accuracy even before they start treating patients.
Furthermore, the team from INTI also tried TUTCM's Anatomy for Acupuncture with VR Technology, a 3-Dimension lifelike illustration of a human body in 1:1 ratio, which combines the meridians and acupoints of the human body with 3D VR technology. This could further help TCM students in identifying the acupuncture points or performing dissections by using touch-screen technology.
Having observed this wide variety of learning platforms driven by AI and AR technologies, Heng opined, "What impressed me the most was, with the combination of TCM expertise and these emerging technologies, simulators that mimic real patients are now available and can improve the capabilities of our future practitioners. In the past, practical learning is usually difficult to carry out in lectures as students rarely had simulations of actual patients or had to use less accurate methods."
"As Tianjin UTCM has heavily adopted AR, VR and AI technology into their teaching and clinical training process, INTI students would greatly benefit from it as they will be exposed to this equipment during their final year internship here in China, through the partnership established between INTI and TUTCM," stated Heng.
Commenting on their visionary partnership and outcome of this study trip to Tianjin, Dr Joseph Lee, the Vice-Chancellor of INTI International University concluded, "The trip achieved its objectives of providing international exposure on the latest teaching methodology with the use of emerging technology available for TCM. Our lecturers gained a deeper understanding of alternative medical education management in China and to meet their Chinese counterparts in sharing ideas and best practices. This will ultimately strengthen the collaboration between our two universities and lay the ground for launching an advanced teaching and training programme in Malaysia."