While COVID-19 created a momentary breath of relief to global climate concerns, the long term solution of lockdowns to manufacturing practices is clearly far from sustainable. With economies everywhere rearing to fire up production and make up for lost time, it may only be a matter of time before we are back to square one in our quest to over demand and over supply.
"Manufacturing is part and parcel of human life. But as we progress as a species, so too must our practices and how we use resources. One of the challenges in manufacturing is that the materials used are often synthetic – meaning they not only produce significant pollutants upon being manufactured, but are also almost impossible to break down naturally in the environment. This leads to increase in landfills and long term environmental pollution," shared Associate Professor Dr. Tezara Cionita, an academician and researcher with close to 22 years of experience in the field of Mechanical Engineering.
A lecturer at INTI International University's Faculty of Engineering and Quantity Surveying who has supervised 70 undergraduate students in numerous research projects, Dr Tezara is herself an accomplished researcher, having produced more than 35 publications with a H-Index of 8 in SCOPUS, and focusing on the areas of Indoor Air Quality, Environmental Safety and Health, Natural Fibre Composites, and Polymer Materials.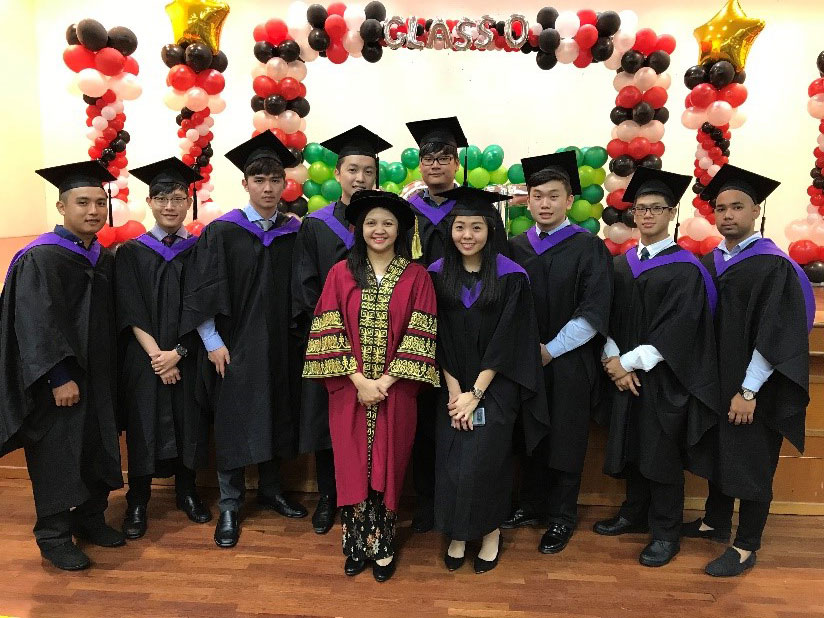 Associate Professor Dr Tezara Cionita, a Mechanical Engineering lecturer at INTI International University, with graduates from INTI's Bachelor of Mechanical Engineering programme.
Responding to Malaysia's National Green Technology Policy which was introduced in 2009, Dr Tezara, alongside five undergraduate students, looked to green technologies as their inspiration in changing the types of materials used in manufacturing. The purpose of their study was to replace synthetic fibres and to reduce the usage of polymers in manufacturing applications.
Looking to natural resources that are closer to home, Dr Tezara studied the effects of pure or hybrid jute and ramie as potential reinforcements for polymer composites. While currently the usage of plastic and synthetic fibres have triggered several environmental problems, jute and ramie fibres have been found to be viable substitutes that reduce plastic usage and are also biodegradable.
Expounding the qualities of these resources, Dr Tezara explained, "Jute and ramie are magnificent resources and popular natural fibres for composite reinforcement for thermoplastic or thermosetting matrix polymers. These can be utilized in the form of fillers, short fibre, long fibre and woven textiles that generate a diverse range of results as they are non-abrasive, low density, and possess good mechanical properties including tensile and flexural strength. Jute and ramie are also biodegradable, renewable, and economical – making it easier for these materials to break down and minimise long term environmental impact."
As with almost all materials, however, minor surface modifications are still needed to improve the interfacial adhesion of jute or ramie fibre to other polymer materials to produce a jute/ramie based composite that provides good engineering properties. When modified sufficiently, jute and ramie fibres can replace synthetic fibres in many composite products in automotive, construction, aerospace, furniture, and sports equipment.
In the automotive industry for example, natural fibres have been widely used as reinforcements to produce non-structural components like instrument boards, side and back walls, and seat backs.
The recipient of several grants including for this project the internal SEEDING grant from INTI International University, Dr Tezara said, "The mechanical performance of natural fibre reinforced composites is dependent on several factors, such as fibre loading, stacking sequences, fibre orientation, surface treatment, interfacial adhesion, and its physical and chemical properties."
"Natural fibres, however, have greater limitations compared to synthetic materials. Its strong water absorption properties significantly limit its application in certain conditions, due to its deteriorating strength when it becomes wet. Over time these fibres also have reduced dimensional movement – they lose their structure – and naturally also experience biological degradation faster," Dr Tezara continued.
Taking these factors into consideration, hybrid materials have become the answer to creating durable and sustainable resources. Offering the combined properties of their individual elements, hybrid composites have distinguishing characteristics that enable them to be utilised with several elements, while not compromising their structural performance and sturdiness.
"Our focus was to study how reinforced single or hybrid composite laminates differ, and how hybrid composites that comprise of two or more natural fibres instead of a single composite would enhance the structures' mechanical properties. Stacking sequences, fibre orientations and alkali treatment were among the test parameters that our students conducted as part of their study," Dr Tezara shared, emphasising that she was grateful the project was completed before the announcement of the Movement Control Order as the students needed both the lab and workshop facility when conducting their research.
In addition to enabling the students to complete their final year projects, the research was also submitted to two ISI papers, namely the International Journal of Precision Engineering and Manufacturing-Green Technology, 2021 (accepted), and the Journal of Polymer Research, 2021 (submitted).
"Over the long term, we hope that the findings from this study will increase interest in natural fibres and lead to the development of better composites leveraging the latest technologies. This is one of the ways through which manufacturing can move towards greener resources, and in the long term improve the sustainability of these processes," Dr Tezara shared, hopefully.

Jute & ramie are magnificent resources for composite reinforcements of other polymers.
Despite the long stretch away from campus and labs, Dr Tezara concluded that she is already looking at her next project, where she plans to study the utilization of the hybrid woven jute-ramie reinforced unsaturated polyester composite as an alternative to synthetic materials for personal protective equipment, particularly in bicycling applications.