At first glance, Happy Lee Yan Lung may seem like he has his whole life sorted – he graduated top of his class and was named valedictorian for his graduating batch at National Louis University in Chicago, Illinois, USA. He also managed to secure a job as an Advertising Operations Manager in Texas at Work4 Labs, a French-based company specialising in social and mobile recruiting solutions. Pursuing his own entrepreneurial dreams, he co-founded a start-up called HydroHomies, a company that delivers high-quality and highly-consistent fresh produce to consumers all year long via hydroponics and other modern farming techniques.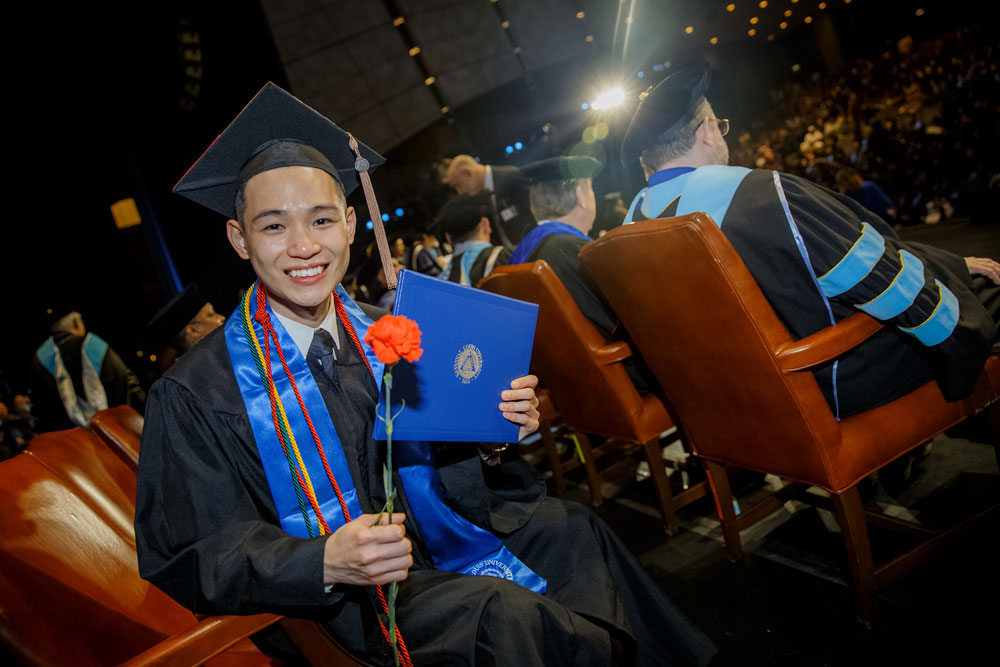 But unbeknownst to many, Happy did not have a great head start in life.
Happy was initially an underachieving student, scoring mostly Ds and Es in his first secondary school. Having faced several challenges, the Klang-born lad opted for a new beginning in SMK Setia Alam to pick himself up and start all over again. Thanks to his outgoing personality, he was awarded the Traits Personality Award in his school – twice in a row! He even served as the President of the Library Club, and was also Vice President of the Taekwondo Club and Chinese Society.
After obtaining his SPM results ("which were just average", Happy claimed), he enrolled into INTI International College Subang to pursue the American undergraduate degree programme and devoted himself to his studies. He made it a point to complete his daily assignments on campus with friends.
"There was one particular week in my junior year when I had two midterm exams, two group projects and one presentation at the same time, on top of being the organising chairperson for a student-event called A Glimpse of Entrepreneurial Success", he recalls. "Going through that week taught me so much about perseverance, resilience, and work ethics. I vividly remember my seniors telling me that if I can tough it out, I can endure any difficulties in life. I guess they were right!"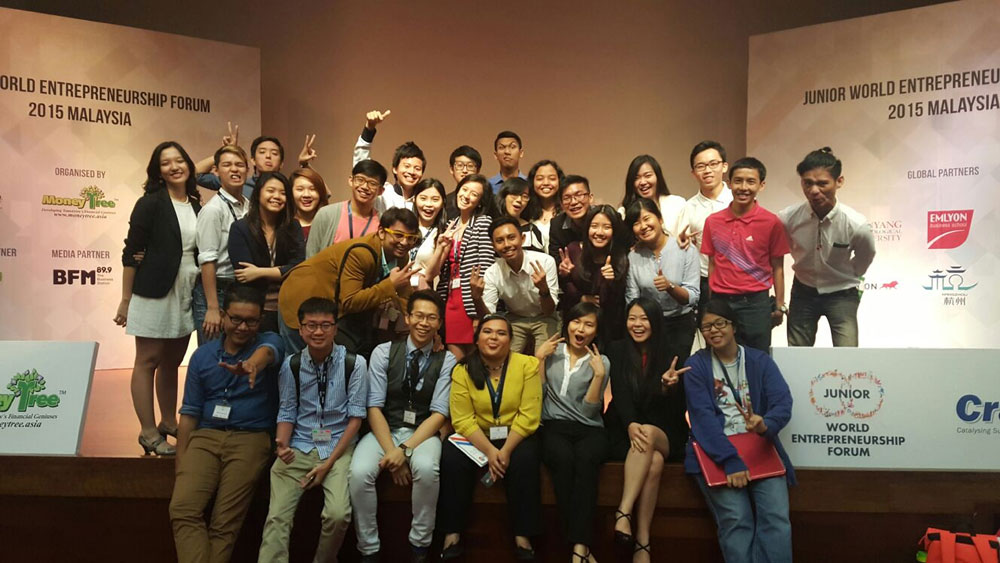 Happy was initially very determined to focus only on academic pursuits. "I remember telling myself on the first day of classes back in 2014 that I wanted to focus on my academic performance because I was never the brightest student. Because of my average SPM results, I missed the opportunity to win any merit scholarship for college. I was determined not to be a financial burden to my family, so I worked part-time while studying in Subang Jaya."
During his second year in college, he realised that he needed to gain practical, real-life experiences alongside his academic endeavours, and so he decided to volunteer at an event called the Junior World Entrepreneurial Forum (JWEF) on campus. The experience turned out to be a life-changing one as he met Jolene Sim, an inspiring entrepreneur who took him under her wing and coached him on how to effectively create and manage digital marketing strategies.
He explained, "I joined her company, Mainstream Online Buzz (MOB), a marketing and advertising agency in 2015 as a digital marketing analyst as I had developed an interest in digital marketing. I had to learn how to juggle between work and studies but I gained so much from the experience. I worked with big brands such as Universal Music Group while executing social media strategies, performing cross-function collaborations and conducting analyses. I also learned how to remain calm under pressure, especially after an unfortunate chain of events that occurred on my first day of work."
Furthering his studies in the United States of America initially seemed like a dream. Happy tried to apply for a student exchange programme to Northwood University in Midland, Michigan but was rejected. The American university programme manager and Head of INTI's University Placement Office (UPO), Terrie Teoh, saw his determination and encouraged Happy to speak to Rob Watson, the Dean of the Business School at Kendall College who was visiting at the time. The conversation was serendipitous and it enabled him to become an exchange student at Kendall College, and with that opportunity, to transfer as a full-time student to National Louis University.
Happy shared, "I never thought about coming to the USA to further my education because of the high expenses. However, I'm extremely grateful for the scholarship Kendall College provided me as up to 75% of my tuition fees were waived."
While completing his studies at National Louis University, Happy also developed a passion for social and environmental sustainability. With the guidance of the university, he founded HydroHomies, a green start-up company that delivers high-quality hydroponically-grown fresh produce to consumers who can submit their orders using an app.
Graduating top of his class should have made it easier for him to secure a job in the USA, but it was another learning journey for Happy. He applied to over 500 vacancies, attended interviews with an average of 5 companies every week and received over 230 rejections. Finally, he managed to land a job with Work4 Labs – two weeks before his graduation.
Happy is pleased that his persistence paid off. "It took just one event to determine the course of my life – the JWEF event in INTI. If I had not been a part of that, I may not have been part of MOB and discovered my interest in digital marketing. I may not have had the opportunity to do what I am doing now, as I am still very involved in digital marketing in my present job. I can also say that I developed the key skills to help me remain relevant in today's digital age during my time in college – collaborating with people, thinking creatively and being agile."
"When I arrived in the U.S,, I had no expectations and dreams," Happy continued. "But the outcomes have been phenomenal. Thanks to Ms Terrie Teoh of INTI and to Mr Rob Watson and Ms. Patricia Teall–Corcoran of Kendall College, I was able to further my studies in the USA and in the process, I have met so many inspiring people that I can call my friends, business partners and mentors for the rest of my life. I would say coming here to the USA made me realise my purpose and calling in life. And for that, I am so grateful."