It was another milestone of success for students who sat for the Cambridge A Level examinations at INTI International College Penang in May and June this year, as more than 50% of students who took 4 subjects obtained 4 'A's and above. Out of these high achievers, 5 students achieved the top score by getting 4 'A*'s (A star).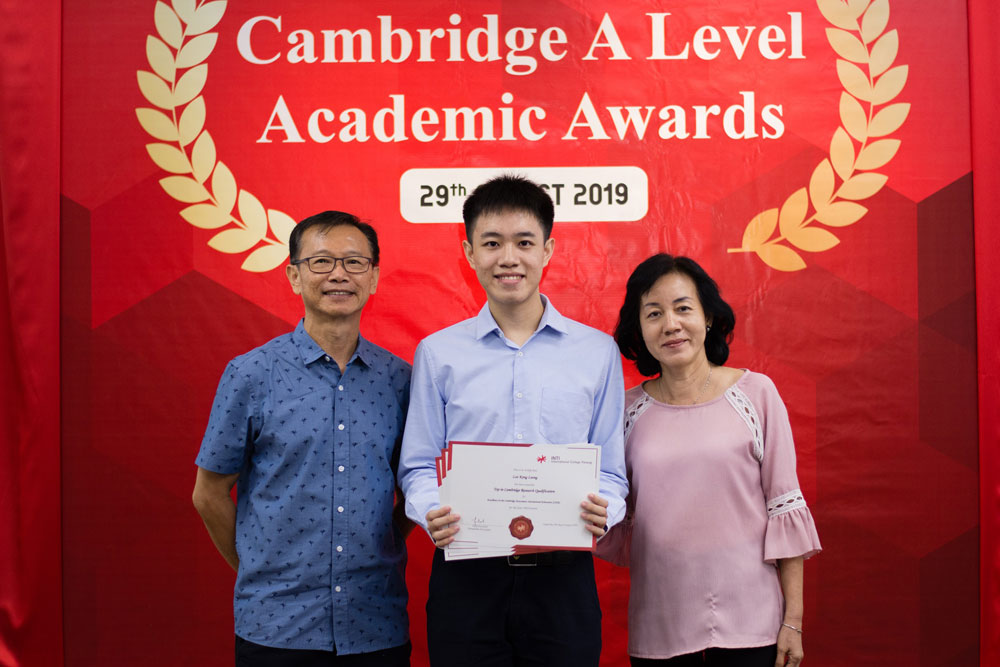 Loo Keng Leong (centre) proudly sharing his achievement of getting 4 'A*'s in the Cambridge A Level Examinations with his parents.
These 5 top achievers with 4 'A*'s are Loo Keng Leong from Chung Ling Butterworth High School; Teng Zhi Sean from Chung Ling High School; Teo Rou Yun from Han Chiang High School; Gan Yu-Shuang from Chung Ling High School and Tan Yin Xiang from Chung Ling Butterworth High School.
Among these top achievers – Tan Yin Xiang also received the "Top in the World" for Mathematics award by the Cambridge Assessment International Education (CAIE) for AS level during the October/ November 2018 examination series. "Top in the World" refers to the learner who has gained the highest standard marks in the world for a single subject.
Parents and high achievers who attended the ceremony at INTI celebrated these achievements with much joy. Their happiness was shared by the guest of honour, Professor Arokia Nathan, a professor from the Department of Engineering, University of Cambridge, who is also as the Chief Technical Officer, Cambridge Touch Technologies, Cambridge UK.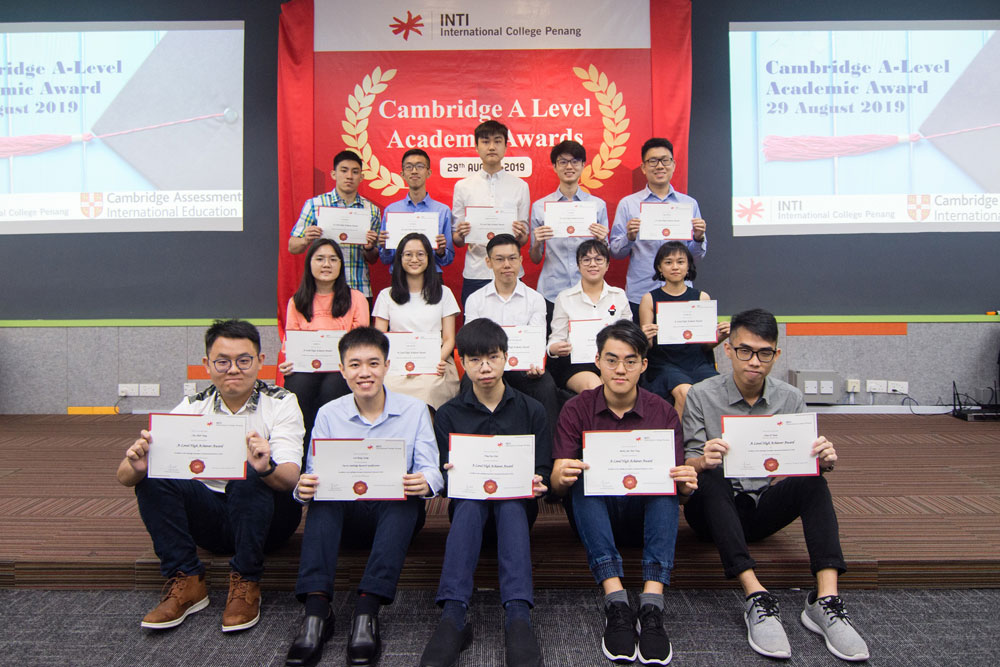 Attendees of INTI International College Penang's Cambridge A Level Awards Ceremony who obtained 3 'A's and above group up and celebrate their achievements with a photo opportunity.
Professor Arokia Nathan gave a speech to the award recipients to congratulate them and encouraged them to move forward with this strong foundation towards bigger and brighter future academic success.
Also in attendence were Mr Ng Kim Huat, the Country Director of Malaysia & Brunei, Cambridge Assessment International Education; Dr Reda Al-Bodour, Associate Head of School of Computing, Electronics and Maths, Coventry University, UK; and Ms Hemalatha Murugiah, Chief Executive, INTI International College Penang.
According to the Cambridge International A Level May/ June 2019 Examination Results for INTI Penang, 33 students also obtained at least 3 'A's each. Besides that, a total of 59 'A*'s and 82 'A's were obtained. Ultimately, 107 students or up to 93.86% of the candidates obtained the A Level certificate.
Sharing his joy with fellow course mates, top achiever Loo Keng Leong enthused, "I feel very lucky and grateful to get 4 'A*'s in my A Level results. I worked hard in order to score with flying colours. When I prepared for my exams, one of the main challenges was time management. I tried my best to manage my time and prioritised on studies. INTI has a lot of experienced lecturers who are friendly and who assisted me to achieve my success in my pre-university studies."
While focusing on studies, Loo was also actively participating in campus events during his time at INTI. He took part in the Hype+ society and was actively involved in voluntary works such as Purple Walk and Hype Fun Fair. Apart from that, he also participated in a science discovery challenge in July 2019. With these outstanding results as his strong foundation, Loo will further his studies in engineering by pursuing a Bachelor of Science at the University of Melbourne, Australia.
When asked why he had chosen INTI to do his A Level at the beginning, 4 'A*'s scorer Teng Zhi Sean explained, "INTI has the best A Level results in Penang, this was the main reason I chose to study here. After enrolling into the programme, I was inspired by many of the INTI's lecturers. Ms Goay Yuan Xin took the time to explain many past year Biology questions which I couldn't solve, she helped me very much even during the holidays; and Ms Teoh Siew Chin explained different learning topics to ensure my classmates and I had a thorough understanding before we entered the exam hall."
With her outstanding 4 'A*'s results, Teo Rou Yun will continue her studies at Southern University of Science and Technology, Shenzhen, China, as she secured a full scholarship and monthly allowance to finance her studies abroad. In sharing the keys to her success, Teo elaborated, "INTI has the reputation of having good lecturers and ample resources, I think these are the main factors that helped me prepare academically and prepare for university."
In preparing the next generation for the upcoming era of the 4th Industry Revolution, delivering high academic quality and valued student experiences are of the utmost importance. INTI has not only innovated its teaching and learning approaches, but also arranged good academicians in line. At INTI, there are opportunities for students to pursue extracurricular activities from competitions to entrepreneurial endeavours, regardless of whether they are pursuing undergraduates or pre-university levels. The above A Level's top achievers who were also actively involved in campus activities are the best testimonies of INTI's teaching and learning approach, as they strike a good balance that encompasses a holistic talent cultivation process.