The Higher Education Ministry once suggested that by the end of 2020, 15% of tertiary students will venture into entrepreneurship while still studying, with 5% aiming to become entrepreneurs upon graduating1. With the unexpected outbreak of COVID-19 worldwide, are student entrepreneurs still able to commit to this vision?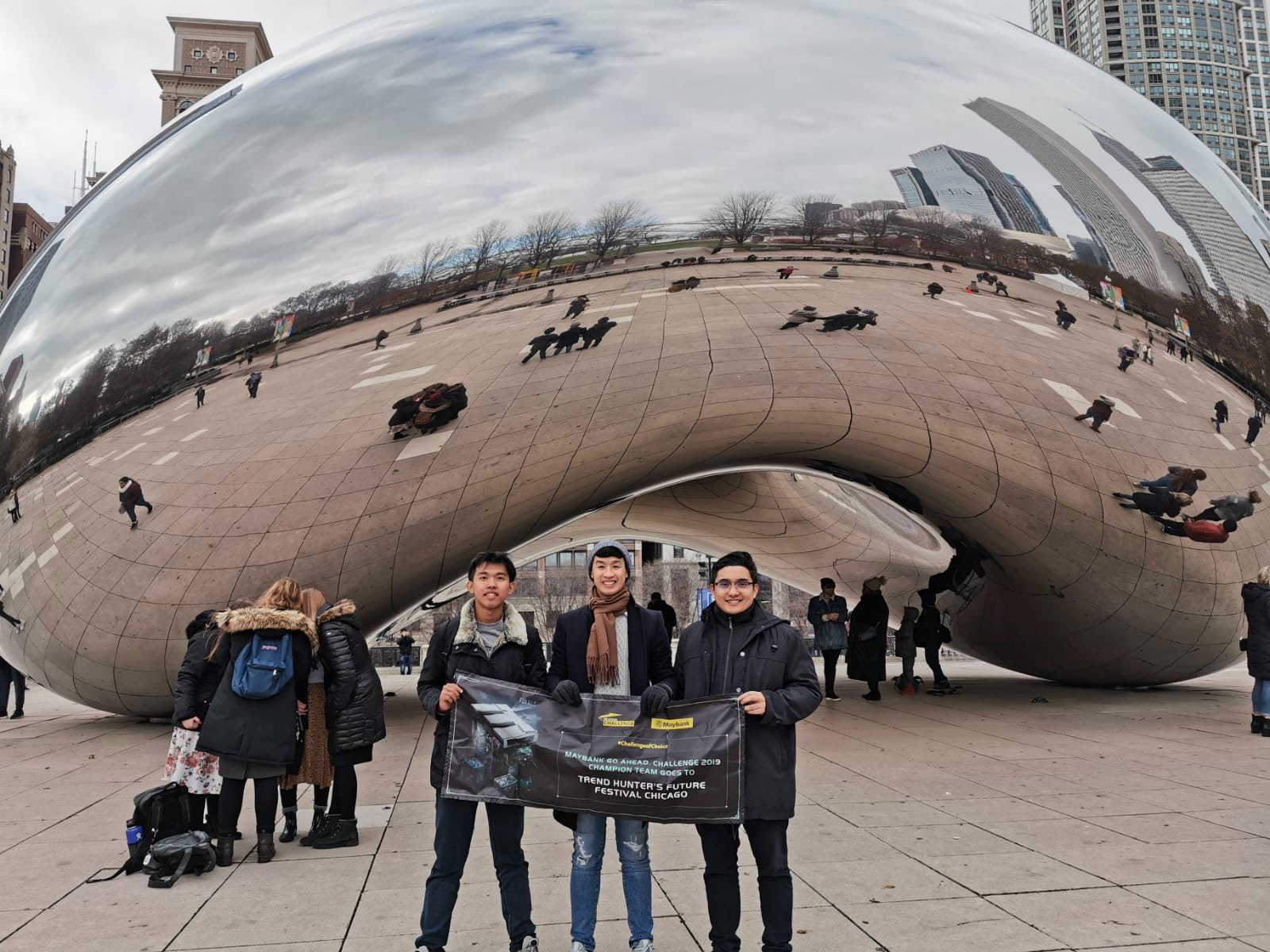 Byron Kweh Tze Min (right) spent a week in the United States participating in the Future Festival: Chicago 2019, after emerging as the global Champion for the Maybank Go Ahead Challenge 2019. With him are Sopheavan (from left) and Dai Wei Lee.
Despite the challenges of the global pandemic, aspiring young entrepreneurs from INTI International University & Colleges remain optimistic that COVID-19 has not only helped them realise their real potential, but it will eventually lead to future success, especially by shifting emerging consumer needs.
Just a few months before the MCO, Byron Kweh Tze Min, 23, a Bachelor of Computer Science student majoring in Software Engineering at INTI International University, ventured into a food delivery business named "ChupNow".
"I joined the business as it needed a tech guy to manage the platform efficiently. I started with a capital of RM11,000 to launch this business and our operations focused on Seremban and Cyberjaya. Presently, I am both Head of Operations for Seremban as well as the Head of Technology for the company," explained Byron, whose business acumen came from experience, reading, and business competitions like the Maybank Go Ahead Challenge 2019 where he emerged as a global Champion.
Upon winning the title, Byron and his team were sponsored by Maybank to participate in the Future Festival: Chicago 2019 in the United States of America.
While there are major players in the Malaysian food delivery market, Byron noticed that there were still gaps in the services provided during the MCO.
"These gaps led to a solution that became our business model, and provided us with a unique proposition," elaborated Byron, who set up his first business entity when he started university and now manages two businesses concurrently.
Like other businesses, COVID-19 had posed challenges to Byron's start-ups.
"The main challenge during MCO was the competitive space for B2C technology platforms. Bigger players who have greater financial resources were deliberately acquiring customers at inefficient acquisition costs. This helped them expand their customer base aggressively during MCO. To remain competitive, we had to position ourselves differently in terms of branding and operations," he said.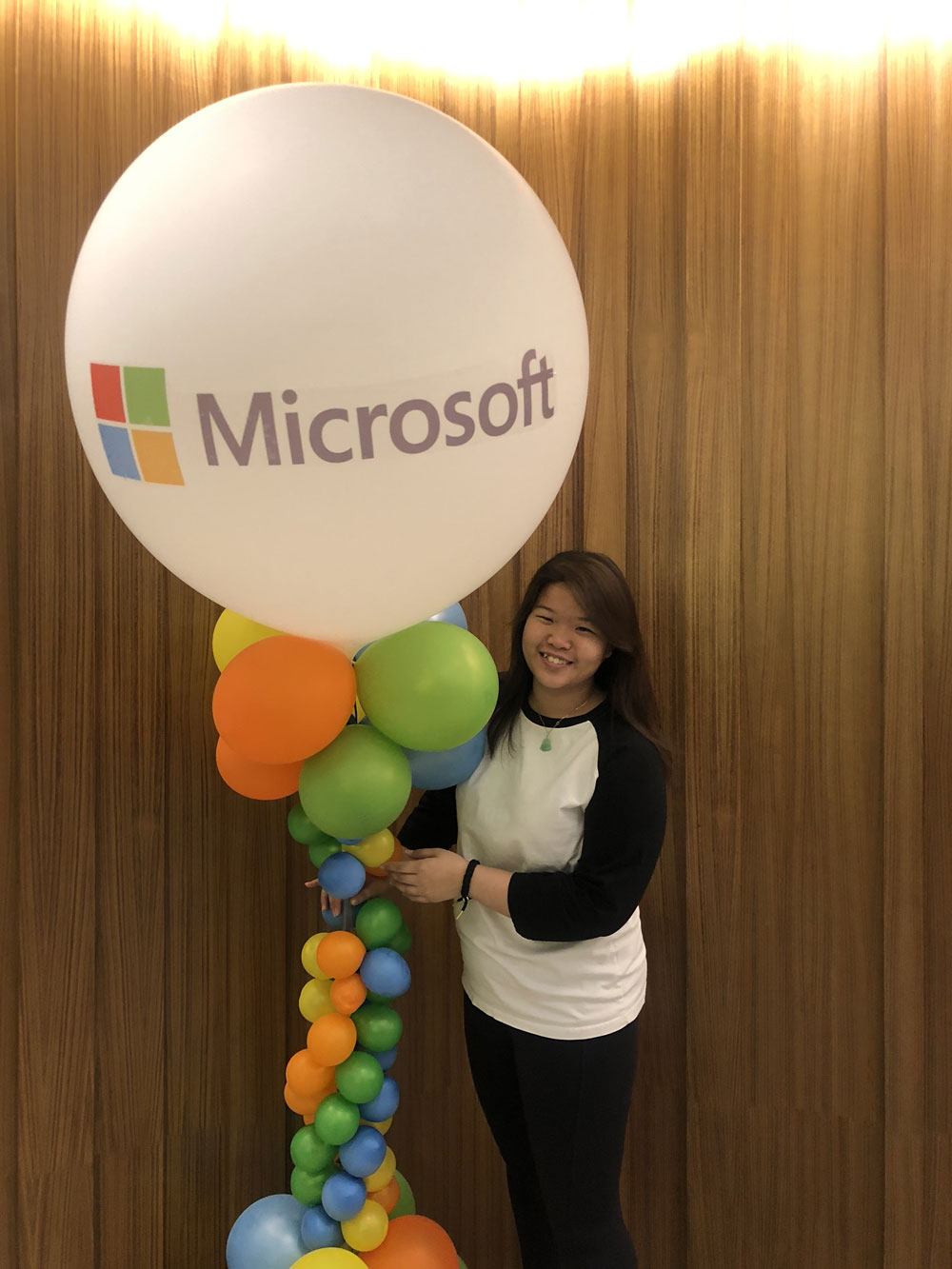 Phoenix Yee Mae Fong at one of INTI's events where served as a brand ambassador for an industry partner.
The rise of globalization and digitalization as well as lifestyle has built an environment that inspires the adoption of entrepreneurship. For Phoenix Yee Mae Fong, 22, she converted her theoretical knowledge into practical skills when she started her business selling fashionable eyewear at affordable prices early this year.
"Throughout my studies, I have dabbled in various competitions and worked with a like-minded collegemate, Candice Yap, who eventually became my business partner. We believe that fashionable eyewear shouldn't have to come at high prices, there should always be more options," said Phoenix who is in her final year of pursuing a Bachelor of Science in Business Administration degree, a 4+0 programme offered by INTI International College Subang in collaboration with Southern New Hampshire University in the United States of America.
With "Ryowear", the business brand she started with a small capital of RM6,000, Phoenix oversees the production and business operations as well the company's website.
"So far the business has been progressing well. Though there have been challenges during the MCO, specifically the restrictions on face-to-face activities, I think we can find a solution to everything when we shift our mentality," said Phoneix.
Reflecting on who she has become today, Phoneix opined that her active participation as a student ambassador with INTI's Career Services department, the connections she had made with peers and industry leaders, and the industry knowledge she hained through employer projects had provided her with a safe space to grow, to learn from mistakes and to eventually succeed towards her end goal.
With Malaysia's conducive business environment, even international student Selly Julventia, 21, has started up a small business while she pursued her Bachelor of Arts in Communication degree from Southern New Hampshire University, USA, also a 4+0 programme offered at INTI International College Subang.
"I ventured into the photography and videography business with my collegemate, Jimmy Limando, who is majoring in Finance at INTI, sometime towards the end of my second-year. We started off with a DSLR camera, our laptops, photo and video editing apps, and whatever skills we had between us. A few months later, when decided we wanted to do this more seriously, I purchased another mirrorless camera since I also started to build my own YouTube channel. From then we slowly invested in more professional cameras, lenses, lighting, microphones and so forth," shared Selly, who is a native from Indonesia.
Selly's start-up was driven by her great interest in exploring these skillsets, and gradually developed into a business named "J&S Production" when demands for their services increased.
"At the beginning, we worked for INTI's Sales Support Team where Jimmy worked as an event-photographer and I became their videographer. These experiences shaped our confidence and convinced us that we could do it!" quipped Selly, whose business is now known to some of the established names among industries.
During the MCO, when the demand for outdoor event coverage was but she and her business partner managed to get jobs for product photography, which helped them to maintain their volume of work.
"Products were sent to our studio and we would deliver the edited photos as agreed digitally," said Selly, who is a firm believer of stepping out of one's comfort zone and of building strong connections with people to improve their scope of work.
As courageous student entrepreneurs who have adapted to the new normal, Byron, Phoenix and Selly shared the following advise with fellow college students.
"Adversity always brings opportunity. By utilizing the freedom and flexibility of college life, the three years' of study is not a 'locked-down time' where we have to merely focus on our education. Instead, it is a period to explore our interests and potential." – Byron Kweh Tze Min.
"Nothing is impossible. Always believe in yourself and your vision. As long as you dare to dream and work hard for it, there's always a way to reach your dreams." – Phoenix Yee Mae Fong.
"There are always obstacles and trust me, there will be plenty! Don't give up easily but continue to move forward. However, don't punish yourself if you fail. It's okay to fail because only from there will you be able to learn." – Selly Julventia.
1 More student entrepreneurs by 2020, The Star, 07 May 2017.