Following the guidance of the Higher Education Ministry, higher education students, including those studying certificate, diploma and Bachelor's degree programmes, will begin to return to campus in stages under the recovery movement control order (RMCO) between 1st July to October 2020.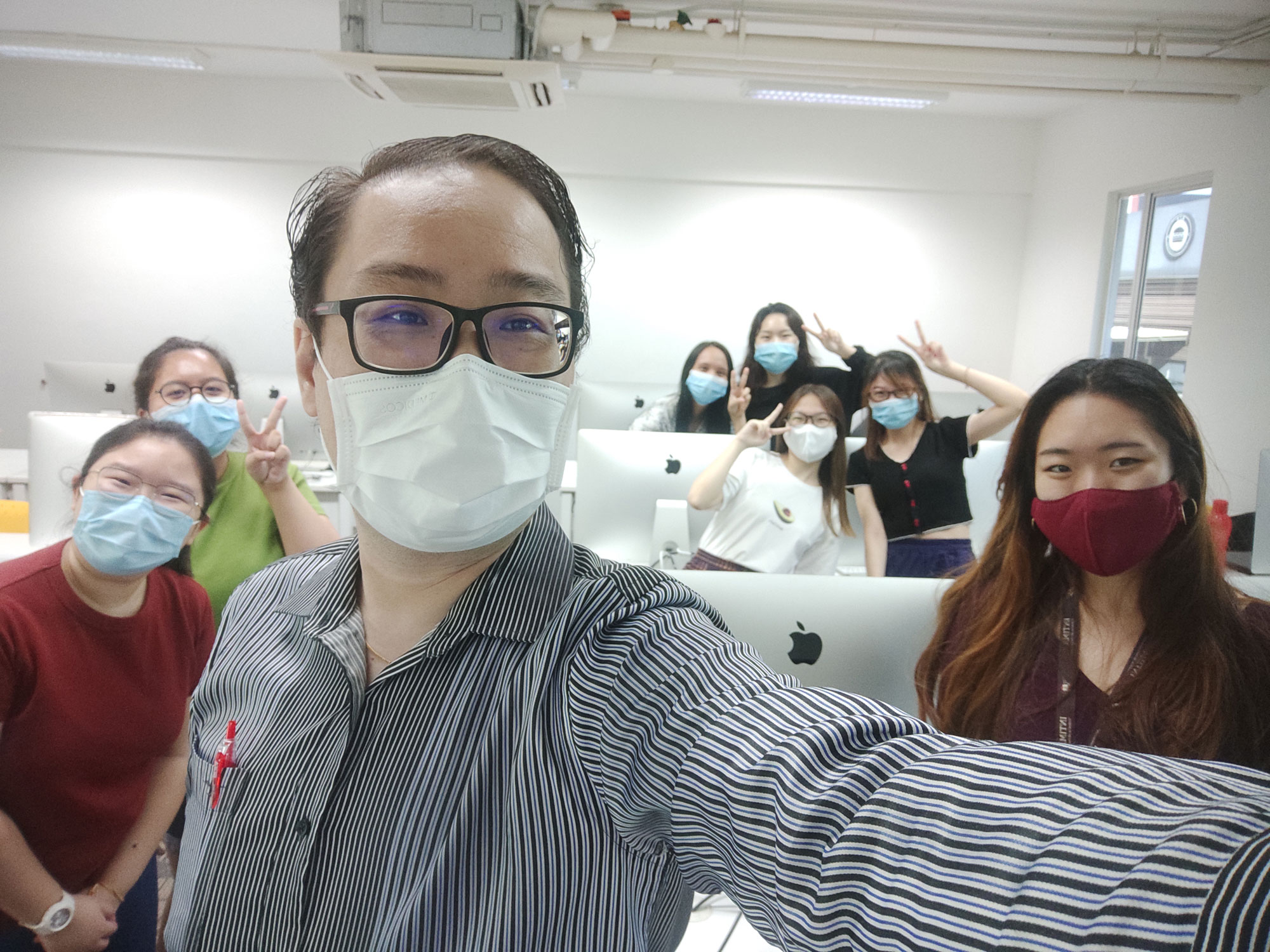 Andrew Ho Mun Wah prefers to carry out practicals in a physical lab setting.
In other words, after more than three months' lockdown, campuses will now need to work towards reopening and managing students face-to-face. Online lectures are now gradually moving back to physical lessons under a new normal, leading to the question: "how will lectures adapt starting from 1st July?" These lecturers from INTI International University & Colleges share their insights on teaching in the new norm of practical learning.
For Andrew Ho Mun Wah, 45, a senior Information Technology lecturer with the School of Engineering and Computing at INTI International College Subang, his lectures on "Interactive Media" will be split into two classes to ensure social distancing among students. Though there would be fewer students in each class, Andrew would need to manage going between different classrooms to conduct back to back lectures.
Andrew was one of the first lecturers to return to the campus to work with his students, as they had no programming or scripting background at all.
"For the final assignment, there is a need to include some scripting into their animated work for User Interface Design and User Experience Design. It was better to carry out practicals in a physical lab setting as I could just walk to the student's computer and help them figure out their issues, rather than explaining it over text messages and emails to solve it," explained Andrew, who has a Masters in Information Technology and 21 years experience as a lecturer and trainer.
To prepare students before commencing physical lectures, Andrew reminded them to fill up the health declaration form and read up the SOP guidelines through notices on their online learning platform and reminders to WhatsApp groups.
"As a lecturer, I myself needed to strictly adhere to all the SOP guidelines and to come to college early as the class starts as early as 8 a.m.!" chuckled Andrew.
Melissa Annette D'Cruz, 35, a lecturer from INTI's Centre of Art and Design (ICAD), indicated that one of reasons she wanted to return for a face-to-face with her students was the human connection, which is very important in the field of art and design.
Face-to-face art and design lectures would need a fair bit of adjustments from now on, by maintaining a safe distance among everyone in the classroom and labs.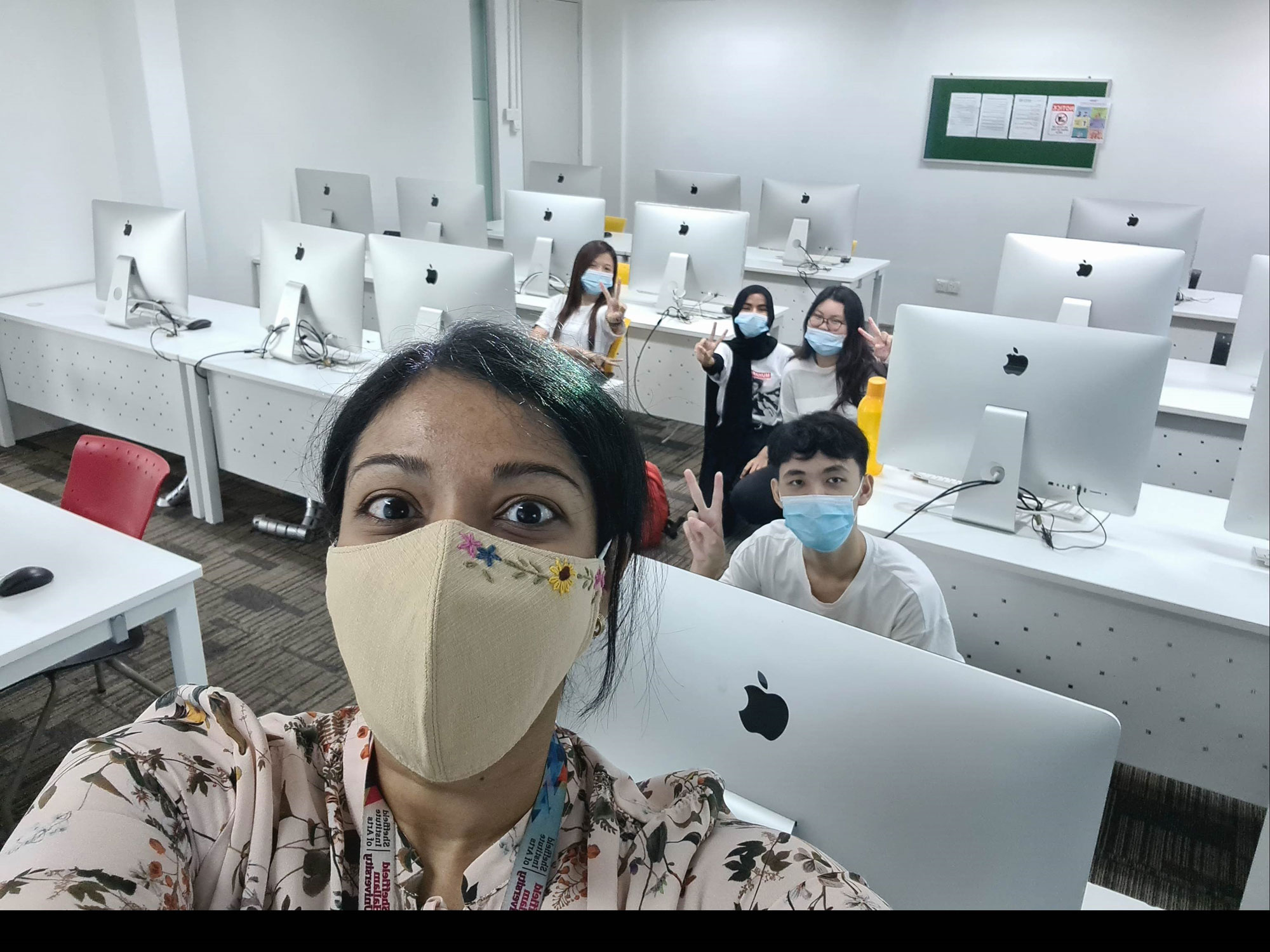 Melissa Annette D'Cruz finds that having a human connection is very important in the field of art and design.
"One of the major challenges was students sitting apart from their close friends and for new students to be able to socialise and get to know each other; demonstrating the tools and processes within a safe proximity was also something I had to learn to manage," said Melissa whose classes for the Foundation in Design Year 1 and Certificate in Design Year 2 programmes were among the earliest groups of students returning to the campus.
"Social distancing in a classroom setting is hard. Using online learning platforms such as recordings which students can view through Blackboard – INTI's learning management system – is still a way to ensure they learn while we reduce the number of contact hours and proximity," added Melissa.
After almost 10 weeks of online classes, Nur Adilah Binti Zulkiply, 31, a lecturer at the School of Hospitality, INTI International College Penang, finally met her students in person starting from 1st July.
"My students already gained a basic knowledge of the subject via online lessons, so during the first day of the face-to-face session, I didn't have to start everything from scratch. For example, I was able to start the Food and Beverage Service with students by demonstrating the correct way to use the service gear, carry plates and converse with guests while serving them. These had been taught virtually before we made the move back to the campus," stated Adilah.
"Practical skills are something we cannot evaluate online, even though students submit their cooking demo videos, it is not the same compared to a physical lesson. During the face-to-face lectures, I could share lots of cooking tips which normally happens spontaneously," said the lecturer who teaches Food and Beverage Operations for the Diploma in Culinary Arts Year 2 cohort and Asian Cuisines for the Year 1 cohort of the same programme.
In preparing her students to return to campus, Adilah carefully set up the practical sites, to ensure students could observe social distancing during the lecture.
"I needed to think about demonstrating cooking with everyone keeping a safe distance and at the same time being able to see and understand the practicals clearly," explained Adilah, who missed the comprehensive facilities and setup on campus during the lockdown as they mirrored the real coporate kitchen settings that were necessary when training students.
That students yearned to be back on campus for their hands-on projects was very much felt by Chai Yoon Yik, 53, Senior Lecturer at the School of Engineering and Technology, INTI International College Penang.
"As final year projects are one of the modules in INTI's Diploma in Electrical and Electronic Engineering programme, students needed the equipment at our Project Lab to complete their studies," said Chai who also lectures students studying INTI's 3+0 Bachelor of Engineering (Hons) in Electrical and Electronic Engineering, a programme offered in collaboration with Coventry University, United Kingdom.
He continued, "There were no lectures allowed even when we returned to the campus in July, only lab and practical work. The biggest adjustment I needed to make was to understand and adhere to the college's standard operating procedure of preventing the virus spread and making sure everyone in the lab is wearing a facemask and observing social distancing. We just needed to do it and adapt to it, no big deal!"
Pre-U lecturer Aisyah Najihah Binti Masrani, 30, admitted that she needs to raise her voice a little, or occasionally might even need to shout louder than usual, as wearing a facemask while lecturing limits her voice volume in class. Aisyah came back to lecture Business subjects for the A-Level programme at INTI International College Subang from 1st July.
"Facilities on campus such as stable internet connection, whiteboards, projectors and printers were important for me. For some topics, face-to-face explanations were the only way to go, especially those with drawing and calculations. It is also easier to supervise students' work as I could monitor how are they doing the exercises directly," explained Aisyah who is teaching both face-to-face and online lessons.
"As I am using a dual approach, I plan the lesson for what is going to be covered during online classes and what needs to be done during face-to-face classes," elaborated Aisyah who has 18 teaching-hours per week with five hours for face-to-face lecturing and the rest remaining online.
"Lecturers and students alike need to fulfil the strict procedures as it requires us to fill in forms to seek consent before we step into the campus, so planning how we spend our time is now more important than ever," she concluded.