INTI College Sabah (INTI) recently organised a Parents' Appreciation Day in campus for parents and students of INTI's Foundation & Diploma programmes for a one-day experience with INTI's current innovative teaching and learning tool – the Blackboard Learning Management System (LMS).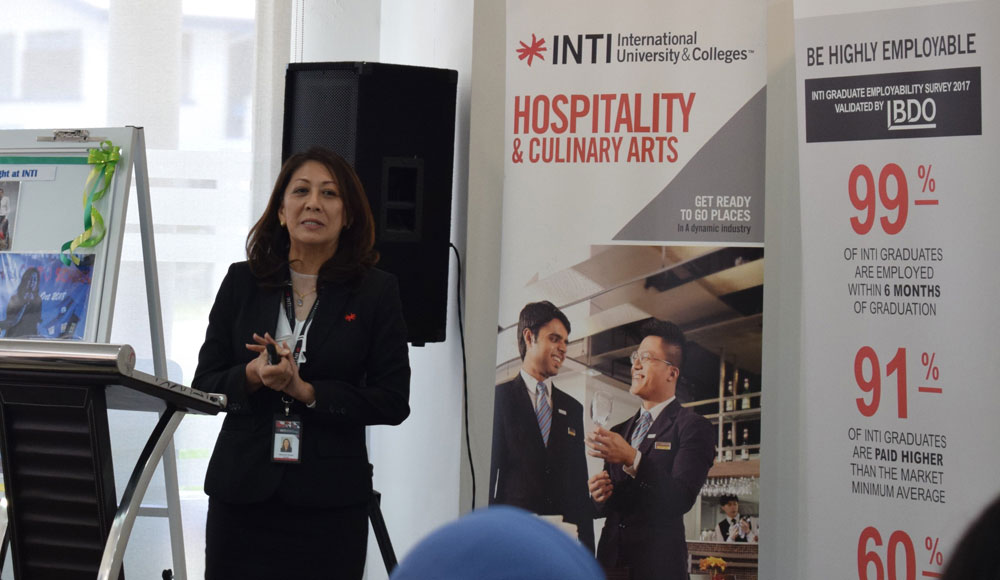 Dr Athanasia Nointin, INTI's UH Head of Programme, presenting a brief overview of INTI's University of Hertfordshire (UH) Programmes.
The full day event first witnessed a brief overview of INTI's University of Hertfordshire (UH), UK programme by INTI's UH Head of Programme, Dr. Athanasia Nointin, including a sharing by the guest of honor, Mr Foo Ngee Kee, President of SME Association, Sabah, before moving on to the highlight of the day.
Maria Luisa, Head of School for INTI and organiser of INTI's Parents' Appreciation Day, shared that the highlight of the event was having parents experience INTI's Blackboard LMS that delivers INTI's courses through digitally engaging tools and advanced systems.
"Our Blackboard LMS includes systems such as virtual studio technology, interactive simulation and elearning, an augmented reality studio, gamification, and softwares that assist with student support and assessment," shared Maria.
"We thought it would be a great tool for parents to experience, so that they understand first hand how engaging learning has become for their children," she added.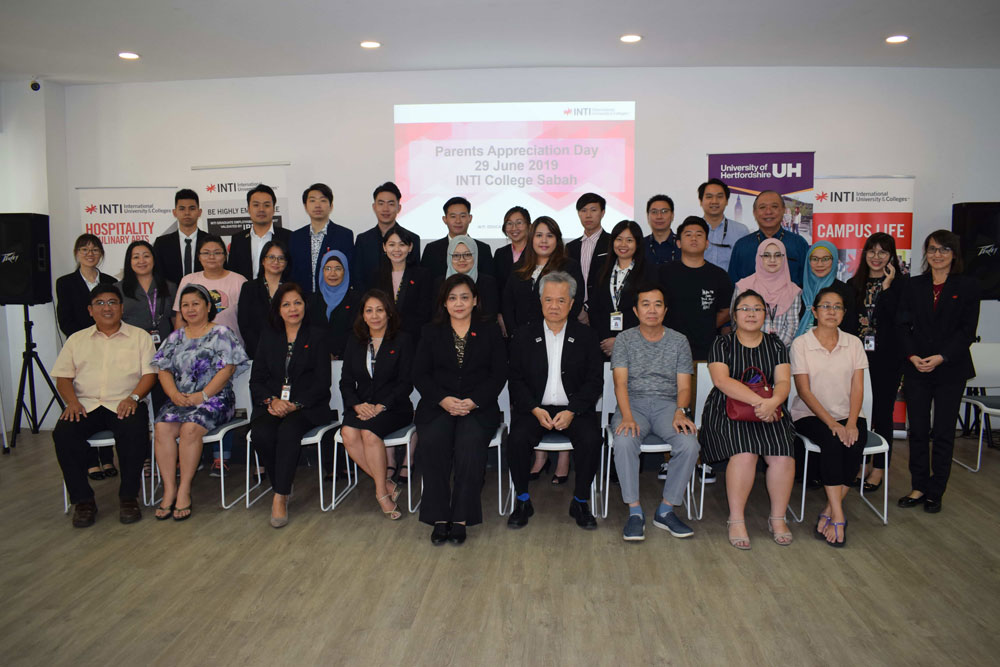 INTI staff, parents and students pose for a group photograph after celebrating INTI's Parents' Appreciation Day.
The parents participated in three games available on Blackboard's various softwares and prizes were awarded to the champions.
Roselyn Chua, Chief Executive of INTI College Sabah, shared that INTI prides itself on how they cultivate and facilitate teaching and learning today.
"Apart from utilising sophisticated and current softwares to support our students' learning experiences, the LMS also functions as an individualised tool that supports our academicians in guiding students. For instance, our LMS will be able to notify our academicians of students who are struggling academically, which will then allow our academicians in develop quick interventions for our students," shared Roselyn.
"It is fun, it is high-tech, and it is beneficial for our students, teachers and institution today," she ended.