Driven by New Economic Model (NEM) , Malaysia aims to create 1.3 million jobs in disciplines related to Science, Technology, Engineering and Mathematics (STEM) by 2020 . Therefore, there is an urgent need to create a thriving environment for young learners to be interested in STEM, especially while they still in the secondary school, as the interests and skills acquired at this stage will determine their future career paths.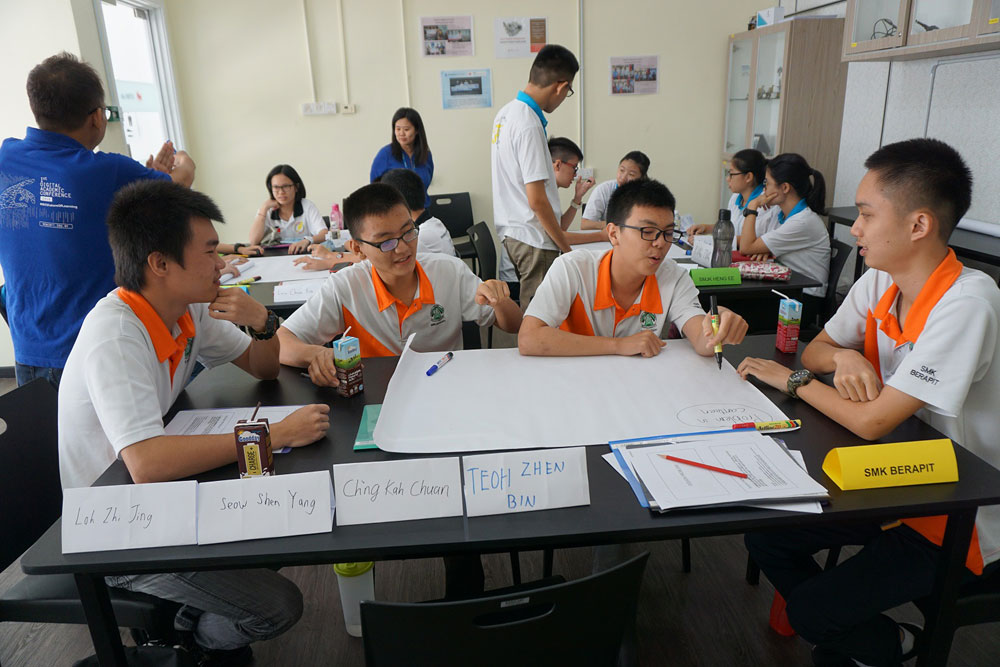 Participants from SMK Berapit participating in the workshop 'Design Programme Definition' held at the STEM Lab at INTI International College Penang.
To develop lifelong interest in STEM-related subjects, and to gear students for future careers in STEM, the School of Engineering and Technology (SOEAT) at INTI International College Penang (INTI) recently initiated STEM projects at two secondary schools, namely SMJK Heng Ee and SMK Berapit.
The students were tasked to build projects that seemed monumental – the respective schools had to build a solar generated aquaponics system and a low-cost air ventilation system.
"The purpose of the project is to encourage the students to solve imperative issues in their schools using STEM," explained Ms Lim Sheue Hui, the Senior Lecturer and Head of Programme of Diploma in Electrical and Electronic Engineering from INTI who headed this initiative.
Funded by Motorola Solutions Foundation, the charity arm of the world-renowned data communications and telecommunications equipment provider, the projects started last December where a team of five students from each school gathered at INTI to attend a series of workshops at INTI's STEM Lab, an incubator for STEM talents in Penang and conducted by knowledgeable and experienced lecturers to equip themselves for the task ahead.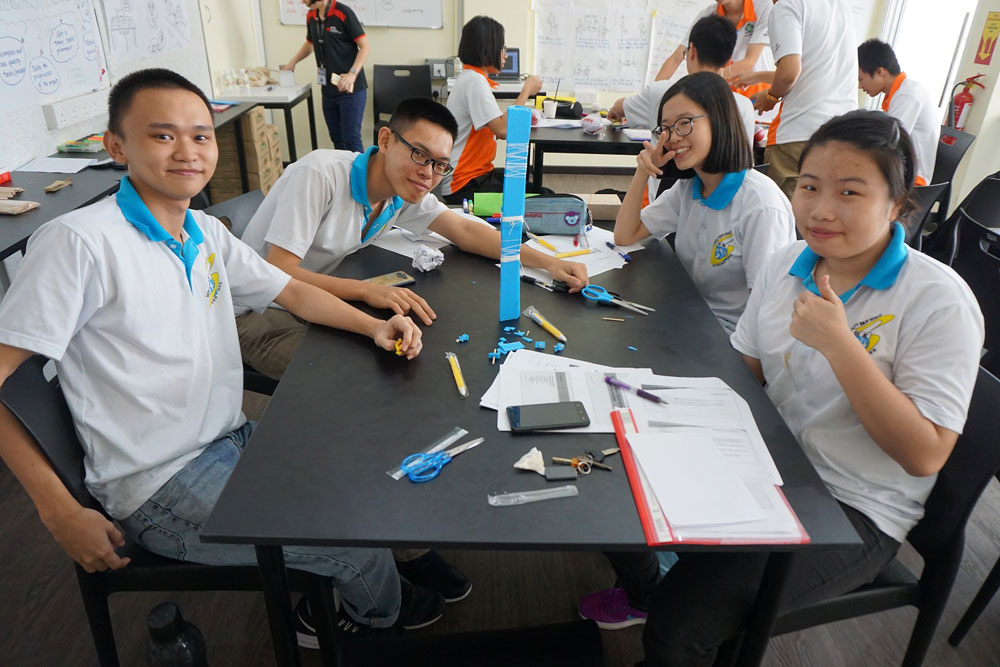 Students from SMJK Heng Ee having fun while conceptualising their STEM project together.
Coupled with the allocated fund of RM2,000 for each school from Motorola Solutions Foundation, the teams were required to identify a problem statement faced at their respective schools, before proposing and presenting their ideas and then to work on their projects within the time frame. To spur and encourage them, the teams were allowed to seek advice and recommendations from a team from Motorola, or approach the INTI lecturers to have their designs fine-tuned. Each project had to fulfil these criteria: functionality, reliability, hardware structure, and future action plan.
During the finale of the event in the month of May, the teams gave a demonstration on their finalised projects, witnessed by Ms Hemalatha Murugiah, the Chief Executive of INTI International College Penang; Mr Johnny Wong, the Dean of SOEAT; Ms Alicia Tan, the representative from Solarvest Energy Sdn. Bhd.; Mr Goey Hee Tat, a mentor from Motorola Solutions Malaysia; the principals, teacher-advisors and students of respective schools.
"The Solar Generated Aquaponics System created by SMJK Heng Ee's team is a form of agriculture that combines recirculating aquaculture system (RAS) with soilless plant culture and powered by solar energy. We are impressed by their efforts to make full use of unoccupied spaces in the school for this system to care for fishes and plants using solar energy," commented Hemalatha after she had seen the live demonstration.
As for the Low-Cost Air Ventilation System built by SMK Berapit, Hemalatha complimented on the success of the team to create a solar powered self-ventilated system for the school's counselling room. With the device, the room is kept at a comfortable temperature without the use of an air-condition unit.
As a reward for the resilience demonstrated by the students and as a result of their achievements, SMJK Heng Ee and SMK Berapit were granted an additional RM1,000 by Motorola Solutions Foundation.
"We hope we have inspired these students to embrace STEM, especially as we enter the Industrial Revolution 4.0 (IR 4.0) and the workforce would require people with skillsets such as knowledge on ICT, the ability to work with data, having a generic knowledge about technology and a mind set for lifelong learning," concluded Hemalatha.