At 3.5 percent in July, unemployment in Malaysia is at its highest since 2013 and continues to rise. This issue coupled with weak wages and job-growth has given cause for concern among Malaysians who placed the mounting cost of living as the No.1 priority for Budget 2017.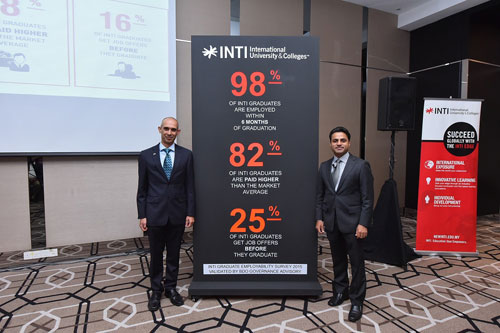 (From L-R) Mr. Rohit Sharma, CEO of INTI International University & Colleges with Sanjay Sidhu, Executive Director at BDO Kuala Lumpur.
These rising concerns coupled with the fact that almost 200,000 fresh graduates are unemployed, INTI commissioned a landmark survey between 316 employers and new graduates in Malaysia to better understand the demands of the increasingly competitive job market.
Survey reveals stark mismatch in employers – new graduates' competencies expectations to perform well on the job
Survey findings revealed several gaps in expectations between employers and new graduates in terms of the competency deemed essential to excel at a job. The most pressing dichotomy in expectation concerned digital literacy, where 30% of employers regarded it as the most essential competency needed for job performance while most graduates rated it as the least important competency at only 4%.
Speaking on the survey findings, Mr. Rohit Sharma, Chief Executive Officer of INTI International Universities and Colleges said, "The nature of knowledge is changing and in this digital age, our definition of basic digital literacy needs expanding. This stark mismatch is worrying because digital literacy, which allows you to live, learn and work in a digital society, is one that needs to be taken seriously. If unaddressed, the consequent misguided belief that graduates have of themselves – that they are well prepared for employment despite not being sufficiently digitally literate – will only add onto the already dire unemployment issue in our nation."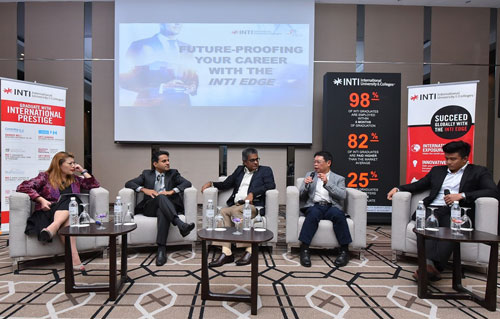 (From L-R) Freda Liu, Moderator of Panel Discussion; Mr. Rohit Sharma; Mr. Gopi Ganesalingam, Vice President, Enterprise Development Consulting at MDEC; Mr. Simon Si, Head Regional Communications, SEEK Asia; and Mr. Jake Choy Yew Wing, an INTI alumnus who is currently a Business Development Consultant (ASEAN) in Oracle during the panel discussion.
To further deliberate on the findings as well as discuss remedies that could improve the employment scene in Malaysia, a panel discussion was held alongside Sharma and industry partners including Mr. Gopi Ganesalingam, Vice President, Enterprise Development Consulting, Malaysia Digital Economy Corporation (MDEC); Mr. Simon Si, Head Regional Communications, SEEK Asia; and Mr. Jake Choy Yew Wing, an INTI alumnus who is currently a Business Development Consultant (ASEAN) in Oracle.
In addressing the importance of digital literacy, Mr. Gopi Ganesalingam said, "We live in a digital world today; this is highly reflected in the way businesses and industries are changing from the advent of technology. The biggest accommodation provider is offering more rooms than many of the largest hotel groups in the world without owning any rooms, and the world's most popular taxi company actually owns no vehicles. These are all businesses made possible with digital technology and are those that are changing the way the respective industries offer products and services. If we do not begin educating our younger generation about the impact of digital literacy, they will be left behind."
Mr. Simon Si furthered the response stating that, "We know that graduates are aspiring to become digital heroes and they are already a digitally-savvy generation. The next step here is to evolve curriculums concurrently to meet marketplace demands. These expectations are also two-pronged; in that employers should also embrace digital literacy and understand how it can benefit our respective organizations and businesses and subsequently harness the knowledge that new graduates already possess to meet those demands."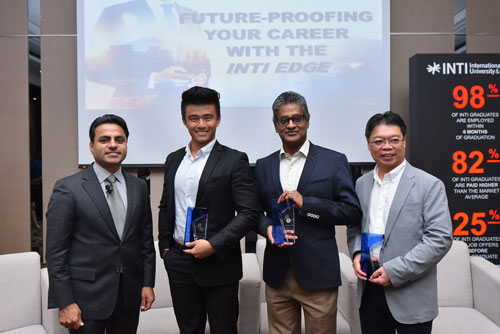 (From L-R) Mr. Rohit Sharma, Mr. Jake Choy Yew Wing, Mr. Gopi Ganesalingam, and Mr. Simon Si.
Another notable finding from the survey is that most graduates (29.5%) regarded communication skills as the most important differentiator while only 6.3% of employers saw it as a differentiating factor in evaluating an employee's performance. Employers are beginning to raise the benchmark with most seeing communication skills as a given attribute rather than a discerning trait.
However, Mr. Jake Choy emphasized that, "Many graduates regard communication skills as important because communicating with people is the basis of our daily work. Being good communicators also allows us to build and maintain relationships. That said, the need for good communication skills is contextual. For example, communication skills would play a huge role in first impressions during your 45-minutes interview."
New Bachelor of Business programme to address gaps in employers-new graduates' competency expectations
To address the disparities in the survey findings, INTI has launched its new Bachelor of Business programme with specific emphasis on key competencies like digital literacy, entrepreneurial mind set and communications. INTI has also revamped the curriculum to provide more practical exposures through role playing, simulation games, interview and presentation skills, in addition to its existing employer projects and internships. The new Bachelor of Business includes majors in Marketing, Accounting, Finance, Human Resource Management, Business Administration and International Business.
INTI believes that the newly revamped programme will empower students with experience and insights that will give them an edge over their graduate peers – not only in landing jobs but also in establishing careers and also equipping them for lifelong learning.
Sharma added, "The gap in expectations between employers and new graduates as revealed by the survey and verified through feedback from the employers has lent us insight into the current needs of the job market as well as a greater understanding of our students' perspective on career building. As a higher learning institution, our duty is to bridge that gap by empowering our students to meet the demands of the labour market."
New INTI employability outcomes validated by BDO Governance Advisory
In line with INTI's unyielding focus in producing outstanding graduate outcomes, INTI and BDO Governance Advisory also launched INTI's new 2015 employability figures. It is now validated by BDO that 98% of INTI graduates were employed within 6 months upon their graduation while 82% of INTI graduates are paid higher than market average. Additionally, 25% of INTI graduates are offered jobs before they graduate.
Sharma concluded, "This move serves as a testament to how INTI is constantly raising the benchmark for graduate employability. We are also proud to be setting a new standard for transparency and accountability."