For the second year in a row, INTI International College Penang (INTI Penang) was selected as a grant recipient by Motorola Solutions Foundation, the charitable arm of Motorola Solutions. The grant, a monetary award of USD 35,000.00, is offered in support of programmes which advance science, technology, engineering and math (STEM) education and aims to groom the next generation of innovators.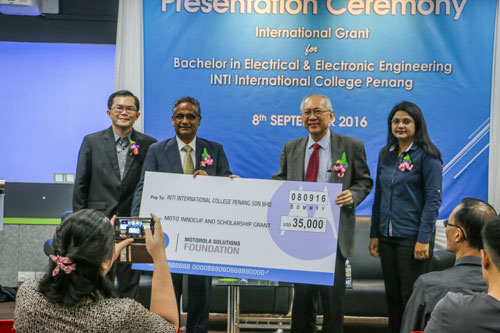 Sharing this vision, INTI awarded the bulk of the grant as scholarships to four students from its Bachelor of Electrical & Electronic Engineering programme. The recipients are Lee Gang Ying, Goh Zhe Qian, Tan Chee Wei and Yogendran Rajaretnam – all of whom have demonstrated a strong academic standing with a CGPA of above 3.25, strong leadership capabilities, as well as active participation in both classroom and extracurricular activities.
Hemalatha Murugiah, Chief Executive of INTI Penang, said, "We are honoured to be selected as the award recipient once again and to provide these scholarships to our students who have worked hard for it. This award from an established institution such as Motorola Solutions Foundation is a significant form of recognition and will go a long way in supporting them as they continue their studies."
Beyond the monetary award, the grant also paves the way for these young hopefuls in securing potential future employment with international organisations.
Yogendran Rajaretnam, who received the award for the second time due to his outstanding performance, shared, "In addition to academic knowledge, INTI empowers students with the opportunities to gain hands on experiences through programmes such as competitions, employer projects and internships. These activities allow us to apply what we are learning in the classroom to real world problems and to develop practical solutions that can be implemented. Participating in these projects gives us a deeper understanding of what we are learning and helps prepare us for our future jobs."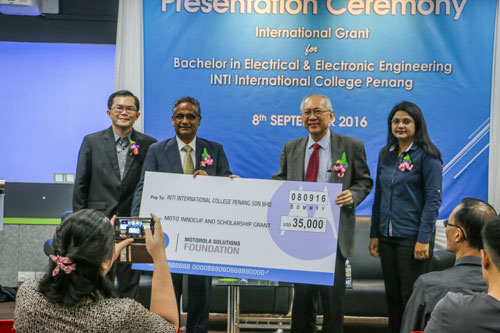 To support and encourage more students in gaining these hands on experiences, the remainder of the grant has been set aside to fund the annual Moto Innocup, an inter-varsity software competition sponsored by Motorola Solutions Foundation and organised by INTI; and the Robotics Challenge, another collaboration between INTI and the Motorola Solutions Foundation for secondary school students.
Commenting on why INTI was selected as the recipient for the grant for the second year, Dr Hari Narayanan, Managing Director of Penang Operations, Motorola Solutions Malaysia said, "INTI's focus in aligning education to the needs of industry is an important step in ensuring students graduate with the relevant professional skills as well as a good understanding of the workplace. The students selected for this scholarship have not only performed well academically, but also reflect the maturity and leadership capabilities we look for in potential hires. This all rounded approach to education was the main differentiator for our final selection."
INTI's continuous collaboration with more than 400 industry leaders from across the country provides students with platforms to develop their knowledge, skills and leadership capabilities, opening up opportunities for them to work alongside local and international organisations while still studying.