Since its inception in 1986, INTI International University & Colleges has aimed to continuously deliver outstanding student outcomes by ensuring its academic and extra-curricular offerings meet industry standards. An institution dedicated to the advancement of innovative learning and the reinvention of education to meet the changes of today's volatile working world, one of the key differentiators of INTI's curriculum has been its dedicated focus to ensuring students are both industry and employer ready even before they graduate.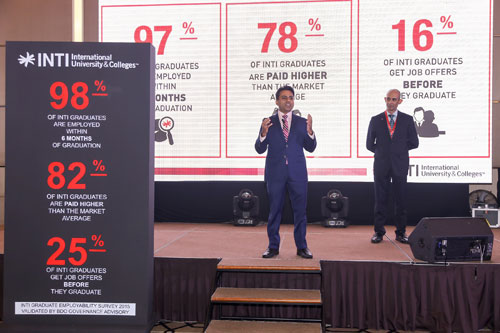 (From L-R) Mr. Rohit Sharma, CEO of INTI International University & Colleges with Sanjay Sidhu, Executive Director at BDO Kuala Lumpur revealing the new 2015 INTI Employability Survey.
"Since 2000, we have formally embarked on collaborating with the industry, with the aim of connecting students to businesses right from the start of their careers. Over the last 16 years we have built a network of over 400 industry partners, each having contributed to various aspects of student development. The outcome of this has been to empower students to think beyond the classroom, to put their academic knowledge to practical use and to connect them with some of the world's most established industry leaders," shared Rohit Sharma, CEO of INTI.
In recognition of these partners, INTI organised its second annual INTI Industry Partners' Appreciation Dinner, which was attended by more than 150 leading organisations from across the country. The event offered an opportunity for INTI to highlight some of its most outstanding collaborations over the year and to award their top partners across six categories of achievements, including the Employer of the Year Award, the INTI Edge Award, the INTI Students' Choice Award, The INTI Star Partner Award, The INTI Rising Star Partner Award and INTI's Most Promising Industry Partner.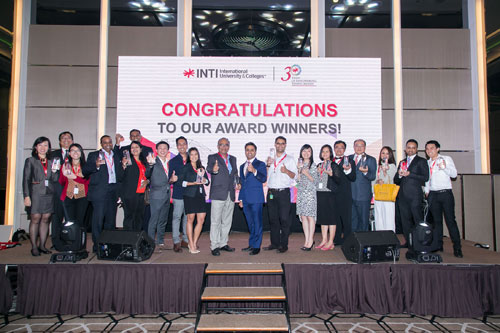 Mr. Rohit Sharma, CEO of INTI International University & Colleges with INTI's Industry Award Winners
Sharma explained, "These awards recognize the industry partners who have supported and contributed to INTI's Enrolment to Employment initiative and who have been instrumental in helping INTI students develop the skills, knowledge and capabilities as they become the game changers of the future. These collaborations have also laid the foundation for our positive student outcomes in employability which has been validated by BDO Governance Advisory. This includes the fact that 98% of INTI graduates are employed within 6 months of graduation, while 25% receive job offers even before they graduate. 82% of INTI graduates are also paid higher than the market average – a reflection of the skills and capabilities they are able to demonstrate."
To highlight these capabilities, the event showcased ten award winning student projects from over the last year. Among the line-up of exhibitors were the Second Runner Up for the international Laureate Award for Excellence in Robotic Engineering competition; the Top 3 teams of the INTIpreneur 2016 competition, INTI's own entrepreneurial challenge organised especially for its 30th anniversary; the winners of the popular Animax Costume Design competition; and Ganesh Muren, INTI alumni and CEO of Saora Industries who was named the 2016 Laureate Here for Good Award winner from among candidates across Laureate's 70 institutions worldwide. The exhibition created an important opportunity for these students to share their achievements with potential employers and to garner feedback on their efforts.
"Beyond academic excellence, INTI emphasises the need for students to understand and prepare for the expectations of their future employers. One of the key issues in retaining talent in today's workplace stems from a mismatch of expectations by both employers and young professionals. Including our students in this event gives them yet another platform to connect and hear from experts in the field," said Sharma.
As part of its efforts to understand and address the mismatch of employers and graduates' expectations, INTI also took the opportunity to unveil the findings of its most recent employers and graduates survey. Focusing on the key factors for career success, the survey revealed a significant gap in three key areas, namely: the importance of digital literacy; having an entrepreneurial mind set; and the role of communications in the workplace. The survey results reflected diametrically opposite responses from both employers and young professionals – leading to a rising concern that, even after a few years on the job, these young professionals were still unclear as to what they needed to get ahead in their careers.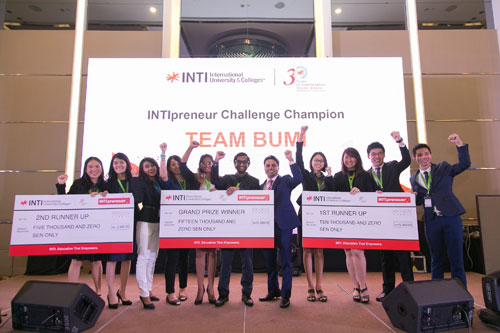 Mr. Rohit Sharma, CEO of INTI International University & Colleges with the top three winners of INTIprenuers
In response to these findings, INTI unveiled its new Bachelor of Business programme, offered by INTI International University. With the end goal of producing highly employable graduates, the programme focuses on real-world problems and case studies, infusing it into the actual pedagogy of subjects such as micro and macroeconomics, accounting principles and business law. In doing so, understanding the practical applications of these potentially dry subjects is elevated within the classroom.
Sharma comments, "Practical learning provides a better way for students to develop skills such as digital literacy, entrepreneurial thinking and communication. To competently relate business theories to challenges in the real world, students must learn to apply these skills consistently across various subjects throughout the course of their study. By receiving the training they need while still studying, these students are better prepared to navigate the demands of their future workplace."
In supporting the development of an entrepreneurial mind set, the winners of INTIpreneur 2016 were also formally awarded during the dinner. The three teams from INTI's Penang and Nilai campuses were selected from close to 30 entries at the start of the year and underwent several stages including a video pitch, mentorship and final presentations reminiscent of the popular Shark Tank series. Focusing on social impact as the foundation of their ideas, the teams were put through their paces in researching issues and trends and delivering their ideas to business leaders and entrepreneurs.
"The mutual collaboration between INTI and the industry has brought a number of benefits, not least of all the opportunities for students to discover themselves and their potential. By participating in events such as competitions, workshops and employer projects, students gain experiences which guide them in making informed career choices and discover the various platforms for them to kick start their careers. Whether in climbing the corporate ranks or innovating the next big thing, we are committed to offering an education that helps our students grow their personal abilities," concludes Sharma.
Award recipients from the 2016 INTI Industry Partner Appreciation Dinner
The INTI Employer of the Year award – awarded to the companies who have hired the most number of INTI graduates

Gold : IBM
Silver : Intel
Bronze : Hewlett Packard Enterprise

The INTI Edge Award – awarded to the companies who have organised the most number of employer projects

Gold : Genting Malaysia Bhd
Silver : Dell
Bronze : WWFMalaysia

The INTI Star Partner Award – awarded to the companies with most participation in INTI initiatives

Gold : General Electric
Silver : KPMG
Bronze : Paypal Malaysia

The INTI Rising Star Partner Award – awarded to the companies who have shown the most growth in their working relationship with INTI since 2014

Gold : DiGi Telecommunications Sdn Bhd
Silver : The Nielsen Company
Bronze : Malaysia SME Group Media

The INTI Students' Choice Award – INTI students' more preferred employer

Gold : Google Malaysia
Silver : Maybank
Bronze : ASTRO

INTI's Most Promising Industry Partner – the partner who shows the most support in INTI initiatives

Overall winner: General Electric