"Students should be encouraged to focus on the development of personal skill sets alongside academic excellence. The development of skills such as teamwork, adaptability to change, ability to communicate effectively and having a mindset for lifelong learning are the competencies that will enable students to remain relevant, regardless of the roles or industries they enter. Especially during a time when Industrial Revolution 4.0 (IR4.0) is accelerated," shared Farhana Mohd Zaini, a lecturer from the Faculty of Engineering and Quantity Surveying.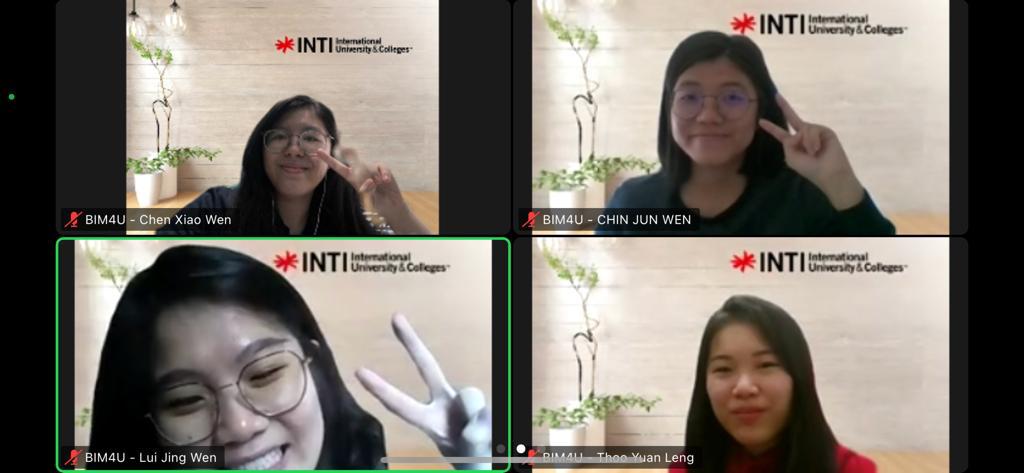 Thoo Yuan Leng, Lui Jing Wen, Chin Jun Wen and Chen Xiao Wen during one of their discussions to prepare for the BIM Contest Malaysia 2020 via Microsoft Teams.
Farhana along with six other lecturers contributed to the success achieved by the team of four students at the virtual BIM (Building Information Modelling) Contest Malaysia 2020 organized by Glodon Malaysia. Recognized as the first runner up, the students from INTI International University acknowledged the fact that the contest was an avenue to tap into an array of skill sets needed for IR4.0.
Glodon Malaysia, a wholly-owned subsidiary of Glodon Company Limited, has expanded into the construction IT market in Malaysia together with local partners since 2012. With a fast growth of its users, Glodon Malaysia was set up in March 2015 in order to better provide users with quality products and services[1].
The participants, Thoo Yuan Leng, Lui Jing Wen, Chin Jun Wen and Chen Xiao Wen, who are all currently pursuing their Bachelor of Science (Hons) in Quantity Surveying programme, were grateful to be able to explore the BIM technology through this contest as they believe the construction industry is moving towards digital transformation.
Yuan Leng, a member from the team said, "IR4.0 has augmented advances in technologies across various industries. These technology advancements, when adapted in the workplace, are enabling new ways to execute work, bringing new opportunities for value creation to businesses and organisations — paving the way for the formation of digital ecosystems and collaborations as well as engagement with consumers at a greater scale. Hence, competitions like these are essential to groom us to be career ready."
Besides being an invaluable experience to all of them, they also admitted that the contest enhanced their academic journey at INTI.
"This contest was a platform for us to put our skills learnt in class to good use. We believe the Glodon Cubicost software will be widely used by the construction industry in the near future. Therefore, we urge our juniors to learn and apply these latest software as it would be beneficial for them especially now since it has been introduced vastly in Malaysian construction sectors," said Jing Wen, another enthusiastic team member who acknowledged the importance of team spirit and right attitude as winning factors of a competition.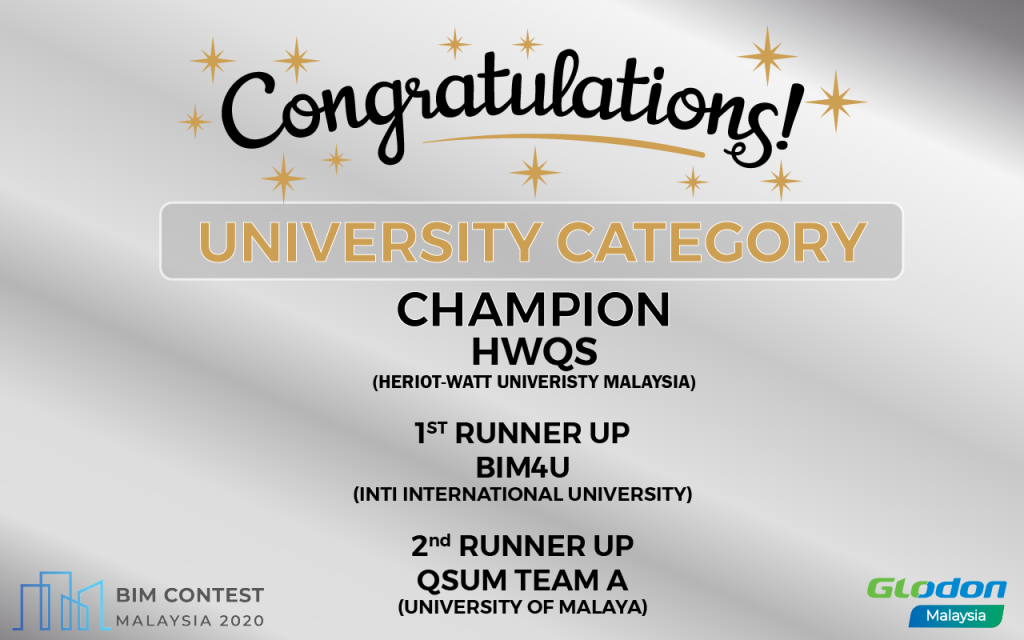 The winners of the BIM Contest Malaysia 2020 announced by Glodon Malaysia.
As some of the team members were simultaneously either working or interning, they allocated their time for the contest submissions after working hours.
"As a result of efficient time management between work, personal life, and the contest, we managed to emerge as first runner ups at the contest. We learned together and helped each other to resolve the challenges we faced throughout the process. I honestly enjoyed the journey as we came together as individuals with common goals, who at the end of the day were willing to contribute towards the success of the team," shared Jun Wen, a first timer in a contest organized by Glodon Malaysia.
The students contributed their achievement in the contest to the establishment of the BIM Development Centre at INTI International University. They said the skill sets they applied during the contest were mostly acquired from trainings held at the development centre.
The BIM Development Centre, set up with the collaboration of Glodon, enables Quantity Surveying students to receive competency certification by Glodon. In addition to that, the centre also provides training to industry practitioners to upskill their skill sets.
Xiao Wen, who was inspired to be more curious about the industry after participating in this contest added, "Although the contest was challenging as it required us to be equipped with knowledge on BIM and a comprehensive understanding to complete various tasks, we are grateful to be given an opportunity to explore the BIM technology which will benefit us in the long run."
"Our initiatives and facilities provide students with the experience and readiness they need to join the workforce, such as employer projects, Industry Advisory Board, workshops, boot camps, industry-led competitions, short courses and internship. These give them insights on how to deal with current challenges when they start their career. Some of the high-tech industry partners that we currently work with include Glodon Malaysia, Dell, IBM, Google, and Alibaba GET," mentioned Farhana who is also the main liaison for the BIM Contest Malaysia 2020.
Farhana concludes that she hopes when these students graduate, they will be able to use their existing skills and quickly learn new ones to keep up with the rapidly changing needs of society. Besides these 21st century competencies, she added that students also need to be socially, adaptively, and digitally competent to sustain in a fast-paced environment.