Following INTI International University & Colleges' celebration of indigenous people, INTI International College Subang student Vernita Racha Anak Nicholas, who is of Iban ethnicity, shares her experiences as an indigenous person and the uniqueness of her ethnicity, culture and tradition in conjunction with the International Day of the World's Indigenous People (IDWIP).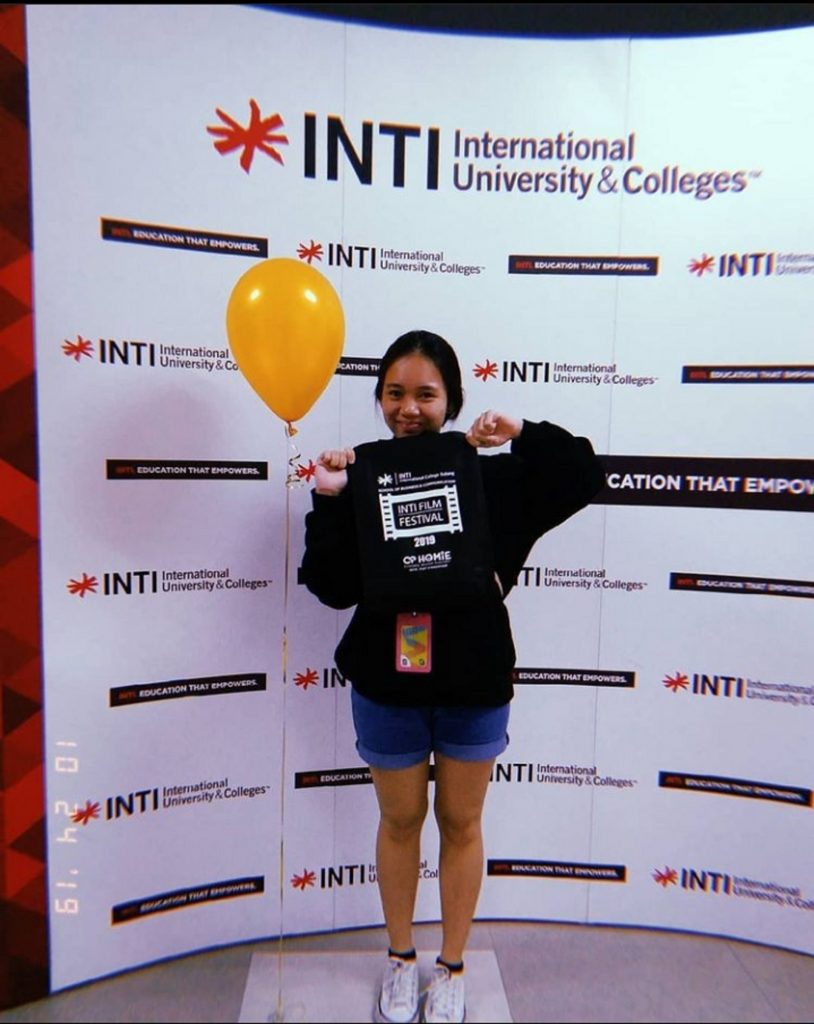 Vernita is currently pursuing her Diploma in Mass Communication at INTI International College Subang
What's in my name?
When asked about the meaning behind her name, Vernita shared that there are deep cultural influences and significance to the name she carries, along with how it was formed.
"Similar to the creation of surnames for people of other ethnicities, when an Iban child is born, we immediately take on the names of our great-grandparents in order to honour our ancestral roots.
"Unlike surnames, however, which mostly carry the names of the men in their family, depending on our gender, we will either take on the name of our great-grandmother or the name of our great-grandfather," said Vernita.
She added, "For instance, Racha, my second name, is the name of my great-grandmother. Most people mistake it for my name but it isn't. My male cousins take on the names of their great-grandfather and my female cousins – their great-grandmother," she informed.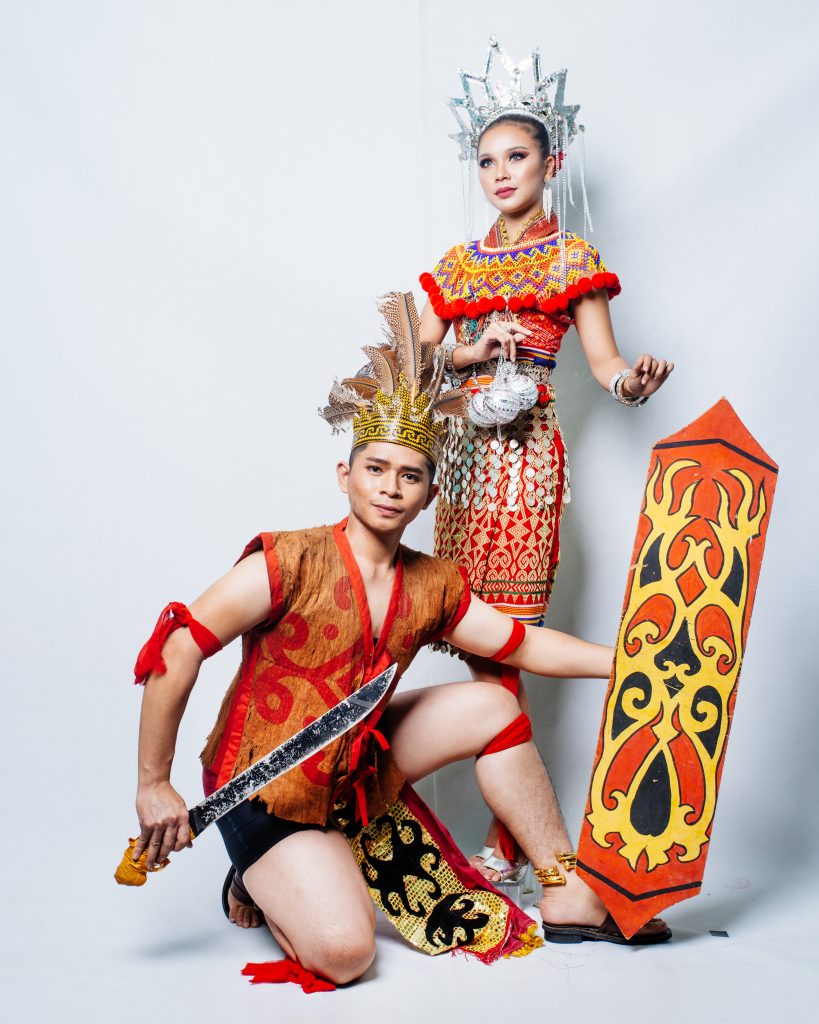 The Iban traditional attire for both men and women known as ngepan iban and ngepan iban laki
Uniquely decorated cultures
Vernita shared that while most Malaysians may be aware of Hari Gawai or Gawai Dayak (Harvest Festival), many may be unaware of its rituals such as miring or other gawai (festivals) such as Gawai Antu (Festival of the Dead).
"Miring is the ceremonial ritual held on the night of the eve of Gawai Dayak. During this time, we offer prayers to honour our ancestral spirits and ask for protection from evil spirits," said Vernita.
However, she explained that since a lot of Iban families currently practice Christianity, this ritual may differ from family to family depending on their comfortability with the ritual.
The 20-year-old further shared about other traditions that take place on Gawai Dayak. She conveyed that donning a traditional Iban attire is not compulsory because not everyone has the means since the garments are expensive. But for those who are able to, she shared that they are encouraged to wear them.
"The ngepan iban is the name of the female attire while the name of the male attire is ngepan iban laki. The former comes with a crown, a skirt, and the marik empang – a traditional beaded neck piece, while the latter comes with the feathers of a hornbill (bulu kenyalang), a lesung (a traditional neck piece for males) and a terabai – a shield," shared the proud young Ibanese woman.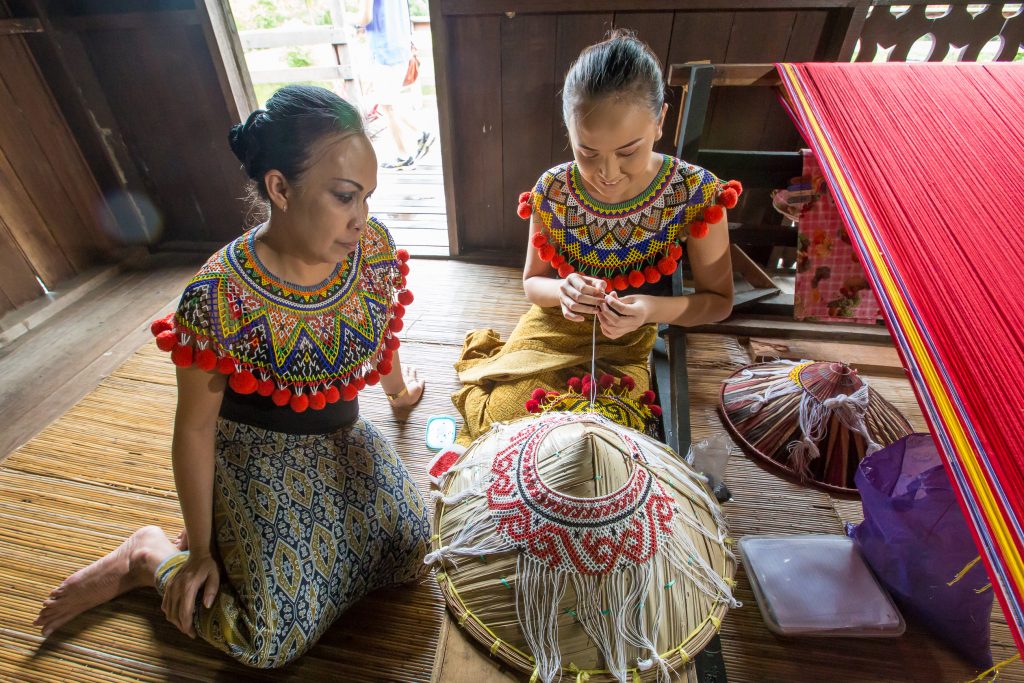 Two Iban women demonstrating the process of sewing the marik empang, the traditional beaded neck piece worn by Iban women in Sarawak
Vernita shared that while the celebrations slightly differ in Peninsular Malaysia due to cultural amalgamation, back in Sarawak, guests of Gawai Dayak celebrations are often greeted with the sounds of traditional musical instruments such as the tawak, which is a type of gong used to initiate and celebrate Hari Gawai.
"When instruments such as the tawak is played, the hosts would then greet the guest with our traditional dance known as the ngajat dance, which I believe most Malaysians may be familiar with," she said.
With regards to Gawai Antu, she shared that traditionally, it is actually one the most decorated festivals amongst her community, celebrated at least once every fifteen years.
"Traditionally, we would have bigger festivals for Gawai Antu than Gawai Dayak. We would have expensive and large feasts with lots of meat and liquor being served, along with a week-long number of activities being held to honour and celebrate the spirits who have lived before us. This is also the only time when we would create sunkup tomb huts on the graves of our relatives.
"However, since Gawai Antu takes up a lot of effort and financial resources during its preparation, many families in the community may not celebrate it as much anymore," she said.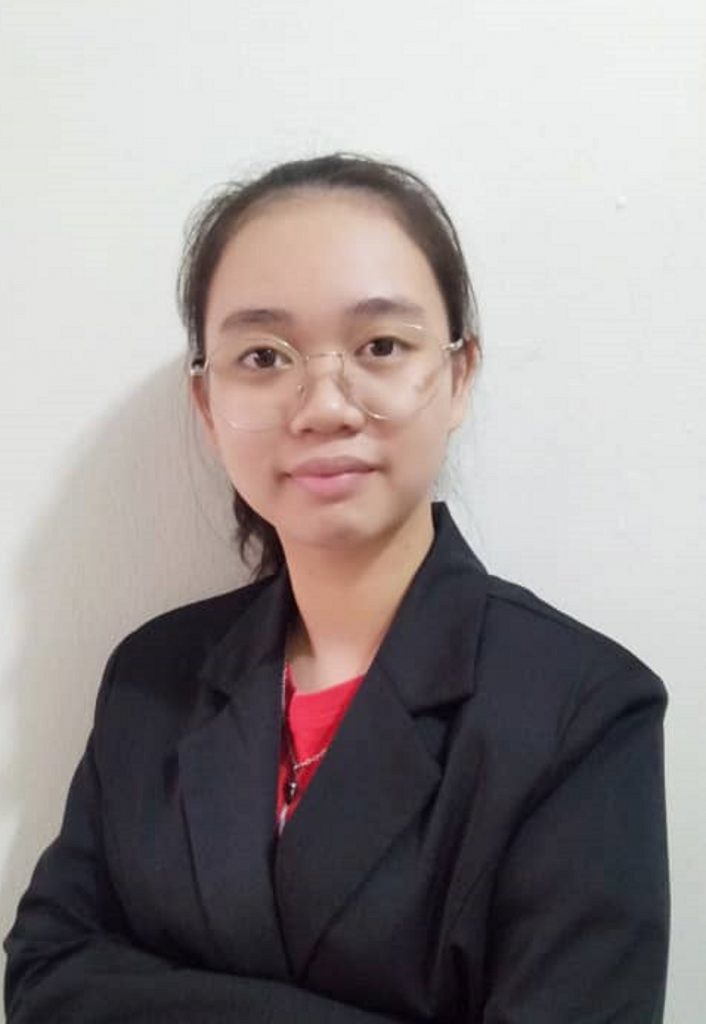 Vernita Racha Anak Nicholas is of Iban heritage, a major indigenous community in Malaysia
Vernita added, "During this time, my family and I would usually observe a period of silence and stay away from all electronic devices for a week and as much as this sounds difficult, I actually look forward to this time because I get to form a closer bond with my family since we get to spend more time with each other."
On more interesting facts about her culture, Vernita shared that similar to the indigenous communities in Australia and New Zealand who have tattoo representations of the tribes they come from, the Iban indigenous community has one too.
"We call it (our tattoo representation) the bungai terung or the ukiran bunga terabai, which is a symbolical representation used to represent the Iban tribe," professed Vernita.
Oh, so yum
When talking about cultures, one cannot stray away from the conversation about food. Vernita shared that in her cultures, there are some mouth-watering dishes to rave about too.
Vernita shared that, similar to the Batak indigenous community, the Iban indigenous community also has daun ubi tumbuk as a traditional dish. She added that they also have other dishes such as manok pansoh (chicken cooked in bamboo) and acuan bungai, which is an assortment of edible plants typically consumed as snacks.
"These are dishes that we would often have, especially on occasions such as Gawai Dayak. I would look forward to these celebrations every year because of the food!" expressed an excited and proud Vernita.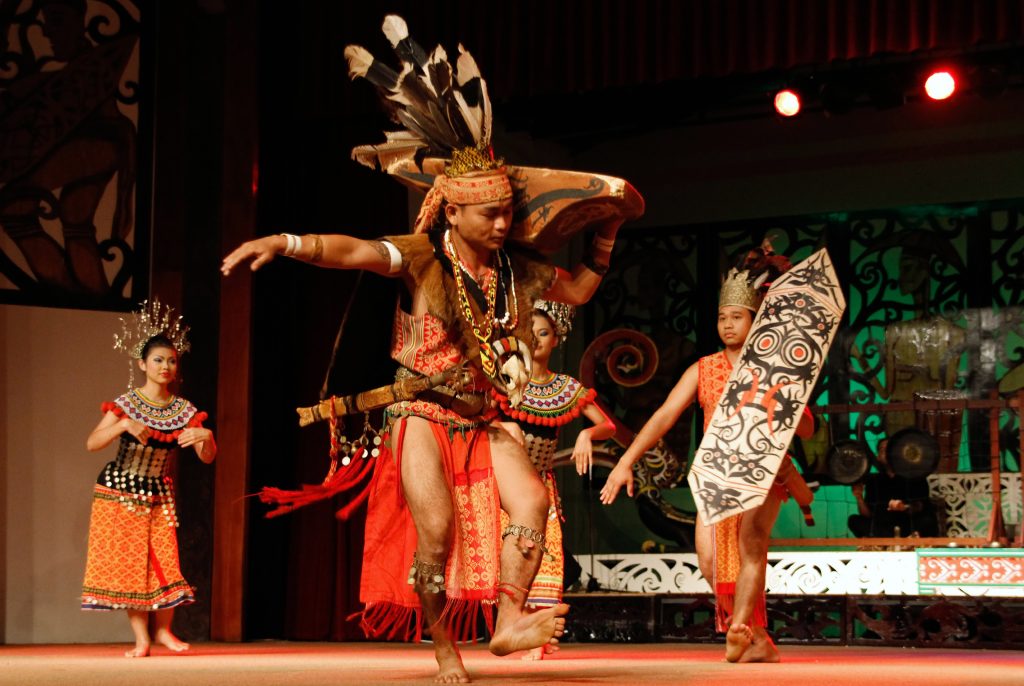 An Iban man, dancing the ngajat, along with a few Iban women. The traditional musical instrument, tawak, can be seen playing in the back
Let's talk about us
As one of the biggest indigenous populations in Malaysia, it is assumed that most Malaysians are aware of the Iban indigenous community. However, Vernita shares that in her experience, this is not the case.
"When I moved to Peninsular Malaysia from Miri 10 years ago, I realised that there are a lot of people in this part of the country who are still unaware of who Iban people are. I've received a lot of blank stares and confused looks when I described who I am, so it was very surprising to me at first," the Diploma in Mass Communication student shared.
On her plans for International Day of the World's Indigenous People particularly in the midst of the pandemic, Vernita shared that she intends to study and immerse herself in her roots more, so that she can pass on the traditions to her own children one day.
"I realise there is still a lot more to learn about my culture and I want to take a day off to immerse myself in it. What better way than to do it on August 9th," she said.
When asked about her August 9th message to people, Vernita quoted a famous Iban proverb stating "agi idup agi ngelaban", which translates to as long as there is life in this body, we can continue fighting.
"I believe it is an apt proverb relevant to everyone right now. It helps lift my spirits as an Iban person, so I hope it does the same for others during these trying times," conveyed the proud Ibanese.