It was a jubilant moment for four students from INTI International University & Colleges when they were awarded Top in the World at the Cambridge Outstanding Learners Awards ceremony held in April 2016.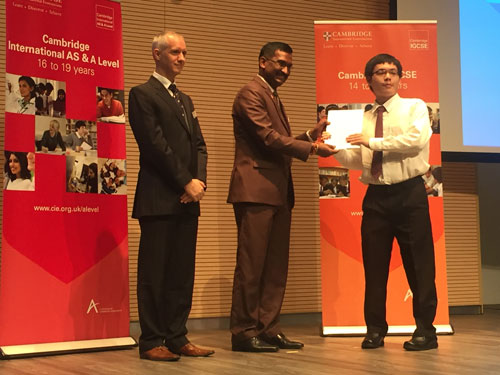 Christopher Joseph Guo Wei-Yan from INTI (right) received Top in the World for AS Law
Ooi Zher Ying, Tan Jian Xiang, and Lim Chiah Chien were respectively awarded Top in the World for AS Mathematics, while Zher Ying was also named the Top in the World for AS Physics. Chiah Chien was also named Top in Malaysia for Biology. Taking the award for Top in the World for AS Law was Christopher Joseph Guo Wei-Yan from INTI College Nilai.
Jian Xiang, who has already received a conditional offer to pursue Chemical Engineering at Imperial College London, one of the top 10 universities in the world, said, "I was incredibly surprised to learn that I had been named Top in the World as we are benchmarked among thousands of other Cambridge students from around the world. I am very fortunate to receive this award as it has already opened up opportunities for my future studies."
A student at INTI International College Subang, Jian Xiang explained that he enjoyed Mathematics as it helped him to develop his skills in problem solving and analytical thinking. Through INTI's holistic education which emphasises the development of vital 21st century skills, Jian Xiang has also been able to build on his communication, critical thinking, creativity and collaboration skills both in and beyond the classroom. Zher Ying, a student from INTI International College Penang (IICP) added, "Winning the awards for both subjects was a big surprise and it was a proud moment for me to be named among the recipients. It has also given me the confidence to realise that the hard work I've put in has paid off and I'm looking forward to continuing this success in my A2 examinations."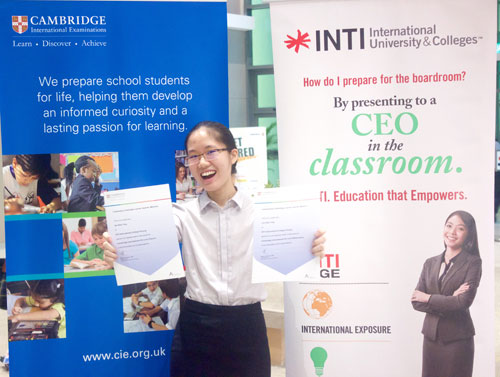 Ooi Zher Ying from INTI received Top in the World for AS Mathematics and Physics
The former student from Penang Chinese Girls' High School attributed her success to the dedicated lecturers from IICP, who she says were open to questions at any time and helped students discover and hone their potential. The use of videos and other applications such as interactive group activities in addition to lectures further enhanced her learning process.
INTI's established Cambridge A Level curriculum provides a solid foundation of fundamental knowledge and preparation for progression to international tertiary programmes. Assessments are based on students' mastery of subjects and their ability to apply their learning in real world scenarios. Through the dedicated efforts of its experienced faculty and access to global resources, INTI students are provided a pathway to global success both in their choice of universities and future employment.