8 students emerged out of 2,500 Teacher's Day dedications as winners to take home Samsung Chromebooks and Pebble Smart Watches
In conjunction with Teacher's Day, INTI International University & Colleges recently held its #Dedicated2Cikgu campaign with a nationwide contest for secondary students to grade and send dedications to their teachers in the Report Card of Happiness.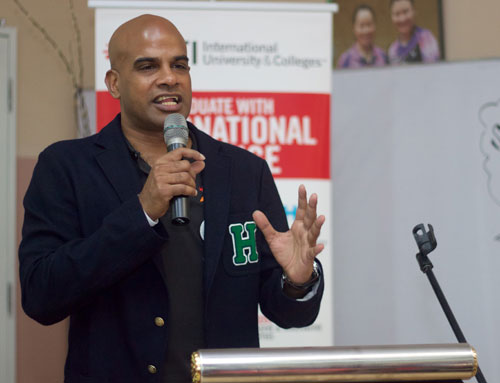 Timothy Johnson, Senior Vice President, Corporate Marketing, Products & Partnerships
Returning for the fifth year, the #Dedicated2Cikgu campaign and the Report Card of Happiness contest allowed students not only send a dedication message, but to also grade their teachers according to the positive traits of Awesome, Brilliant, Cool, Delightful, Excellent or Fantastic.
"Teacher's Day has fundamentally been about paying tribute to our teachers in the past and present, especially to those who have tremendously impacted our lives. That said, we at INTI wanted this meaningful day to mean more than just a simple thank you. We wanted it to be different, exciting, creative, and interactive in order to keep the spirit alive," said Timothy Johnson, Senior Vice President, Corporate Marketing, Products & Partnerships at INTI.
Johnson further explained that the #Dedicated2Cikgu campaign which has reached out to over 4 million students and 200,000 teachers since 2012, is a testament to the campaign's growing success and hopes to continue spreading the joy in years to come through new and exciting approaches.
vThis year, the #Dedicated2Cikgu campaign with its Report Card of Happiness contest saw over 2,500 dedication entries. Three grand prizes of Samsung Chromebooks were awarded to Bridgette Wong Tsin Ee, Lim Yew Joon, and Yeoh Yung Kin for their dedications while Muhammad Fahmi Syuraim bin Jamil, Nurin Afiqah Mohd Faisal, Patma Durgaasrii, Khayrin Nabila binti Jamal, and Zenice Hin Zi Jing were awarded Pebble Smart Watches. In addition to that, 150 more students received consolation prizes for their heart-warming dedications.
Grand Prize Winners of the Report Card of Happiness Contest (in no particular order)
Dedication from Bridgette Wong Tsin Ee to Puan Mary of SMK USJ 12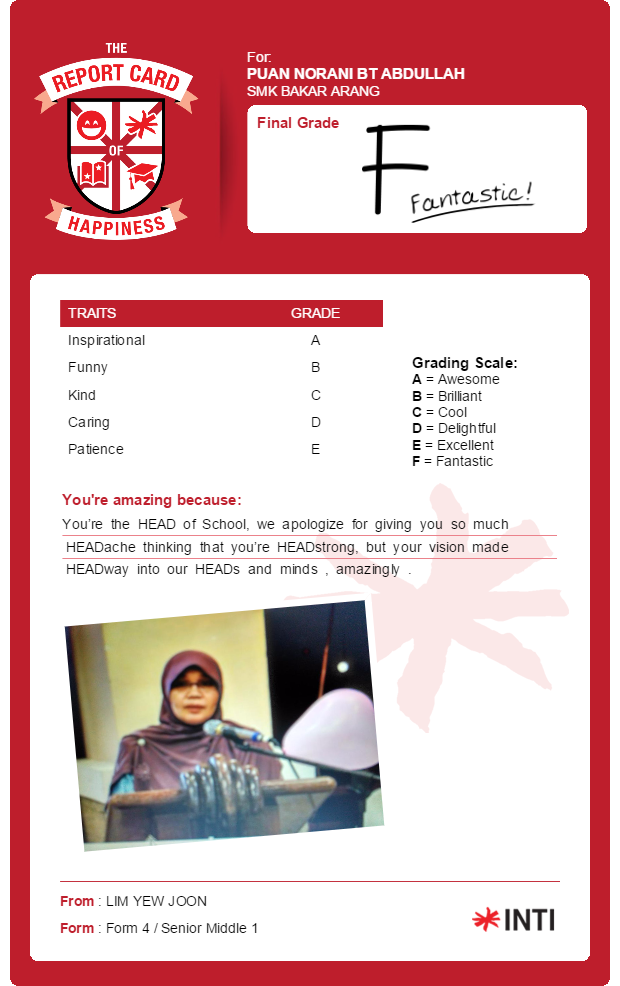 Dedication from Lim Yew Joon to Puan Noraini binti Abdullah of SMK Bakar Arang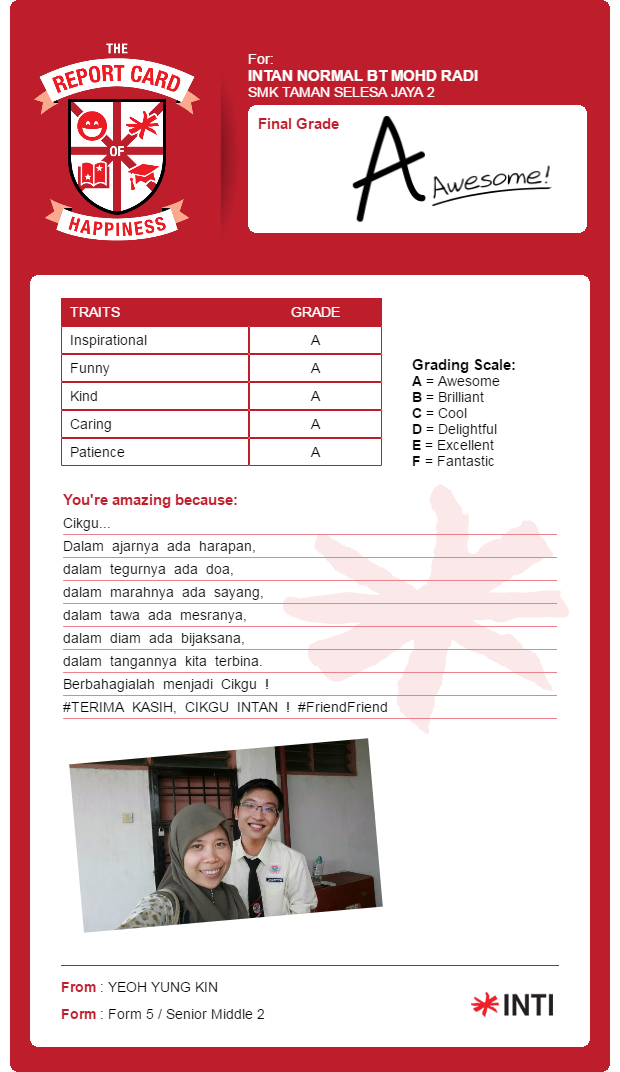 Dedication Yeoh Yung Kin to Puan Intan Normal of SMK Taman Selesa Jaya 2
Runner-Up Winners of the Report Card of Happiness Contest (in no particular order)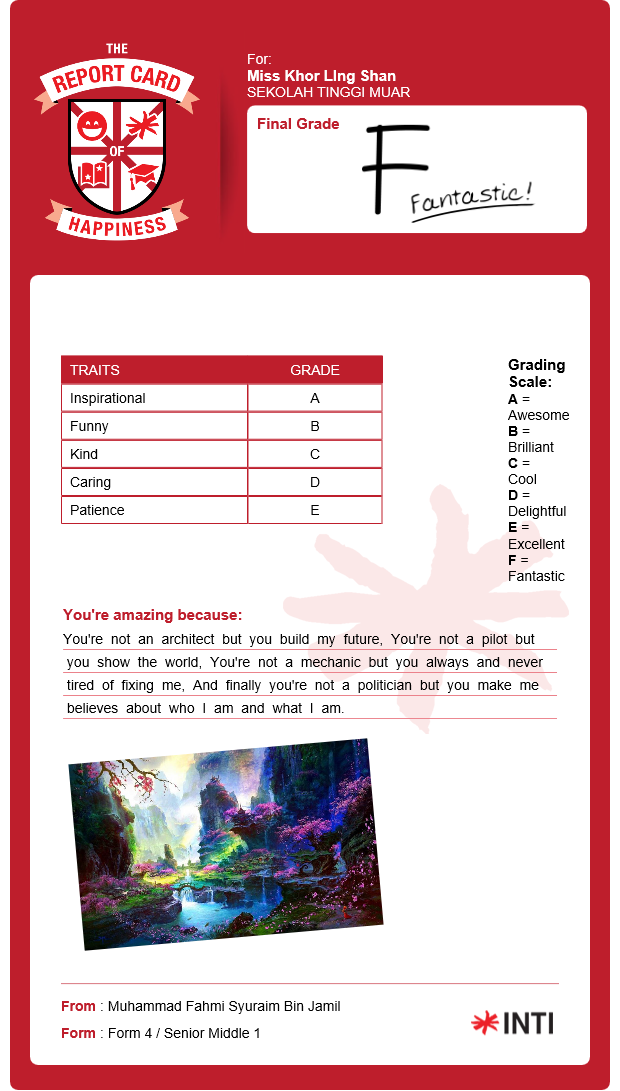 Dedication from Muhammad Fahmi Syuraim to Miss Khor Ling Shan of Sekolah Tinggi Muar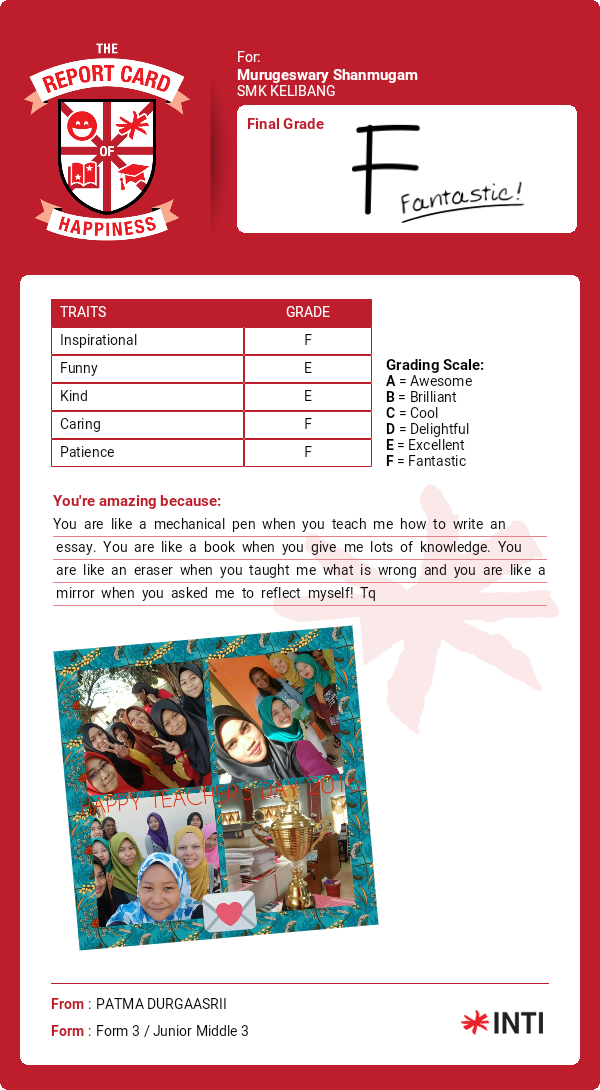 Dedication from Patma Durgaasrii to Mr. Murugeswary Shanmugam of SMK Kelibang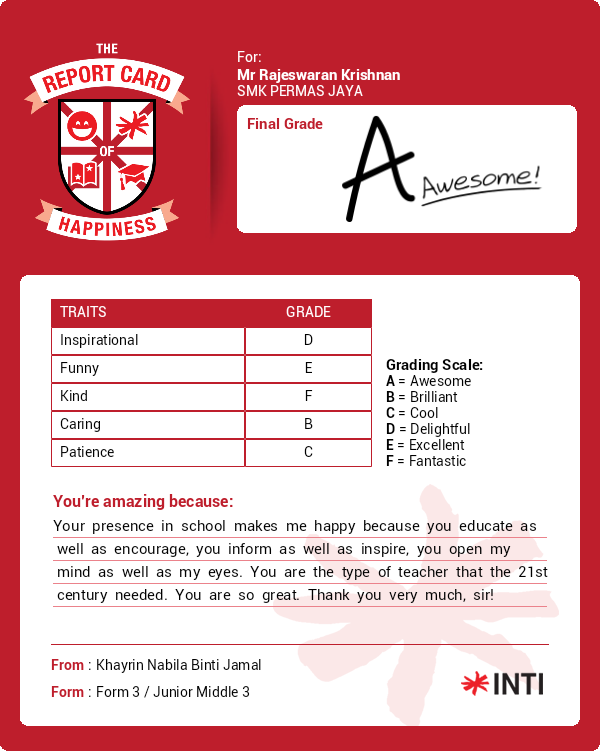 Dedication from Khayrin Nabila binti Jamal to Mr. Rajeswaran Krishnan of SMK Permas Jaya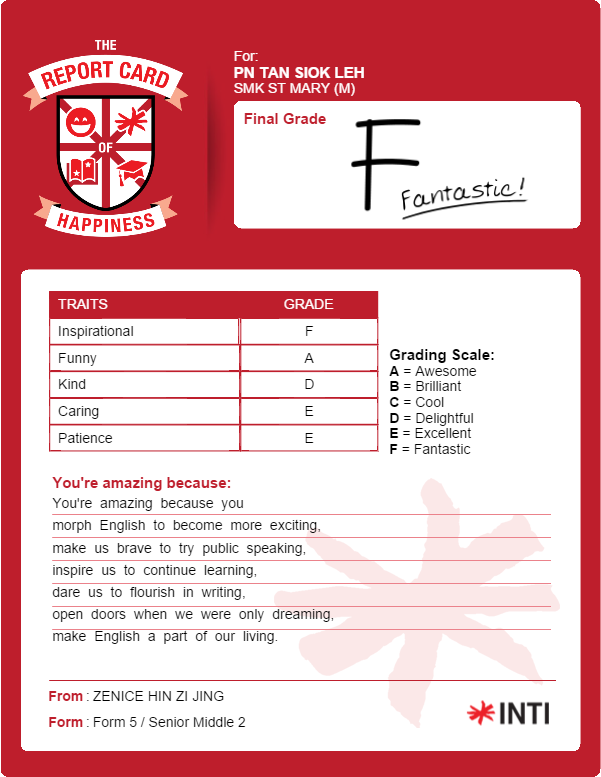 Dedication from Zenice Hin Zi Jing to Puan Tan Siok Leh of SMK St. Mary (M)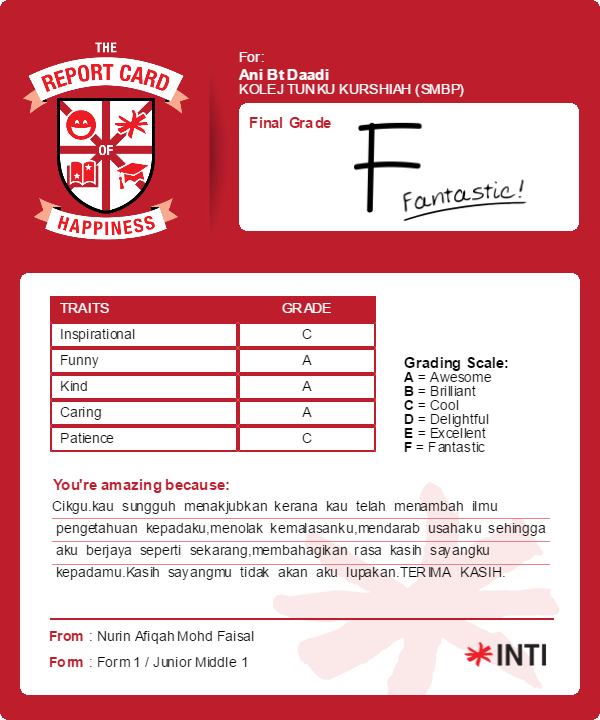 Dedication from Nurin Afiqah Mohd Faisal to Puan Ani Binti Daadi of Kolej Tunku Rushiah (SMBP)
Meanwhile, a total of 158 teachers who received these winning dedications were also presented with INTI merchandises on behalf of the students as a token of appreciation.
The #Dedicated2Cikgu campaign was also accompanied by two special videos entitled "Role Reversal" and "More Than Just a Teacher", which were released on the 11th of April and 3rd of May 2016 respectively. The latter has since received over 535,000 views, 19,600 likes and 4,500 shares while the former garnered over 775,000 views, 32,000 likes and 7,400 shares.
"The success rate of #Dedicated2Cikgu is humbling. We are proud to see that nationwide, students are still respecting the purpose of Teacher's Day and we are happy that this campaign continues to serve as a platform to pay tribute to teachers.
"For 30 years now, INTI has been at the forefront of education innovation to empower our students to become tomorrow's game changers. In part, our educators are those who have imbued the INTI Edge within our students, thereby enabling them to excel in whatever future they choose," concluded Johnson.
The Report Card of Happiness can be found on the #Dedicated2Cikgu site www.newinti.edu.my/dedicated2cikgu.