INTI International University & Colleges' A-Level students and lecturers from its Subang, Nilai and Penang campuses are celebrating their overall success rate of 97% for the May/June 2015 Cambridge A-Level examination, with 14 students obtaining 4A* and one student with an impressive 5A*, as this marks both academic and personal successes of students and lecturers alike.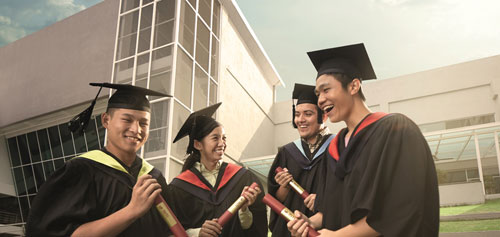 Among the INTI top scorers are Gan Kin Boon, Chong Kah Yin and Kee Yan Kai who will all soon be pursuing their undergraduate degrees at the prestigious Imperial College, London, which is currently ranked second in the world (QS World University Rankings 2014/15).
These outstanding students attributed their success to their dedicated, passionate and knowledgeable lecturers, as well as the excellent learning environment at INTI.
"My lecturers at INTI College Nilai are passionate, hardworking and gave us a lot of guidance so we had a clear understanding of what was taught, which enabled us to clearly articulate our ideas and opinion on a subject matter," said INTI's overall top scorer, Gan, who obtained an impressive 5A* in Biology, Chemistry, Physics, Mathematics and Further Mathematics, and is excited to pursue his Bachelor in Chemistry later this year.
Chong who studied at INTI International College Subang, scored 3A* and 1A, and will soon be pursuing her dream to study Aeronautical Engineering found her experience at INTI to be enriching. She thoroughly enjoyed the campus environment as it was conducive for studying, revising as well as collaborative work with her classmates.
Great minds think alike – all three top students agreed that success does not come easy – they all said that in order to achieve academic excellence one has to be prepared to work hard and make personal sacrifices.
4A* student Kee from INTI International College Penang, who will soon study Mechanical Engineering says, "There are no special tricks or short-cuts to success – you just really need to manage your time effectively and plan ahead, so you are able to stay focus. In addition to that, spending some time for revision and practicing past years questions are also crucial to obtaining good A-Level results."
Nonetheless Chong commented that it is also important to enjoy college life and therefore students need to strike the right balance between leisure and study in order to succeed.
INTI's Cambridge A Level curriculum provides a solid foundation of fundamental knowledge and preparation for progression to international tertiary programmes. Assessments are based on students' mastery of subjects and their ability to apply their learning in real world scenarios. Beyond this, they will be coached to develop crucial 21st century skills – communication, collaboration, critical thinking and creativity – that will help them excel in any degree programme and beyond.