1 in 3 Malaysians surveyed in a landmark study by INTI International University & Colleges (INTI) on Working Professionals aspire to upskill themselves through new academic qualifications within a 5 year period. Rising global competition and intensified pressure for jobs are among the factors prompting Malaysians to seek new qualifications for their professional and personal growth.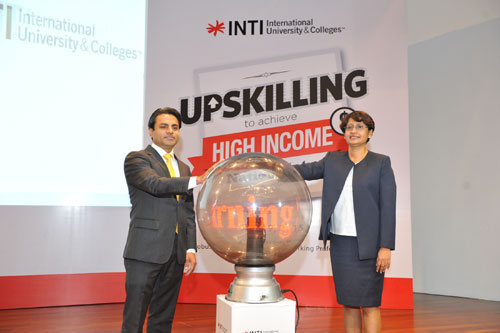 (L-R) Mr Rohit Sharma and Dr Malini Eliatamby launching INTI International University's MBA – Learning Simplified
"Accelerating human capital development is essential in supporting our country's transformation towards becoming a high-income and knowledge-based economy by 2020. With this in mind, INTI commissioned this study to better understand Working Professionals so that we can provide the necessary platforms and building blocks for growth to support the nation's goals," said Mr. Rohit Sharma, Chief Executive Officer of INTI International Universities & Colleges.
The landmark study by INTI, which focused on the behaviours, aspirations and challenges faced by Working Professionals in Malaysia, was carried out to better understand the segment of the population in economic pillars that are key to the nation's growth aspirations and goals. The survey, covering both qualitative and quantitative research was conducted with Working Professionals, who are those aged between 22 and 44, with at least 6 months of working experience after leaving school.
Findings from the survey highlighted that Working Professionals are well aware of the need to upskill, with 60% of those polled wanting to further their education to obtain greater promotion prospects, better paying jobs and their desired dream job.
While aspiring to further their education, many respondents cited rising living costs and time pressures due to on-going family commitments as a key deterrent. This is a key barrier which is reflective of the challenges faced by the larger Malaysian population.
Responding to cater to the needs and challenges faced by the Working Professionals in Malaysia, INTI launched the INTI International University MBA – Learning Simplified, a postgraduate qualification that is specifically designed for Working Professionals. A key feature of the MBA is its flexible and personalised approach to learning, to accommodate the needs of Working Professionals with demanding jobs and family commitments.
"Lifelong learning is crucial to ensure that individuals continuously enrich and develop themselves to stay relevant in this ever evolving economy. Through this programme, Working Professionals can upskill themselves to meet the needs of the rapidly changing and highly competitive market," Sharma said.
"The delivery of this programme is personalised to each individual, which will allow Working Professionals to study at their own pace. This innovative way of learning, will also help them further enhance key skills such as communication, collaboration, critical thinking and creativity – all of which are integral for career progression and success," he added.
The INTI MBA – Learning Simplified is an MBA that is crucial for Working Professionals wishing to upskill in order to stay relevant in the workplace and enhance their career prospects. This programme can be completed within a duration of 14 to 24 months.