A rite of passage, this year's convocation ceremony for INTI graduates is a continued tradition of INTI's long standing 30 year legacy of developing industry ready graduates. This year being no exception, INTI saw its newest batch of graduates from the class of 2016 including a pioneering batch of PhD graduates and a conferment of INTI's first Honorary Doctorate.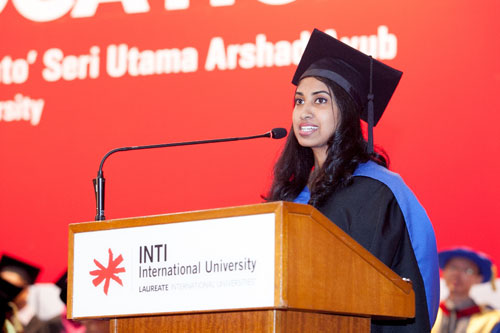 Rena Shalome Murugayah delivering her speech as the valedictorian for the graduating class of 2016.
With the increasingly demanding industry expectations that come with an ever changing and globalised workforce, graduates today have the daunting task of adapting to industry standards and ensuring they are equipped with the right skillsets. Graduates from INTI are provided many opportunities to develop the right knowledge and skillsets as they are exposed to these industry expectations from the onset of their academic journey.
Class of 2016 valedictorian from INTI International University, Rena Shalome Murugayah, is an exemplary well-rounded graduate who has gained the full works of the INTI experience from the rigorous academic process right down to the out of classroom industry experience.
"I am a firm believer in the fact that education should be holistic. It should not be rigid and confined to textbooks but more wholesome. When I pursued my journey at INTI, I felt that my opportunities here were endless. Apart from enhancing my academic knowledge in the classroom, I was able to harness my skills in playing the drums, a passion I developed at the age of 12. I even had the opportunity to join leadership camps in building my self-esteem and soft skills but beyond that, I cherish the experiences I've gained through industry collaborations with the likes of WWF and National Cancer Society of Malaysia. The experiences have opened so many doors to insights on different industry expectations and to having a better perspective on what it truly means to be an industry ready graduate," said Rena who graduated with a 3.9 CGPA and now works at PricewaterhouseCoopers as a budding tax consultant.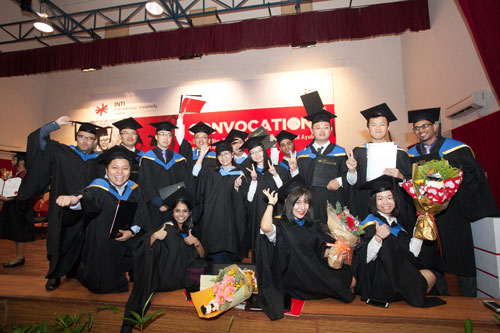 Florence (bottom left) with her fellow Masters graduates gleefully celebrate after the convocation ceremony
28 year old Sarawak native, Florence Anak Ettin, an MBA graduate from INTI, shared how she started off being a mediocre student and soon realized the importance of having an education to secure a good future. Being outspoken and active in sports, Florence excelled in her extracurricular activities but strained in her academics.
Being the youngest in her family, with both parents working as teachers, Florence initially struggled with the expectations to excel academically but soon developed her strengths while pursuing her degree at INTI's previous branch campus in Sarawak. With a new found stride in the academic line, Florence then made the choice pursue a higher qualification and went on to do so successfully, making her the first in her family to receive an MBA.
"Making the choice to upskill and gain a higher qualification has definitely benefitted me. Upskilling inevitably leads to a wider job prospect, a higher earning bracket and subsequently increase the standards of Malaysia's workforce. Personally, I have gained tremendously in terms of my thought processes and management skills from the MBA programme which I now am able to evaluate and implement in my daily routine as a manager at my company," shared Florence who now works as a Brands Manager for H&M.
Even as an MBA student, Florence had the opportunity to collaborate on an employer project during the course of her MBA programme where she produced a management research on one of the biggest electrical companies today, Seng Heng, through which she had the opportunity to meet the company's CEO and the management team from Seng Heng Malaysia. Her decision to pursue the MBA at INTI has paid off with her current qualification benefitting her in gaining employment at a globally recognized company like H&M.
Being more focused on the academic pathway, Nigeria native and one of INTI's pioneering PhD graduates, Cynthia Uchechi, proves that education is a lifelong pathway for those who choose to immerse in the field. After receiving her Bachelor's degree in History and International Relations from a university in her home country, Cynthia moved to Ghana and dabbled in the corporate sector, working as a marketing executive at a magazine and publication house.
While initially intending to further a higher qualification in the United Kingdom, INTI's dual award programme with the University of Hertfordshire caught Cynthia's attention as it was the best of both worlds where she would gain a UK qualification without worrying about high costs of living.
"While pursuing my MBA, I realized my deep passion for academia and the pursuit for higher knowledge. It was this passion that fuelled my intent to continue on in the academic line and further pursue my doctorate at INTI. It was definitely not an easy pathway and it required discipline, self-motivation and a whole lot of patience," shared Cynthia.
Addressing the students at the convocation ceremony, recipient of INTI's Honorary Doctorate in Management, Tun Ahmad Sarji further drove the point on the need for students to excel in more than just academics, emphasising the importance of responsibility, accountability and team work as the drivers for their future careers and success.
"A successful career requires falling in love many times with your work. People think a career is important and you young graduates must have spent a lot of time planning and preparing for one, but actually a career is what happens next, and that includes a lot of hard work and luck," shared Tun Ahmad Sarji.
Whether tied up with global organizations or pursuing the academic route, INTI graduates are truly going places with the qualifications they receive backed with the experiences they gain in and out of the classroom. Through INTI's industry linkage with over 400 partners across various fields, INTI students are exposed to multiple industry collaborations throughout the course of their study. Coupled with its innovative learning initiatives through the usage of Blackboard, an online learning management system and its ties with the Laureate International Universities network which gives students immense international exposure, INTI graduates have excelled over the years in their fields – a reflection of 97 percent of INTI graduates gaining employment six months before graduation and 78 percent earning salaries that are higher than the market average.