Continuing its mission in creating highly employable graduates who are able to transcend industries with the skills and knowledge gained, INTI International College Subang (INTI) recently hosted its annual Career Fair which brought together over 30 multinational corporations. From the likes of Maybank, IBM, Shell and KPMG among others, representatives from the participating companies were out to seek the best of both local and international talents who met their requirements and had an edge in their capabilities and skills.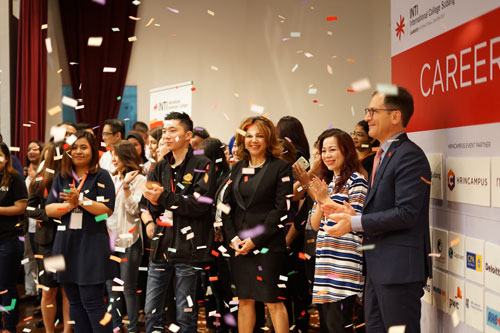 (right to left) Mr Timothy Bulow, Dr Jane Lim, Chief Executive of INTI International College Subang and industry representatives from the participating companies of INTI's Career Fair together on stage to kick off the event.
Addressing pertinent questions in relation to employability among international students, a panel discussion was conducted featuring employers from TalentCorp, General Electric (GE) Malaysia, Ricoh Malaysia and IBM Malaysia. Responding to the tough questions on processes and programmes made available to international students looking to pursue a career in Malaysia or start an internship, TalentCorp's Manager for Industry Partnership, Farah Delah Suhaimi provided a session on opportunities made available through TalentCorp for students in such situations.
"The requirements for international students applying for internships or job placements under the myASEANinternship and MyAPEC YouthConnect programme are almost similar as when local students apply. Beyond the general requirements, we look at the candidate's communication skills, learning ability, and willingness to adapt. Often times, we seek out candidates with the right attitude. We also focus on matching the candidate's skills to the right position," shared Farah Delah Suhaimi.
Fellow INTI MBA graduate and Indonesian native, Oliver Laoh, sat on the panel to share his experience as being part of the myASEANinternship programme where he managed to secure an internship position at GE Malaysia. Having successfully demonstrated his skills, capabilities and passion for his work, he has now been hired by GE as a Human Resources Consultant. He shared with fellow international students in the audience how he grabbed every opportunity that came his way during his time at INTI to meet and network with industry partners at events for the purpose of establishing good relationship with people he sees as potential employers. Oliver went on to emphasize how these on-campus industry related events help students boost their confidence, enhance communication skills and widen their perspective on current events and trends in the various industries.
Also sitting on the panel was Sri Vidya Nadarajah, Country Human Resources Leader for GE Malaysia who shared how the organization has worked closely with the various schools and faculties at INTI on various initiatives such as employer projects in which they have seen the participation of many international students. She further emphasized how students should look beyond internship opportunities and get involved in industry-related activities provided on campus to enhance their employment opportunities.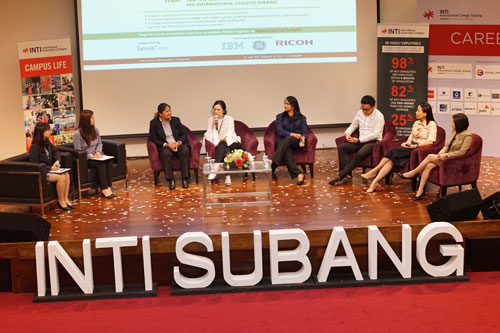 (left to right) Moderators and fellow INTI students, Yvonne Chin from Malaysia and Rachel Young Hwang Bo from South Korea with fellow panelists Farah Delah Suhaimi, Manager, Industry Partnership, TalentCorp; Zahira Nizam, Graduate Emerging Talent (GET), TalentCorp; Sri Vidya Nadarajah, Country Human Resource Leader, GE Malaysia; Oliver Laoh, Human Resource Consultant, GE Malaysia; Sia Peck Har, Country Recruitment Lead, IBM Malaysia and Doris Tham, General Manager, Human Resources, Ricoh Malaysia.
"Beyond INTI, there are thousands of international students from other institutions both public and private who are competing for similar opportunities. Grab every opportunity you can to shine, do your best to stand out among your peers and go beyond what you are supposed to do so employers can see your value. Just like Oliver, when I interviewed him, I knew he wanted a position in Marketing but I only had a position in Human Resources. So, I told him if he's willing to take on the challenge, I'm willing to give him the chance. He took up and the challenge and today, Oliver is an all-rounder, 'McGyver' who has been through the GE ecosystem in Marketing, Human Resources and even Environmental Health. Oliver is an example of the type of graduate DNA we're looking for and we hope to see more graduates like him at GE," shared Sri Vidya.
The Career Fair also included a Career Forum, organized in collaboration with JCI Malaysia, to create awareness of the organization's Ten Outstanding Young Malaysian (TOYM) programme. The forum titled 'Does Your Passion Match Your Aspiration" featured three TOYM awards recipients, namely Dato Leong Kim Mun, President, Malaysia Biomass Industries Confederation Malaysia, Dr Soo Wincci, Artiste, PhD Holder, Entrepreneur, Miss World Malaysia 2008 and Dr Lim Lee Wei, Associate Professor. Having etched their names as successful business people and entrepreneurs in their respective industries, the panelists shared their journey to pursuing their passions and how they overcame the challenges head on to achieve their goals. Aside from hearing the remarkable stories of the panelists, students in attendance had the opportunity to engage with the panelists during the question and answer session which proved to be both inspiring and insightful.
INTI continuously provides its students with endless opportunities to engage in industry-focused initiatives such as workshops, mentorship programmes and employer projects which are driven by the Career Services team. Understanding the importance of graduate employability as the end goal for its students, INTI works alongside over 450 companies to give INTI students insights and experiences needed to be industry ready and meet the growing demands of today's employers.
This has resulted in INTI's high employability rate in 2015 validated by BDO Governance Advisory with 98% of INTI graduates being employed within six months of graduation with 82% earning incomes higher than the market average and 25% of graduates receiving job offers even before they graduate.