INTI International College Kuala Lumpur (INTI) recently organized a leadership talk by special speaker, Tan Sri Abdul Wahid Omar, Group Chairman, Permodalan Nasional Berhad (PNB). Tan Sri Abdul Wahid Omar shared on his remarkable leadership experience of over 25 years and insights to INTI students.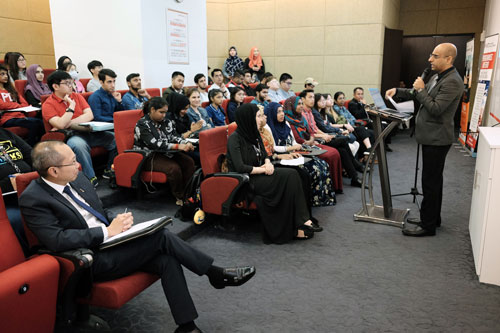 Dr Jagdeep Singh, Chief Executive of INTI International College KL delivering the welcome speech on INTI's Leadership Talk.
The former Senator and Minister in the Prime Minister's Department inspired over 80 INTI students and staff members by sharing his life's journey and career path from CFO to CEO and further to his appointment in the Government. During his talk, he shared an advice "You often hear the old adage, work smart not hard. To me, both are equally important. Hard work is first step for smart work. Hard work gives experiences and that enable us to think smart to solve problem in easier way."
He has also come to the conclusion that there are three key attributes a great leader must have which are integrity, competency and humility. He said: "I strongly believe that action speaks more powerful than word. Great leaders lead by example, demonstrating their values through their actions."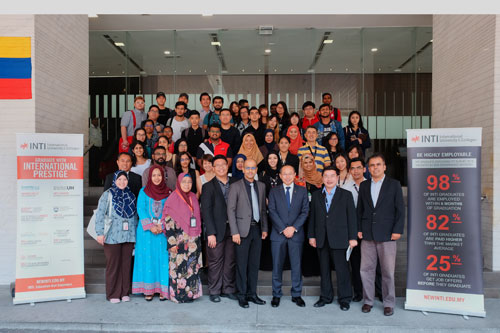 Group photo with Dr Jagdeep Singh (fourth from right), Tan Sri Abdul Wahid Omar (third from right) and participants of INTI's Leadership Talk in front of KL campus.
"By bringing in remarkable business leaders to share their insights and inspiring life stories, INTI's Leadership talks have provided an invaluable avenue for students and staff to learn about actual issues affecting today's businesses and to understand the skills that they should develop in order to meet future trends in the industry," said Dr Jagdeep Singh, Chief Executive of INTI International College Kuala Lumpur.
Through these sharing sessions and other opportunities such as employer projects, on campus recruitment drives, and additional certifications offered by the likes of Google and IBM, INTI has recorded some of our best employability outcomes in 2015 validated by BDO Governance Advisory with 98% of INTI graduates being employed within six months of graduation with 82% earning incomes higher than the market average and 25% of graduates receiving job offers even before they graduate.