INTI International College Subang (INTI) and Coventry University (CU), UK recently graduated their second cohort of postgraduate students, recording almost twice as many graduates compared to the year before. A total of 65 students from CU's Masters of Business Administration (MBA) programme, which includes specialisations in Global Business, International Marketing and Global Financial Services, were recognised for their achievements in this internationally recognised programme.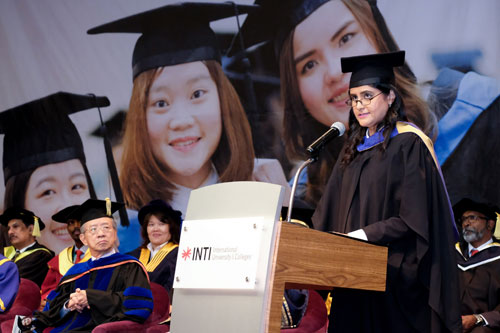 Valedictorian Manmeet Kaur Jaswant Singh presenting her speech at the Coventry University MBA graduation in INTI.
Dr Dennis Choo, Dean of INTI's Centre of Postgraduate Studies, said, "We are very proud of our students' achievements as committing to a postgraduate programme can be demanding, especially for part-time working adults. Although this is a relatively new programme at INTI, it has been well received as it provides a holistic range of subjects which are aimed at helping students progress from undergraduate and junior positions into management roles."
CU recently climbed up the ranks to No.12 from No.15 in the Guardian University Guide 2018, and was named Modern University of the Year consecutively for 2014, 2015 and 2016 by the Times and Sunday Times Good University Guide 2016. Its rankings and accolades have made it one of the UK's top modern universities, which also benefits students studying at INTI who receive direct access to the modules and resources offered through the MBA programme.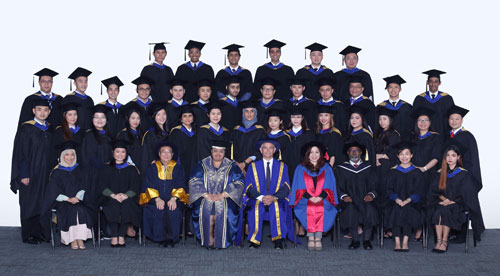 (Seated fourth and fifth from right), Professor Ian Marshall, Deputy Vice-Chancellor (Strategic Alignment and External Relations), Coventry University and Dr. Jane Lim, Chief Executive, INTI International College Subang, with the graduating class of 2017 for CU and INTI's MBA programme.
In attendance at the graduation ceremony was Professor Ian Marshall, Deputy Vice-Chancellor (Strategic Alignment and External Relations), Coventry University; Emeritus Professor Dr. Lee Fah Onn, Co-Founder and Senior Group Advisor, INTI Education Group; Dr. Jane Lim, Chief Executive, INTI International College Subang and Ms. Hemalatha Murugiah, Chief Executive, INTI International College Penang. Professor Marshall conferred the awards to the students, which included Manmeet Kaur Jaswant Singh, the programme's 2017 valedictorian who also completed her Bachelor's degree at CU.
A Senior Consultant with MK Quality & Management Consulting, an organisation providing quality consulting, HR services and training, Manmeet shared, "Although challenging due to its strict requirements, and the use of real time information and case studies, this is an outstanding programme for graduates who want to be better prepared and confident in the application of business knowledge and strategies, and being industry ready.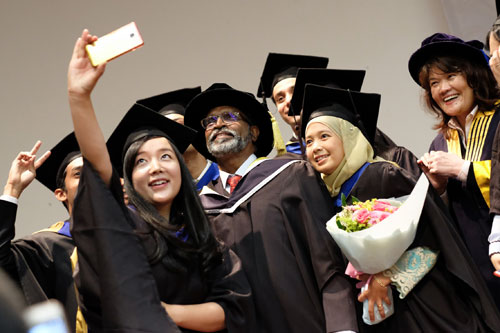 "I found the MBA programme to be very relevant as it provided a strong foundation for us towards becoming detailed and critical leaders who can capitalise on the use of data and research to make sound decisions in today's rapidly changing business environment."
Dr. Choo concludes, "As global competition continues to impact jobs, pursuing a postgraduate study helps professionals gain enhanced competencies that will help them to stand out from among their peers. With strong emphasis on employable skills and a curriculum that addresses market needs, INTI continues to achieve outstanding graduate outcomes, which in 2015 included 98% of graduates securing jobs within six months of graduating, 82% being paid higher than the market average, and 25% receiving job offers even before they graduate."
These figures were validated by BDO Governance Advisory, making INTI the only institution of higher learning to vouch for its graduate outcomes.