Established employers from Penang's hospitality industry participated in a one day event aimed at promoting practical learning and networking opportunities for close to 180 students from INTI International College Penang (INTI) as well as selected secondary schools from across the island.

INTI's Pineapple Vibes Hospitality Carnival was officiated by Mr Khoo Boo Lim, Executive Assistant Manager of Lone Pine Hotel and Hemalatha Murugiah, Chief Executive of INTI (fourth and fifth from left).
Titled the Pineapple Vibes Hospitality Carnival – as the pineapple is commonly seen as a symbol of the warmth, welcome, and friendship found in the hospitality industry – students from INTI's Diploma in Hotel Management and Diploma in Culinary Arts programmes took the lead in organising the event, welcoming 14 employers, namely: Hard Rock Hotel Penang, The Edison George Town, Lone Pine Hotel, The Northam All Suite Penang, Four Points by Sheraton Penang, Golden Sands Resort, Royale Chulan Penang, Rainbow Paradise Beach Resort, G Hotels (G Hotel Gurney and G Hotel Kelawai), Sunway Georgetown Penang Hotel, Macalister Mansion, Farquhar Mansion Penang Fine Dining & Lounge, The Top @ Komtar, and Virinchi Tailor.
The event included a fruit carving culinary showcase by Chef Mohd Tarmizi bin Abdul Rahim, as well as a flair bartending workshop by En Harizam bin Mustapha, both from Lone Pine Hotel who showcased their exceptional skills. In furthering students' understanding about careers in hospitality, Mr Ivan Khoo from The Edison George Town also shared a career talk on Career Changes, drawing on his own experiences and the realities of this fast paced industry.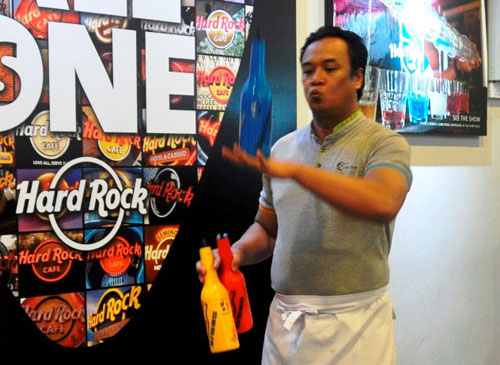 En Harizam bin Mustapha from Lone Pine Hotel conducts a workshop on flare bartending.
The event also offered a good opportunity for INTI students to network with potential employers and to gain insights into the latest industry trends and expectations directly from industry professionals. Working on the event and also participating in practical sessions held on campus further helped them to strengthen their technical skills.
Christine Khoo, Head of INTI's School of Hospitality said, "We truly appreciate the support of our industry partners who took the time to participate in the carnival and share their experiences with our students. At INTI we strive to connect students to industry early in their careers as we recognise the importance of practical learning, especially in hands-on industries such as hospitality. In doing so we hope students not only learn about the expectations and opportunities that await them when they graduate, but also have the chance to make a good impression and secure potential jobs with these established employers in the future."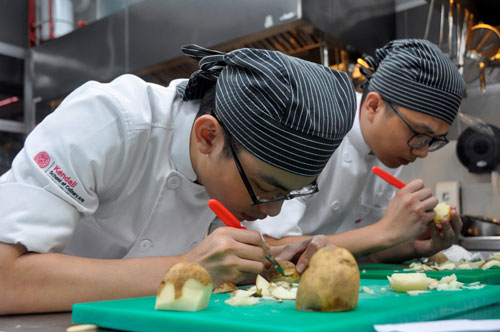 Culinary students Alex Choo and John Teoh from INTI's School of Hospitality participate in the carving workshop.
Khoo also expressed her pride in the students from the organising committee, who worked hard in planning and ensuring the entire event ran smoothly, including the management of four food truck operators – Papa's Coconut Ice Creams, Huereux Finger Food and Eat-on-the-Go Snacks, Tom's Burgers and Coffee Haven Beverages – who were set up on campus for the day. She further highlighted that the hands on exposure they gained in managing the event offered a good experience for them to develop their time management, event planning and communication skills, competencies which employers are increasingly demanding.
Khoo explains, "Today's workplace requires graduates to have real life experiences even before they enter their first job, as it shows that they have mastered the basics of the roles they will play. This event served as a good opportunity for them to enhance their personal development and stand out from among their peers. Such experiences helped INTI students achieve outstanding employability outcomes in 2015, with 98% of students being employed within six months of graduating, 25% securing jobs even before they graduate, and 82% being offered higher salaries than the market average – figures which were validated by BDO Governance Advisory."