If there is one thing that Malaysian small business owners have learnt from the Covid-19 pandemic, it is that their adoption of technology is certainly helping them get through these tough times. Online shopping platforms recorded a surge of orders even before the Movement Control Order (MCO) and this continues to be the trend as we enter the 4th phase of MCO.
Ainaa Radhiah and Le Yi flanked by their lecturers and judges of the GET Digital Entrepreneurship and Innovation Competition.
As a leader in online sales growth in Southeast Asia even before the global outbreak, the future looks bright for those who plan to pursue e-entrepreneurship in Malaysia. And what better way to do that than by learning the tricks of the trade from China's e-commerce giant Alibaba.
According to INTI International University's Faculty of Business, Communications & Law senior lecturer Liew Heong Shya, before students join modules under the Alibaba GET (Global eCommerce Talent) programme they usually think that e-commerce is just buying and selling online.
"After students complete the modules, they will find out that e-commerce includes other elements such as logistics, finance, data, and more. These elements are all needed to complete one single e-commerce process," she said.
Through a curriculum designed by Alibaba GET that is imbedded in the syllabus of INTI's Diploma in Business programme, students are introduced to the basics before they are exposed to a real e-commerce environment.
"We want to build up our students for what the current market needs. Through our programme, students will not only become familiar with, but will also master e-commerce through Capstone projects that require them to develop and manage a real online business," said Liew, who adds that Alibaba GET recently upgraded their syllabus from GET 1.0 to GET 3.0 to bring in more industry-insights, digital economy best practices, and action-based learning to the modules.
After successfully completing all units of the GET programme, students will be awarded the Alibaba GET Membership after which they can then apply for the Alibaba GET Practitioner Certificate. Applicants will undergo a rigorous certification review process, and those who succeed will be welcomed into the Alibaba GET Network.
Another initiative carried out by Alibaba GET to sharpen the skills of Malaysian entrepreneurs is the GET Digital Entrepreneurship and Innovation Competition. The inaugural event held last year in Guizhou, China, is a platform for young entrepreneurs to pitch their business ideas to experts in the industry.
For students Ainaa Radhiah Nur Azam and Le Yi Chen, being selected to take part in the competition was an eye-opener. Together, they made it to the list of 11 finalist teams from eight universities which presented their business proposals to a panel of judges.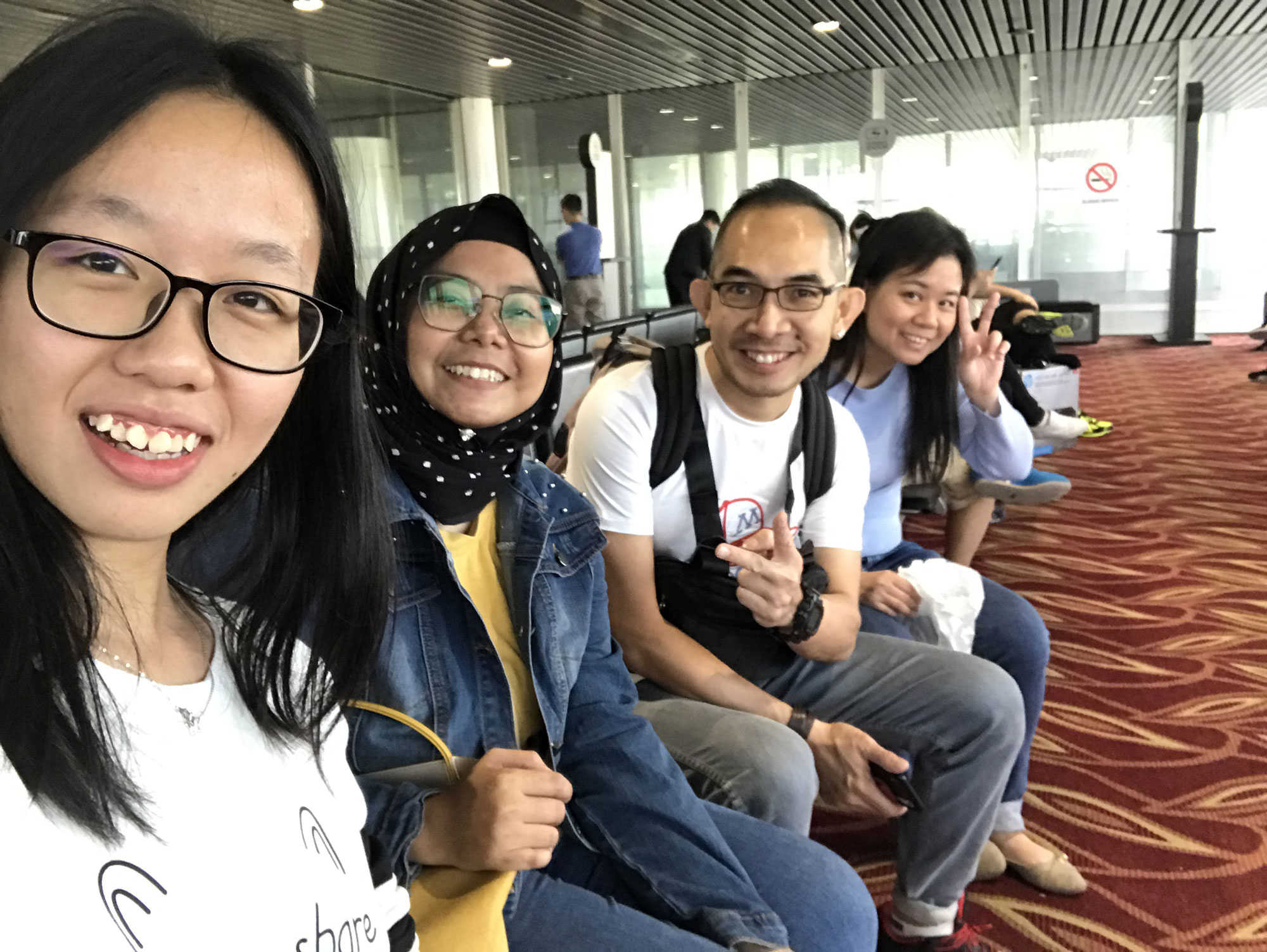 Le Yi and Ainaa with their lecturers, Liew Heong Shya and Alex Leong from INTI International University's Faculty of Business, Communication, Accounting and Law
Their product, the well-loved choco jar, though simple, stood out as they roped in the Orang Asli community to provide handmade woven straw baskets which encased the jars. It was this combination of product excellence and giving back to society that shortlisted them to the finals.
"I had mixed feelings when Ms. Liew said that I qualified for the GET Competition. I was worried about whether I could give it 100 percent, but when my partner Le Yi and I got to the finals it was surreal! Our schedule was tight what with our exam finals also around the corner then," said Ainaa.
She also shared how her lecturers kept them on their toes, constantly providing constructive feedback on how to improve their presentation for the competition. She added that the support and motivation given by her lecturers has inspired her to one day become an educator too, though she would like to pursue e-commerce to generate side income.
Meanwhile, Le Yi expressed how excited she was to make it to the finals as it would be her first time abroad.
"Ainaa and I worked hard on our project. It was helpful that our subjects at INTI allowed us to run an online business and through that we learned what to do when a problem or challenge arises, and what opportunities to grab," she gushed.
Le Yi said it was after witnessing other participants present that she realised the importance of market analysis, and that real data is the key to gaining people's trust towards a product.
When asked if she plans to become an e-entrepreneur one day, she said it was on the cards.
"Definitely, yes! My dad is running a traditional business and he is a manufacturer of liquid detergents and softeners. I am currently working on running his business online to widen his customer base. In the future, I will continue to pursue a career in e-commerce," Le Yi concluded enthusiastically.