The outbreak of the COVID-19 pandemic has undoubtedly created tough times and unexpected changes for many of us. For some more than others, the changes brought about may be more difficult to cope with, especially when it could mean giving up opportunities and having minimal contact with loved ones.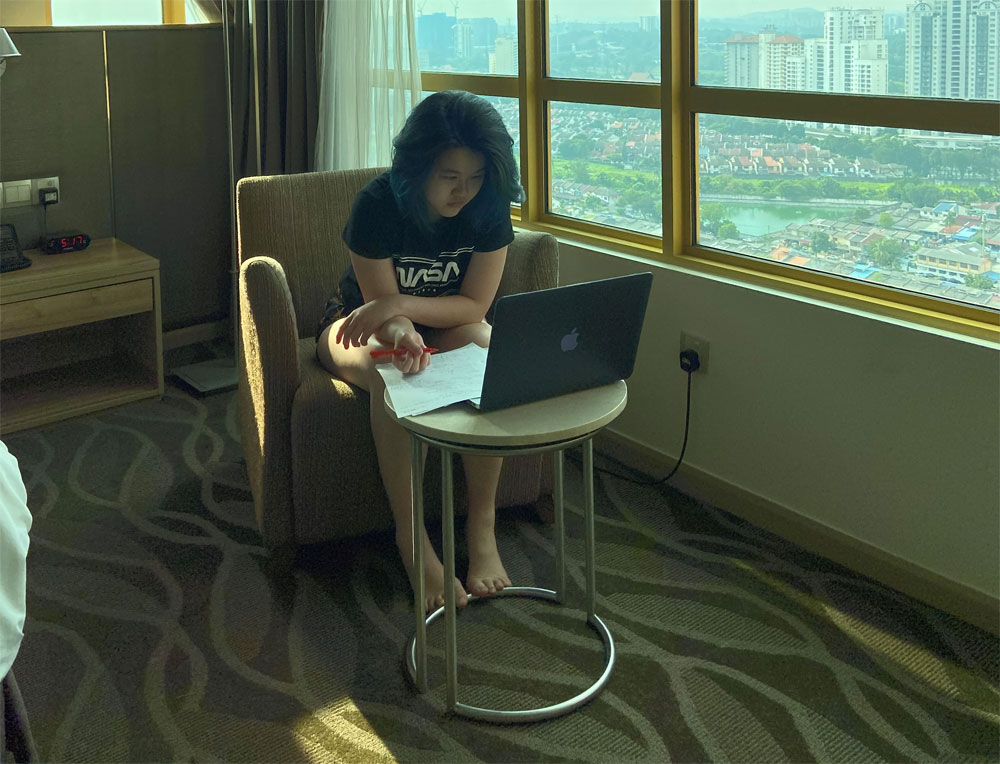 Observing her 14 days quarantine in the hotel room arranged by the Malaysian government upon coming back from the UK, Xin Yee continues her studies using INTI and the University of Hertfordshire's online learning tools.
Two young Malaysians share their experiences being quarantined, and how in spite of the isolation and opportunities given up, they continue to count their blessings.
"I have learnt the importance of adaptability, and that life will always be full of unknown challenges, you can never be fully prepared or stay ahead – but that's part of the learning experience," stated Chi Xin Yee, 21, a Bachelor in Accounting and Finance student of the University of Hertfordshire in collaboration with INTI International University & Colleges, who left her ongoing Semester Abroad Programme (SAP) in the UK.
"I realised how many things I should be grateful for each day and even with the bad news, there were also good experiences gained," said Michelle Lee May Ling, 20, who had just completed INTI's Diploma in Mass Communication programme and a 3 months' internship in a luxury resort in the Maldives for her last semester.
Deciding to leave behind possibly once-in-a-lifetime experiences to return to their homeland, both students shared their reflections during their quarantine.
Chi Xin Yee shares her experiences
Recalling the last semester of her Year-2 studies which was to be spent in the UK, Xin Yee narrated, "The duration for my Semester Abroad Programme was set for four months, spanning from 18 January to 22 May 2020. I have been in England since 31 December 2019."
The SAP is an opportunity for undergraduates who study the University of Hertfordshire's programmes at INTI to expand their global perspective by joining fellows from all over the world, including the USA, Europe, Korea and other Asian countries for a semester in the UK. Xin Yee who studies at INTI International College Penang went through a nomination process before being selected for the SAP.
"As the unexpected outbreak of coronavirus worsened in the middle of March, everyone started to return to their homes and the university had to close many of its facilities including classes. "
She continued, "As conditions in the UK got worse, I also decided to leave. I bought my flight ticket for double the price than normal, yet, this was the cheapest option. There were only around 30 passengers on the Airbus A350-900 which usually accommodates up to about 300 passengers."
As she was on one of the first flights flying back from the UK right after the government stipulated new quarantine measures at designated centres for Malaysian returning from overseas, she had no idea where she would be quarantined or what to expect.
"We arrived in Kuala Lumpur International Airport (KLIA) early in the morning on 3 April, the passengers were escorted by the police in six buses. All of us had no idea where they were bringing us to, and we were very relieved upon arriving at a hotel in Sunway, instead of a quarantine camp which would have been chaotic, from all the stories we had heard," she said candidly.
Keep positive and continue learning amid uncertainties
Xin Yee felt thankful for the arrangement by the government as the entire operations of handling Malaysians returning to their homeland was done so professionally. Having to rearrange her study plans due to her incomplete programme, she was grateful for the strong support offered by INTI's lecturers, especially the Head of Programme who advised and guided her through the process of identifying various options so that she would still be able to complete her studies as planned.
To keep her mind positive amid these unexpected challenges, Xin Yee adopted a healthy lifestyle with meals and necessities fully provided by the hotel. She continued her studies through online learning tools.
"As all learning activities are now online, I needed to plan how to keep up with my studies and do so flexibly. I managed to access all the lectures and tutorials held after 16 March via StudyNet, which were all recorded as videos. I am no longer worried about completing my modules, as the university has assured all students that they will continue to support us through this difficult period to help us complete the modules," she explained.
According to Xin Yee, she was well trained in online learning as she started using INTI's online learning management systems from as early as her first semester. Accessing lectures from the University of Hertfordshire was equally easy as it had always been recorded and uploaded to StudyNet. Apart from that, the university also used "Panapto" to upload the recorded lectures.
"I love how flexible my entire learning experience with INTI and the University of Hertfordshire have been. As the education system has been sort of a 'one size fits all', the use of online learning has allowed students to study at their own pace. For example, I have taken this time in quarantine to watch lectures as many times as I need to especially if it is a difficult topic, and I can do it whenever, wherever."
Aspiring to run her own business in the future, Xin Yee decided not to let the pandemic deter her from pursuing the opportunity to learn and experience in the UK. She is hoping to be selected for the next SAP in September.
"I will have to go through the nomination and selection process once more, among other candidates who will apply so that it is a fair process for all of us. It also highly depends on the COVID-19 situation in the UK by then, and the opportunities and safety of travelling abroad" she concluded.
Michelle Lee May Ling shares her experiences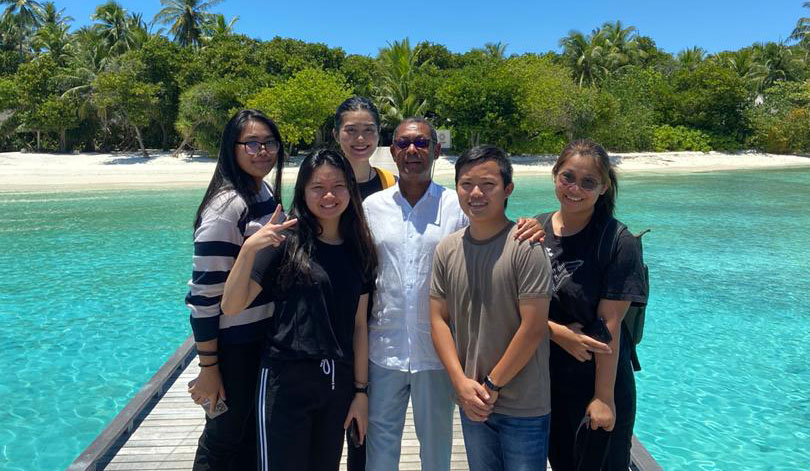 Michelle Lee (right) and INTI students who interned at Vakkaru Maldives pose with the resort manager before returning home to Malaysia.
To complete her two years' of diploma studies at INTI International College Penang, Michelle was privileged to receive an internship at Vakkaru Maldives, a luxury resort in Baa Atoll in the Maldives from 30 December 2019 to 19 March 2020, where she worked with the marketing and communications team.
"Every student has a choice to choose where they want to do their internship. I decided to try something a little more adventurous and sent my application to the company in the Maldives, and was over the moon when I was selected for an interview before getting the job there," she said.
Further to gaining the opportunity to intern at one of the best luxury resorts in the Maldives, Michelle was also fortunate enough to complete her internship before the COVID-19 outbreak escalated further. Her plan to return Malaysia on 19 March however was affected, as flights were cancelled and she was stranded at the resort without any options of returning to Malaysia.
"On 6 April, I received news that the Malaysian embassy had requested the Maldives' government to help bring stranded Malaysians home. At noon on 7 April, I still couldn't get a ticket and almost gave up hope as even the seaplane services to the main island had stopped their operations. If I were to take a sea route and then transfer to the airport, it would take me about 3 hours and the only flight to take me home was at 6 p.m.!"
Throughout this nerve-wracking situation, Michelle prayed and finally managed to get an air ticket. Along with seven other fellow Malaysian, she rushed to the airport hastily to make one of the last flights out of the country.
"We left the resort by speedboat at around 1 p.m. and were in disbelief that we were leaving and going home," recalled Michelle.
A grateful journey coupled with a good support system
Upon arriving at KLIA on 8 April, Michelle was brought to a hotel at Puchong. She was amazed at the speedy and effective service of the government personnel, the frontliners as well as the hotel crew. "The people I met were so friendly and helpful, it made me feel so grateful and touched. The staff who were taking care of me during quarantine took the initiative to check if I had enough water in my room, and were always reminding me to stay healthy," enthused Michelle.
She was also thankful to the academic staff at INTI, which included the Heads of Programme for the Diploma in Mass Communication programme and Bachelor of Mass Communication programme. "Throughout this entire process, the HOPs kept in touch with me to find out about my situation."
Having completed all her modules and internship, Michelle didn't have any remaining class to complete online. Instead, she practised western calligraphy in her hotel room, fully utilising the tools that she had brought back from the Maldives, to keep herself occupied and stay positive mentally.
Recalling a fruitful internship experience overseas
Although her time abroad was affected by the pandemic and surrounded by uncertainties, Michelle still counts her blessings throughout this experience, especially all the experiences she gained from her internship.
"My overseas internship gave me the chance to work with celebrities like Megan Hess, the fashion illustrator, and to experience the process of handling and arranging her book launch in the resort I worked for," she recalled.
"The event welcomed big media companies, and gave me the chance to see how things function in these settings, and enabling me to use my skills from what I have learned as a Diploma in Mass Communication student."
"Interestingly enough, the COVID-19 outbreak also taught me about crisis management, as there were numerous inquiries about cancellations due to travel restrictions. I was responsible to answer all these queries based on the legal statements provided by the company and the government," Michelle elaborated.
Apart from that, she was also given the chance to be part of the familiarization trips for the media, such as Marie Claire UK, an internationally renowned magazine, to know more about the resort.
"I saw how my supervisors professionally answered their questions and handled the media, which was a great learning opportunity for me by being able to observe senior professionals in this line," added Michelle who aims to be a successful Public Relations and Marketing professional.