During a time when healthcare systems face the most pressure, the coronavirus can also be attributed with changing the future of the healthcare industry. With the need to stay indoors to reduce potential airborne transmissions, the pandemic has left countries around the world with little option but to change how healthcare is approached.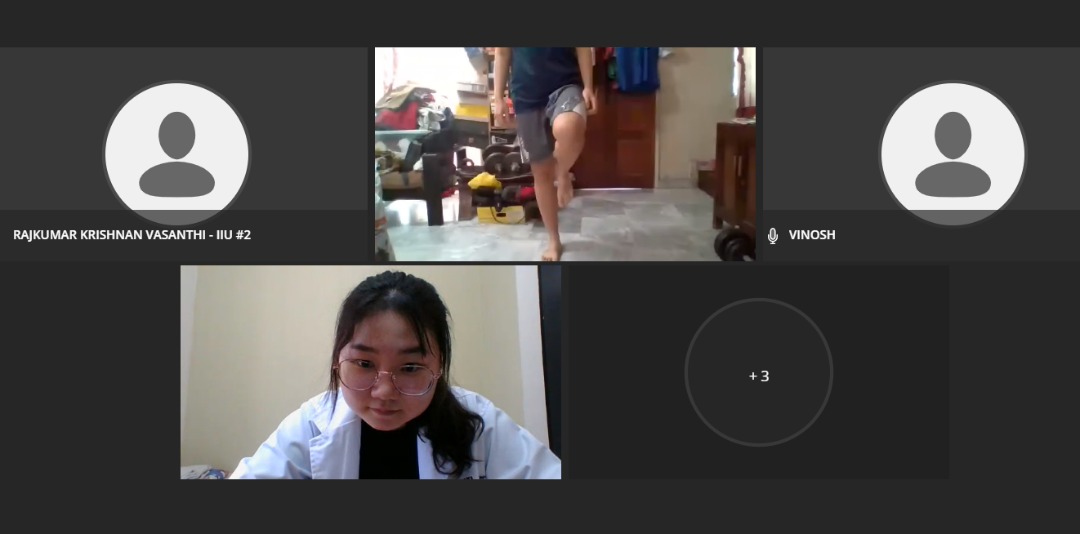 A patient performs some movement assessments in a digital therapy session during INTI's World Physio Day event.
According to the World Economic Forum, virtual care has surged following COVID-19. In fact, telehealth (the delivery of health care, health education, and health information services via remote technologies) has become a necessity. A Frost & Sullivan report revealed that the US is experiencing a radical telehealth expansion, and remote patient monitoring alone is projected to grow 150% this year alone1. People are increasingly warming up to the idea of digital health intervention to seek help without having to step out, even after the pandemic ceases to exist.
This year, INTI International University's INTIMA Physio Club also embraced changes brought about by the virus by organising their annual INTI Physio Day (IWPD 9.0) online via BlackBoard, INTI's learning management system that is accessible to students and faculty throughout INTI's six campuses. Besides health talks, free health screening as well as musculoskeletal and cardiovascular assessments were also offered to those who joined.
According to Mark Timothy Choong, who volunteered as a student physiotherapist at the event, his first consultant-patient session was interesting as it was held virtually.
"It was definitely interesting, especially since there was no hands-on assessment. However, we followed a standard assessment protocol which has been drilled into us from the first day we started our academic journey at INTI. I'm thrilled to be able to put what I learned to use on real people instead of simulated case studies," said the Bachelor in Physiotherapy student.
For Mohammad Aiman Hakeem Haji Md Som, who is also pursuing the Bachelor in Physiotherapy programme, explaining to patients regarding the types of exercises they should do was more difficult online than in person.
"The inability to see the patient in a real life setting makes it hard to determine if there are other injuries or problems involved. At times I was unsure if the patient understood what I said. So although we were able to apply what we learned in class, I would say there are still barriers during online consultations including internet connectivity, patient's understanding and lack of physical touch.
"One patient kept on disconnecting from BlackBoard, so we had to keep repeating our treatment again and again for her. Digital physiotherapy will be the way forward in our digitalised world, especially during this pandemic. However, there are limits which cannot beat physical rehabilitation," shared the Bruneian.
Meanwhile, Yughdtheswari Muniandy, who was one of the consultants on duty during the event, said there is so much that a physiotherapist can do to assist patients online.
"There is a belief that digital physiotherapy consultation is not as good as face-to-face appointments, but I would have to disagree. A physical physiotherapy session can take between 40 to 60 minutes, depending on a patient's condition and complexity of the problem. The same amount of time is spent during a digital physiotherapy consultation as well.
"During these online sessions, patients are asked to perform movement assessments for us to better understand their problem. For this to be effective, the patient must ensure they have sufficient space and that their camera is at an angle that will allow the consultant to have a clear view. For more complex movements and exercises, we have videos with simple instructions for the patient to follow," she said.
The physiotherapy lecturer and clinical coordinator for the Physiotherapy programme at INTI International University's Faculty of Health and Life Sciences added that patients are then given information on their condition, self-treatment plan, and prescribed an exercise programme.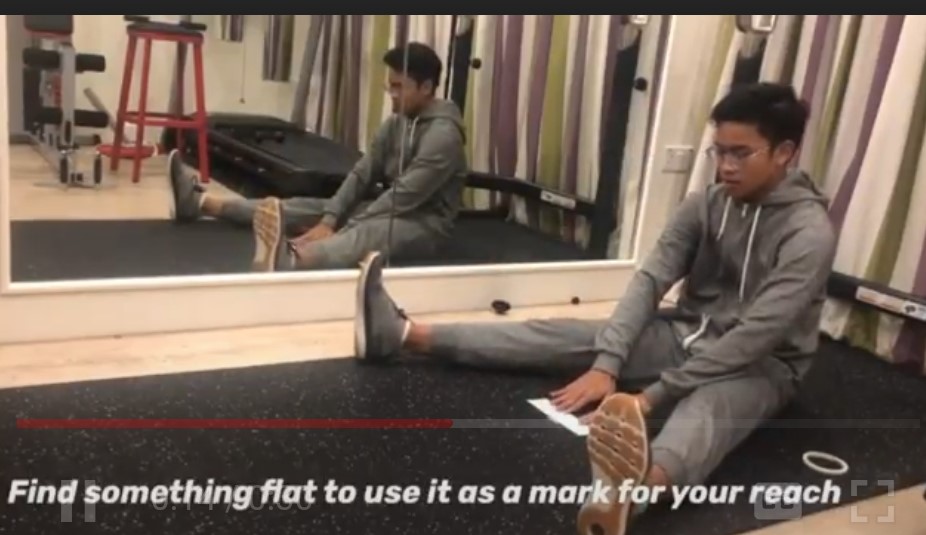 Videos with simple instructions allow patients to copy more complex movements and exercises during and after digital therapy sessions.
Meanwhile, among the most prevalent problems shared by patients during the pandemic are those related to musculoskeletal conditions due to working from home, said Edwin Gaspar, who is a clinical instructor for physiotherapy at INTI International University's Faculty of Health and Life Sciences.
"This is a result of an unconducive working environment – not having a proper chair or table, poor lighting, noise, etc. So many people are suffering from back and neck pain following prolonged usage of laptops. Another common condition is carpal tunnel syndrome which is a result of long hours of typing without rest," he added.
Despite the lack of physical interaction involved during digital physiotherapy, Edwin said he encountered patients who enthusiastically asked questions pertaining to their condition and sought advice on ergonomics.
"Our patients are provided e-brochures that they can refer to. In addition to that, we call patients to follow up on their progress and to check whether they require further clarification. As physiotherapists, we try our level best to provide sufficient advice and treatment to our patients," he said.
Edwin admitted that while online consultations imposed some challenges, it is becoming a new norm that will become a part of the growing healthcare industry. He cites Telehealth as a platform that is getting increasing attention during the pandemic, which provides health education services, remote monitoring, and consultations via telephone, email or videoconferencing.
"Online physio consultation is a part of Telehealth too! In Malaysia, DoctorOnCall.com.my is the first online telehealth platform that links patients to an extensive network of doctors and medical professionals via audio or video calls," shared Edwin.
According to Rajkumar Krishnan Vasanti, head of programme for Physiotherapy and senior lecturer at INTI International University, digital health intervention is seen as having the potential to strengthen the coverage and quality of health services.
"In fact, more than half of physiotherapists agree with digital physiotherapy intervention and recommend it to their patients for the improvement of physical function, pain and quality of life.
"The key to reaping the benefits from this, however, is adherence to the therapeutic exercises prescribed. Studies have shown that this needs to be combined with convenient care, reminders, information, self-monitoring, reinforcement, counselling, family therapy, telephone follow-ups, psychological therapy, supportive care and education," said Rajkumar.
He added that a study conducted by his student, Lee Cai Ling, found that a majority of physiotherapists are aware of digital therapy.
"Out of 209 physiotherapists, 75.1% of them are aware of digital physiotherapy intervention. Although 50% of them feel that digital physiotherapy intervention is beneficial, 70% do not currently use digital tools," he shared.
While the benefits of digital physiotherapy are aplenty, such as saving patients' travelling time and costs, facilitating convenient health provisions within the home environment, and allowing those living remotely or overseas to still access their physiotherapist, digital health intervention does not work as a full substitution of the health system but rather assists to strengthen its function.
"We cannot run from IR4.0 and artificial intelligence. Technology has been making its way into every aspect of our lives and we can definitely see it in the future of physiotherapy practice," Rajkumar concluded.
1 https://www.weforum.org/agenda/2020/07/how-the-covid-crisis-could-spark-positive-change-in-healthcare/