There is a common misconception that most college athletes in competitive and popular sports tend to exhibit lower academic performance. However, Malaysia's national squash player, Siow Yee Xian, 19, who was accepted to the prestigious ivy league Yale University in 2019, has proved the stereotype wrong.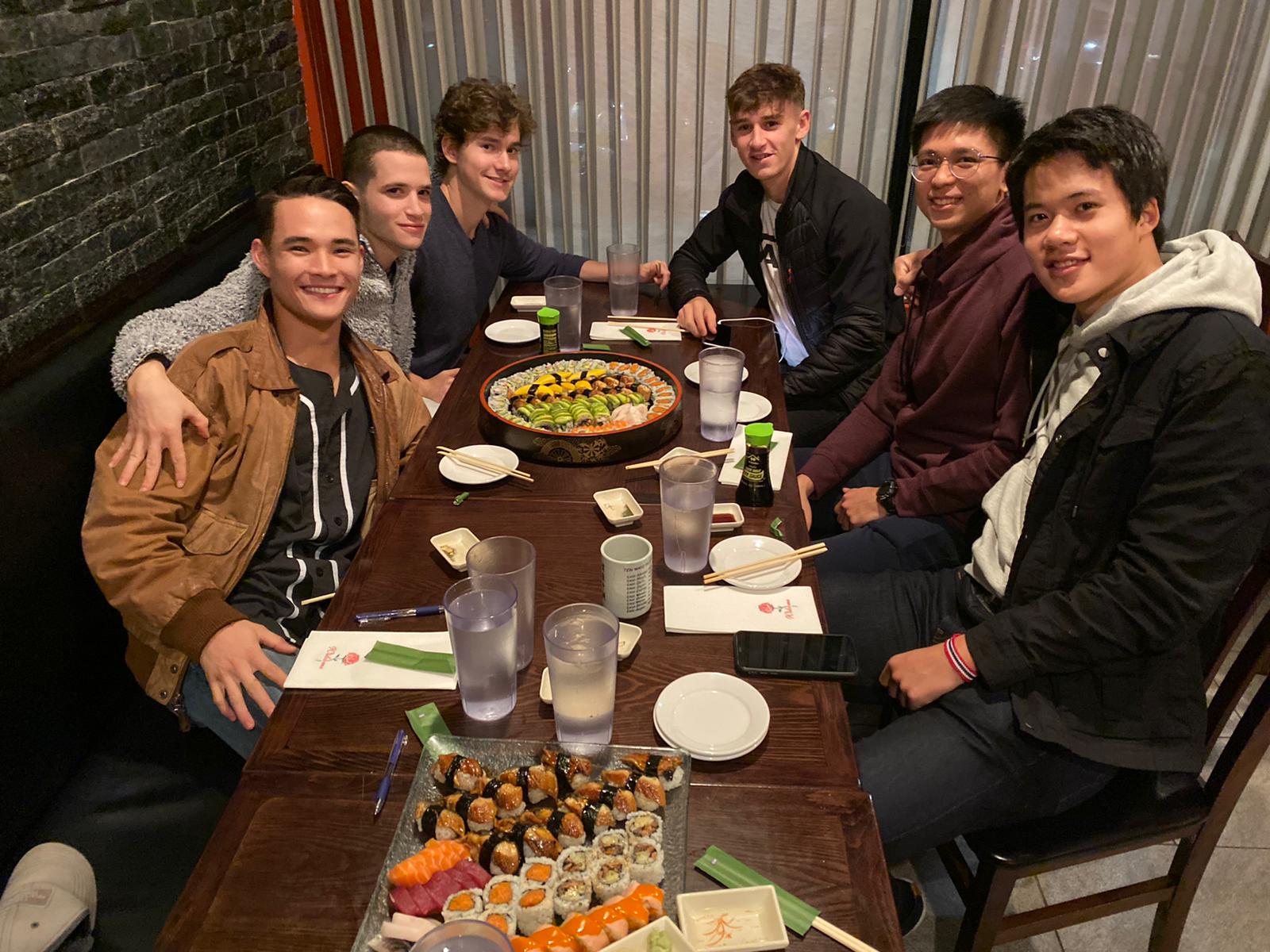 Siow Yee Xian (2nd from right) shares a light moment with some of his teammates and friends of Yale University in the US.
Many of us may wonder how a college athlete can perform well academically while also excelling in sports as they would need to juggle a busy and tight training and learning schedule.
A report by the Centre for Disease Control and Prevention (CDC) of the United States Department of Health and Human Services suggested that spending time in physical education does not appear to have a negative relationship with academic achievements. Rather, scientific studies have proven that physical exercise is close correlated with mental acuity1.
Hailing from Bukit Beruang, Melaka, Siow was introduced to squash by a friend at the very young age of eight. Since then, playing squash while studying has provided him with a parallel growth curve in sports and cognitive development.
A two-time Asian Junior Squash champion in 2015 and 2017, Siow proved his mettle as a high achiever when he emerged as the best student from the Bukit Jalil Sports School (BJSS) in 2018, scoring 10 A's in his Sijil Pelajaran Malaysia (SPM) examinations. With these flying colours, he then furthered his studies at INTI International College Subang and attained 1A* in Physics and 2A in Chemistry and Mathematics upon completing the Cambridge A Levels programme in 2019.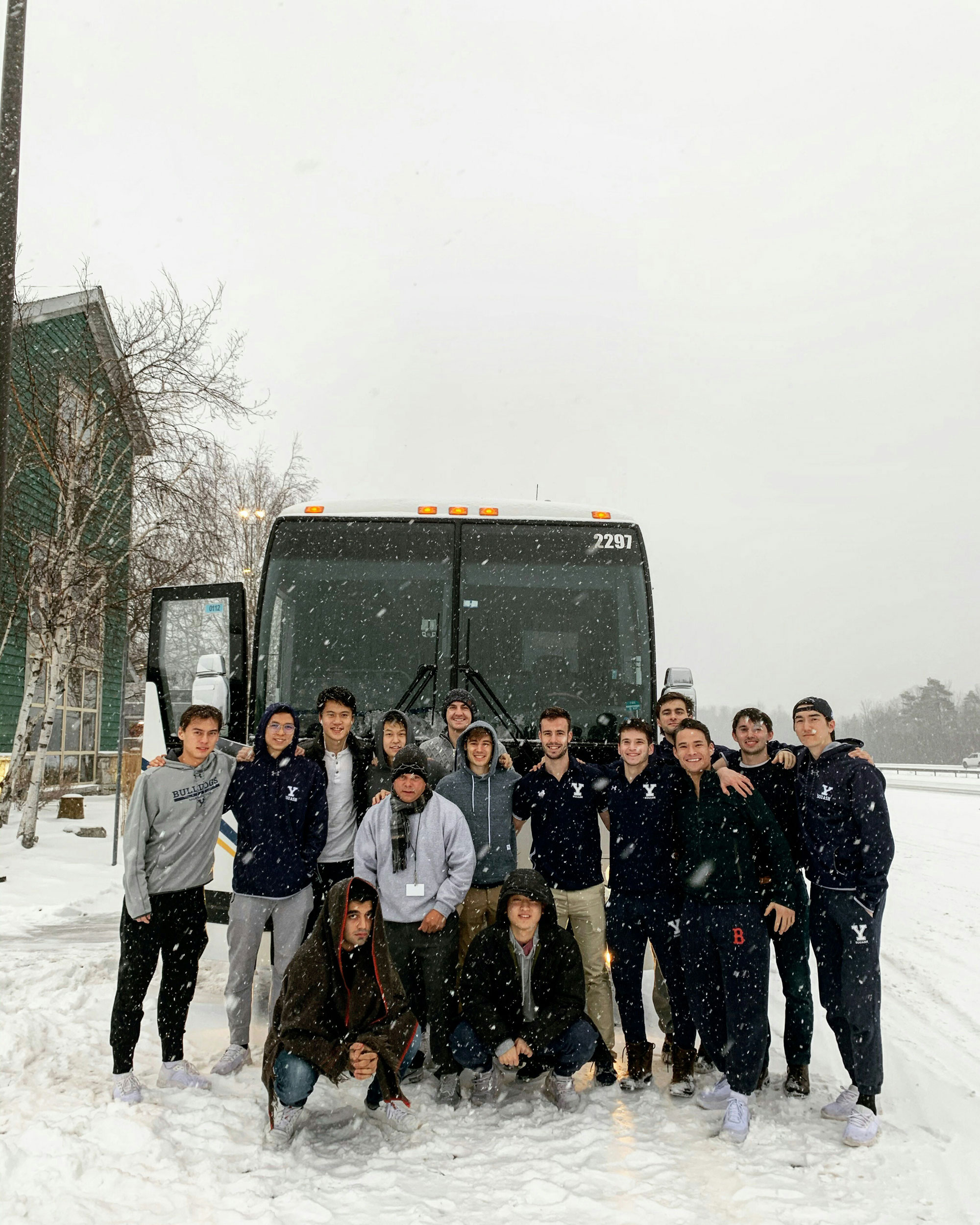 During a snowy winter, Siow Yee Xian (2nd from left) and his teammates travelled to other universities to take part in squash competition.
Subsequently, his A-Levels achievement became his stepping stone towards the awe-inspiring Yale University in New Haven, Connecticut, the third oldest university in the United States of America, where he would pursue a Bachelor's degree in Computer Science.
As he prepared for a new journey abroad, 2019 was an unbelievably fruitful year for Siow on the squash arena, when he reached the quarter-finals at 2019 World Junior Championships, semi-finals at the 2019 British Junior Open and quarter-finals at the 2019 National Championships.
"When I was playing a tournament overseas, I first learned about universities in the US that provide opportunities to study and play squash at the same time. I reached out to a few universities by talking to the coaches from Harvard University, Princeton University and so on. Ultimately, I was attracted to the world-class academic programmes at Yale University. The cordial atmosphere among the squash team and the welcoming coaches and players impressed me," recalled Siow.
Having started his first year at Yale in autumn 2019, Siow admitted that it took some time for him to adapt to his new environment. However, like many other athletes, his confidence, self-belief, optimism and positive state of mind enabled him to easily make friends from different backgrounds.
"After a while, the Yale squash team were like a second family to me," he enthused.
Aspiring to live a well-balanced student-athlete life at Yale and excel in both studies and squash, Siow enjoyed his university life and often took classes taught by well-known lecturers.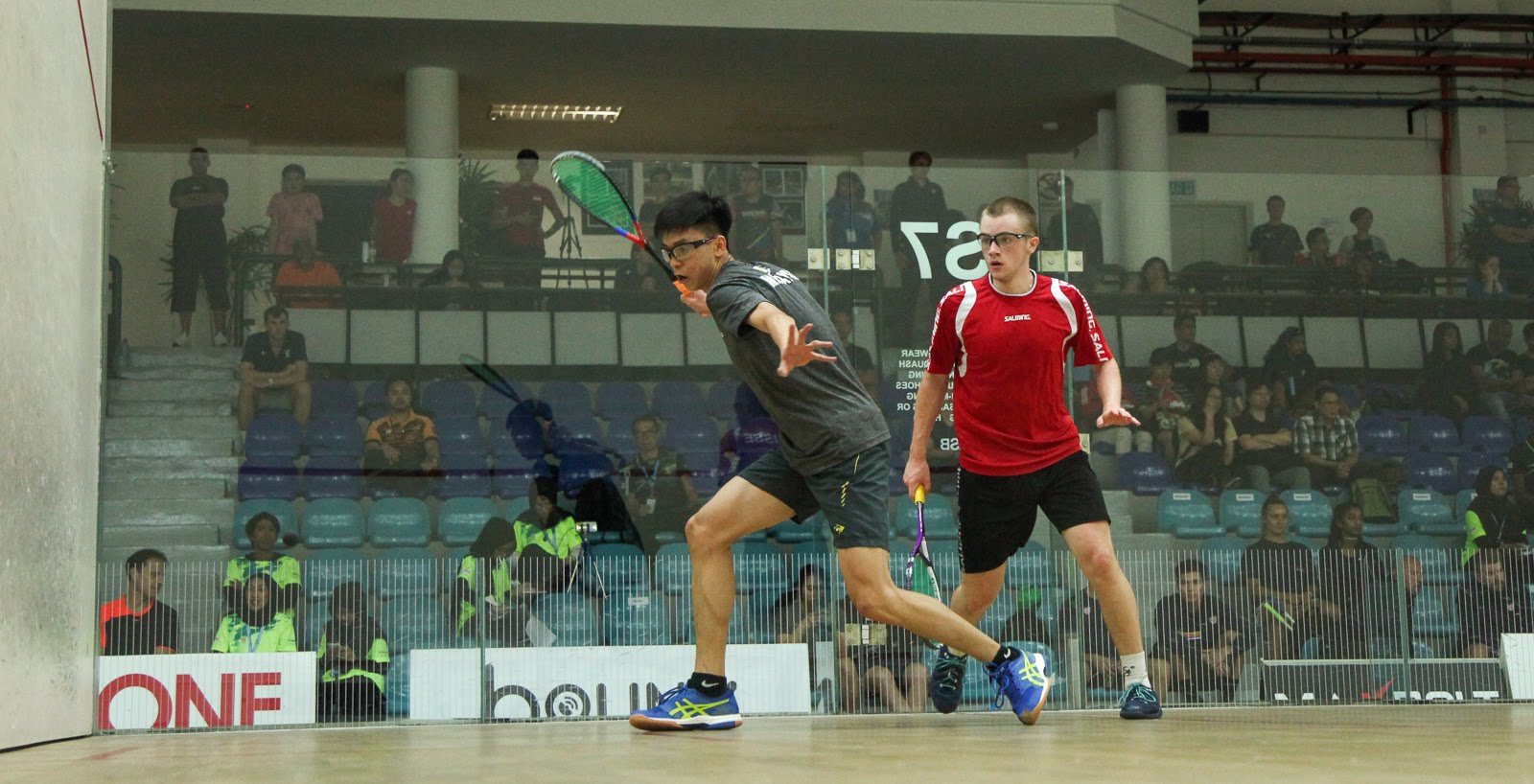 Siow Yee Xian (left) played at the World Junior Championship 2019 at Bukit Jalil.
"I had squash training after class daily and did my assignments at night. There was still time on weekends to hang out with friends and explore the city. I enjoyed spending time with my friends, especially my squash teammates," shared Siow, who secured a scholarship that waived nearly 80% of his tuition fees from Yale.
"Being a part of the university's squash league is very exciting and competitive. Sometimes we travel to other universities to play in competitions and sometimes we host other fellow competitors at Yale. Despite victories and losses, those moments spent with my teammates during training or when we participated in the American national championships are always precious," said Siow, who is currently back in Malaysia.
Sharing about the tough decision of having to defer his second year at Yale, Siow explained that it was mainly due to the current Covid-19 pandemic, and the impact of having to be up in the middle of the night for live classes online due to the different time zones, if he had opted to continue his lessons remotely.
Having returned home after completing his first year of studies, Siow revealed, "I miss the squash team the most from Yale. We do catch up over Zoom once in a while to keep in touch."
For the time being, Siow has re-joined the national team at the National Squash Centre in Bukit Jalil.
"I went back to the training routine around July when sports activities are allowed after the MCO. The national team's usual routine is two sessions daily during weekdays, one session on Saturday and we rest on Sunday," he said.
When asked if there was anything that he needed to catch up on after leaving the national team for a year, Siow explained, "I think I did a decent job of maintaining my endurance on the court. Other than that, I still need to work on my technical and mental skills for the game."
Siow, who is currently making a transition from junior into the senior level in squash, admitted that there is still a lot to be improved on in his game to match professional players.
"I do hope to win major professional squash tournaments one day and make Malaysia proud!" said the aspiring young sportsman.
Looking back on his journey to become an established athlete and at the same time enter into his dream university, Siow expressed his gratitude to INTI by saying, "INTI provided a high-quality teaching and learning environment during my time at its Subang campus. This helped me get into Yale University with good grades. I also received an 80% scholarship from INTI in which helped me to complete my studies."
He also conveyed his immense gratitude to his parents whom he described as "ever-supportive" for they had helped and supported him throughout his journey. At this crucial turning point when the world recovers from the pandemic, Siow motivates himself with this motto: "what you do today will be reflected in your future" and continues to use the power of his mind and aspirations to keep moving forward.
1 https://www.fnu.edu/the-link-between-sports-and-academic-performance/