Secondary school students from across Malaysia's culinary paradise, Penang, were recently given the opportunity to showcase their talents in INTI International College Penang's (INTI) – annual I-Culinary Challenge. Held for the third year running, the half day competition brought together 14 schools and 500 students from Penang to compete in two categories, namely a culinary challenge and a table setting challenge.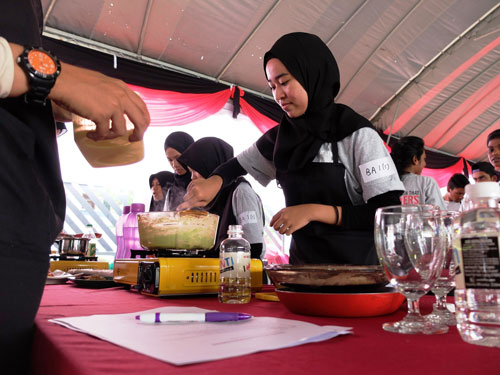 Students set to work in preparing restaurant quality meals
SMJK Chio Min emerged as the champions of the overall competition, presenting both a beautiful setting and spread that represented the theme Truly Malaysian. 1st and 2nd runner up were awarded to SMK Tinggi Bukit Mertajam and SMK Hamid Khan respectively, with all three schools receiving medals, trophies and certificates from Chef Christopher Koetke, the Vice President of the Kendall College School of Culinary Arts – a globally recognised culinary school and partner of INTI's Hospitality & Culinary Arts programme.
Dr Michael Yap, Chief Executive of INTI International College Penang, said, "With so many budding talents in culinary arts these days, we were pleased to provide this platform for students to showcase their skills and receive accreditations from accomplished international and local chefs. Through such experiences, students not only gain exposure and recognition but are empowered to pursue their passions and turn them into careers, as many Gen Z's hope to do."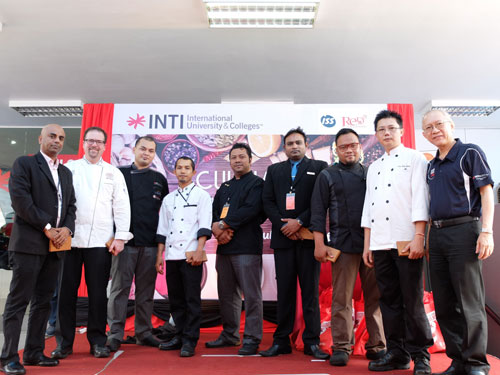 Dr Michael Yap (right) with Chef Koetke (2nd from left) with esteemed chef judges
Honouring the school teachers who prepare and support these students in pursuing their dreams, INTI also organised an exclusive cooking session for the teachers of the participating schools with Chef Koetke simultaneously during the competition. Together they spent an enjoyable morning learning the chef's top tips and ideas for making great meals.
The competition comes on the back of INTI's efforts to provide students from all disciplines with the opportunities to build their capacities and skills even while they are still studying, and helps them to better prepare themselves to meet the challenges and realities of today's workplace.