As the nation continues to abide by the Movement Control Order (MCO) both at home and in the essential services sector, a few individuals have taken it upon themselves to help affect change in their own way. Momoka Kumagae, Koki Shomoto, Koshiela Nair, and Aaron Quek each share their personal experiences in helping Malaysia combat the fatal widespread disease.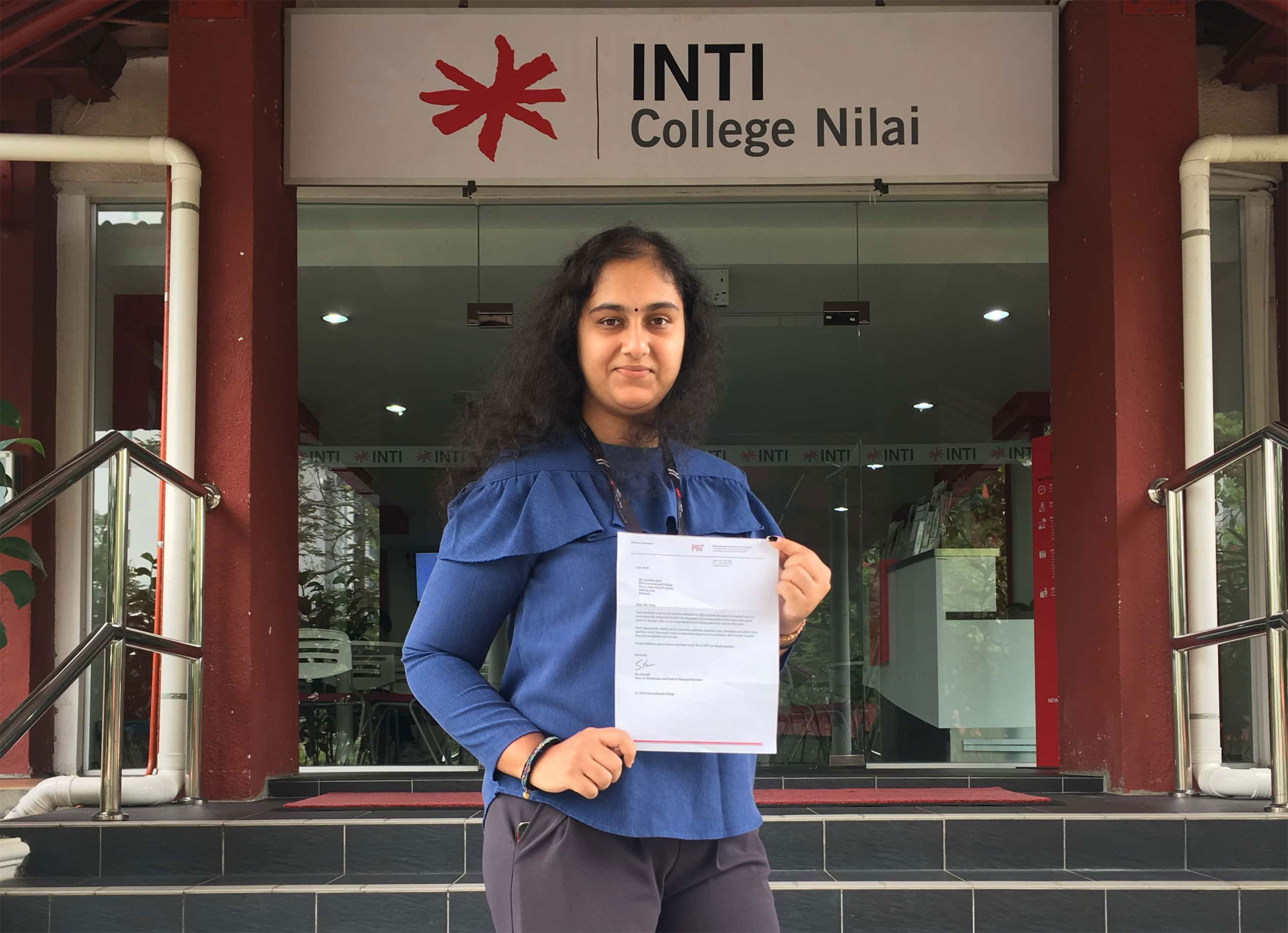 Koshiela, who has friends in the police force working continuously for six days a week without sleep, was inspired to organise the Touch Your Heart Challenge with her colleagues, for front liners in Malaysia.
Koshiela Nair, a senior lecturer of INTI College Nilai's Pre-University programme, along with her colleagues, Mahirah Saidah Marzuki, Maisarah binti Mahmud and Tafara Mudzengi Mayibongwe, rallied together to organise the Touch Your Heart Challenge with Briged Negaraku – a local non-governmental organisation. Koshiela explained that there are two elements to the challenge.
"The first challenge is to get students, with the help of their families, to support front liners in any way they can, from the comfort of their own homes. It could be a word of encouragement, sponsoring meals to eat, donating cash in kind and so on. The second challenge involves creating 2000 pieces of face shields, where upon completion, Briged Negaraku will assist with distributing the face shields to our front liners," she shared.
Momoka and Koki, English Communication majors from Japan's Baiko Gakuin University (BGU) who are currently pursuing their Intensive English Programme (IEP) programme at INTI International University, decided to lend their hand when they first discovered the Touch Your Heart Challenge.
"I help prepare the face shields by cutting pieces of sheet and rubber," explained Momoka during her Microsoft Teams interview.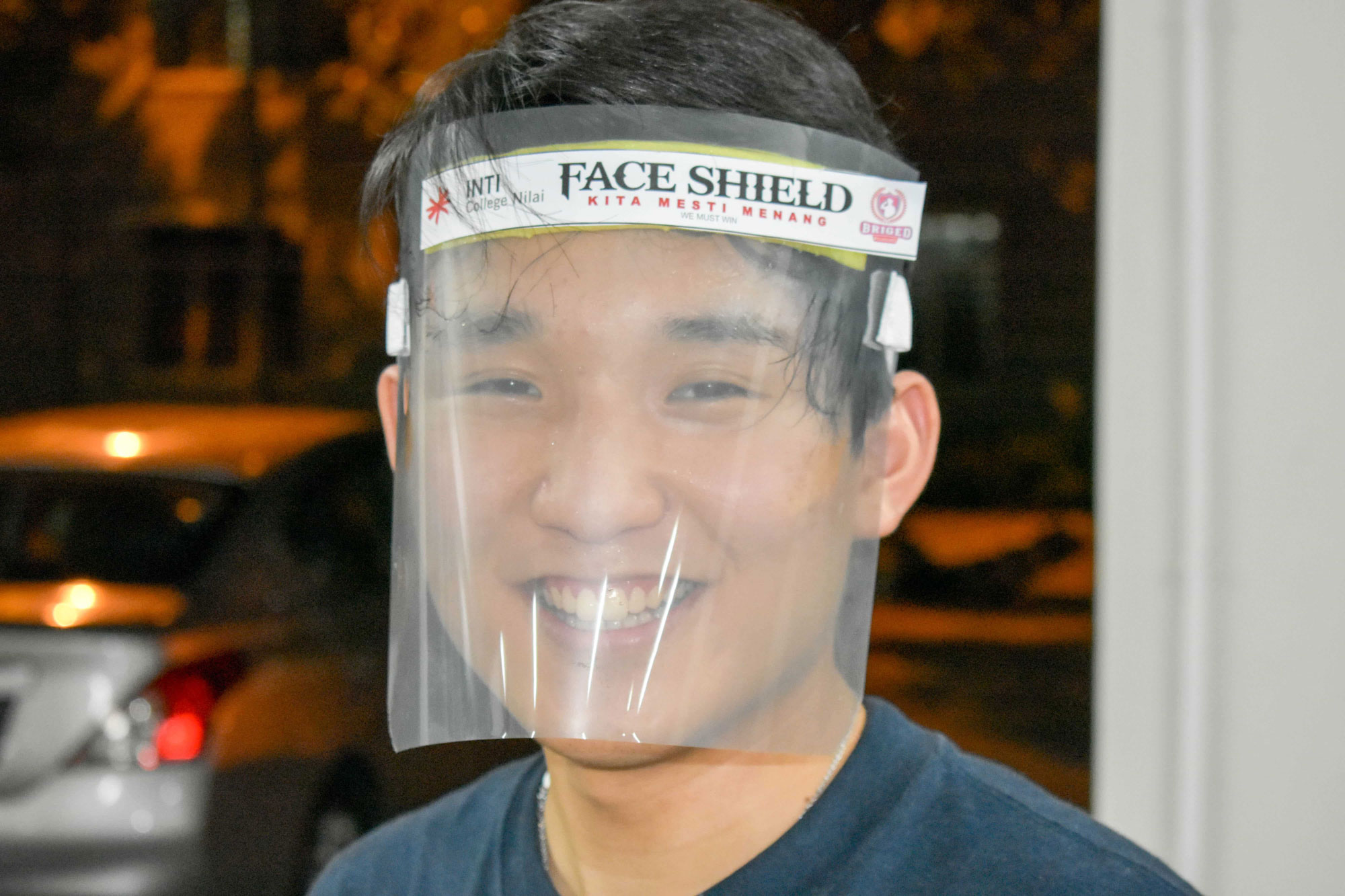 Koki Shomoto, trying on his face shield after assembling it during the Touch Your Heart Challenge.
Koki, on the other hand, shared that as a student leader, he was tasked with distributing the different materials to every member in his group and encouraging other BGU classmates to participate in the challenge, on top of helping cut pieces of sheet and rubber.
When asked about what prompted him to help Malaysians combat the deadly disease, the Japanese native expressed, "I wanted to be of help to those (front liners) who are working very hard for everyone's safety in Malaysia. I was wondering how I could assist Malaysia's front liners and this challenge was the way to do it, so I am very happy to be of any help."
In the essential services sector, Aaron Quek Sze Hau, INTI International University's Bachelor of Mass Communication alumnus, currently working as a journalist for China Press, shared how he has been influencing change through his role in the media.
"I have been brainstorming and developing as many articles as I can that could be helpful information for our readers during this MCO. I have produced articles such as "The different activities people do while staying at home", "The impact to hawker stalls brought about by the MCO", and most recently, I reported on the lifestyle of a student from China who is currently pursuing his studies during this MCO," shared Aaron.
The diligent individual continued, "Now that many press conferences have been cancelled, I hope to continue informing the public about the different realities faced by members of the public through diverse lenses. It feels empowering to be in my position and I am grateful for it."