World Physical Therapy Day is observed annually on 8th September to generate awareness and also to commemorate the contributions made by physical therapists to help people improve their mobility, wellness and physical independence. The day was designated by the World Confederation for Physical Therapy and is observed by many member countries, including Malaysia.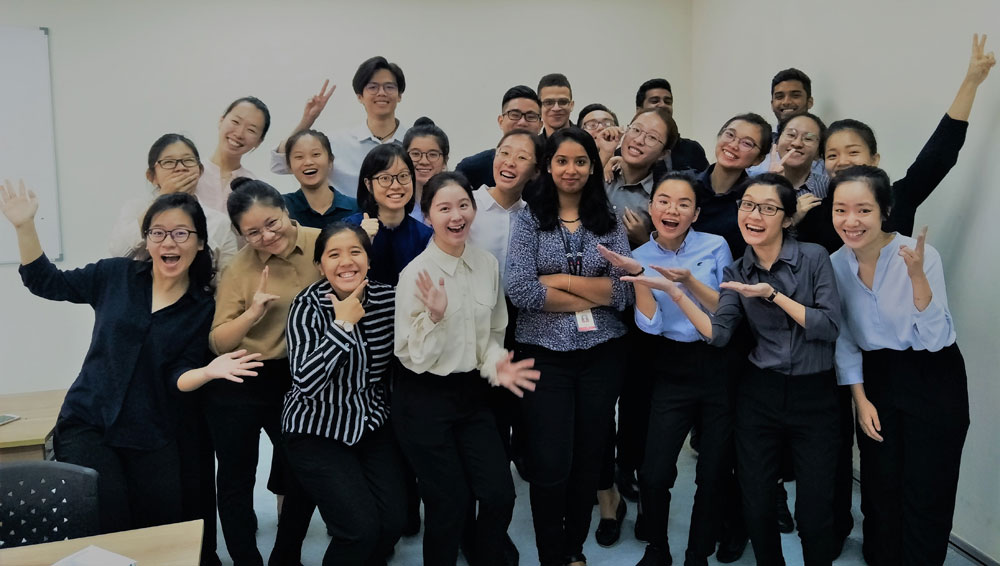 Ambusam Subramaniam (front row, forth from right), flanked by her students, now finds joy in training future physiotherapists.
Physiotherapy is now an integral part of rehabilitation of patients who have either suffered a stroke, heart bypass surgery, or require additional treatment to minimise physical disabilities associated with injuries, disease and other impairments, especially with today's sedentary lifestyle related to Industry Revolution 4.0 (IR 4.0). While most Malaysians now understand the importance and the role of physiotherapists, a recent news report disclosed that physiotherapy is one of the emerging careers in Malaysia . With the enforcement of the Allied Health Professionals Act 2016 this year, the Malaysian Ministry of Health hopes that physiotherapy will become a career choice among school leavers to increase the ratio of one physiotherapist per 5,000 people (1: 5,000) in the near future as the current ratio in Malaysia is one physiotherapist per 10,000 people (1: 10,000) , to also meet future demands for physiotherapists as Malaysians spend more time on smart mobile devices and limit their physical mobility.
In conjunction with World Physical Therapy Day, three physiotherapists from INTI International University shared their experience, their motivation and their expectations for the future.
Ambusam Subramaniam
Physiotherapy Lecturer
Ambusam is a vibrant lecturer and has been teaching Physiotherapy at INTI for more than two years. She initially was not aware of the field. "I was introduced to physiotherapy when I was seeking study options," she admitted. "At that time, physiotherapy was not very common and so people lacked the awareness or the need for physiotherapy. But upon learning about the field, I signed up to study Physiotherapy so that I could play an important role in the well-being of people's health and enable people to gain the mobility they had either lost or never had before."
After obtaining qualifications from Manipal University, India and a postgraduate qualification from Universiti Kebangsaan Malaysia (UKM), Ambusam gained the realisation that physiotherapy is more than just handling patients with musculoskeletal conditions. "Physiotherapy also plays a significant role among cardiovascular patients, neurological patients, paediatrics, geriatrics, sports rehabilitation, pain management and community rehabilitation," she explained.
Ambusam is of the opinion that public awareness of physiotherapy needs to be improved. "Many people still assume that physiotherapy is just the treatment of musculoskeletal conditions. Physiotherapists are also able to enhance the general well-being of communities such as managing obesity, educating the public on the importance of exercise and stress management. Members of the public will be able to benefit from better treatments and have a faster recovery period when they seek a physiotherapist promptly."
Nevertheless, she has high hopes for the future. "Thanks to our hyper-connected world, we can conduct tele-rehabilitation, where physiotherapists can still deliver the same level of healthcare into people's homes via video calls, without the need to travel, and it also saves time. It is also possible to manage chronic neck and back pain using certain mobile phone applications! The possibilities are endless with the advancement of technology and it will help the physiotherapy profession to continue to grow and improve, and impact our communities for the better."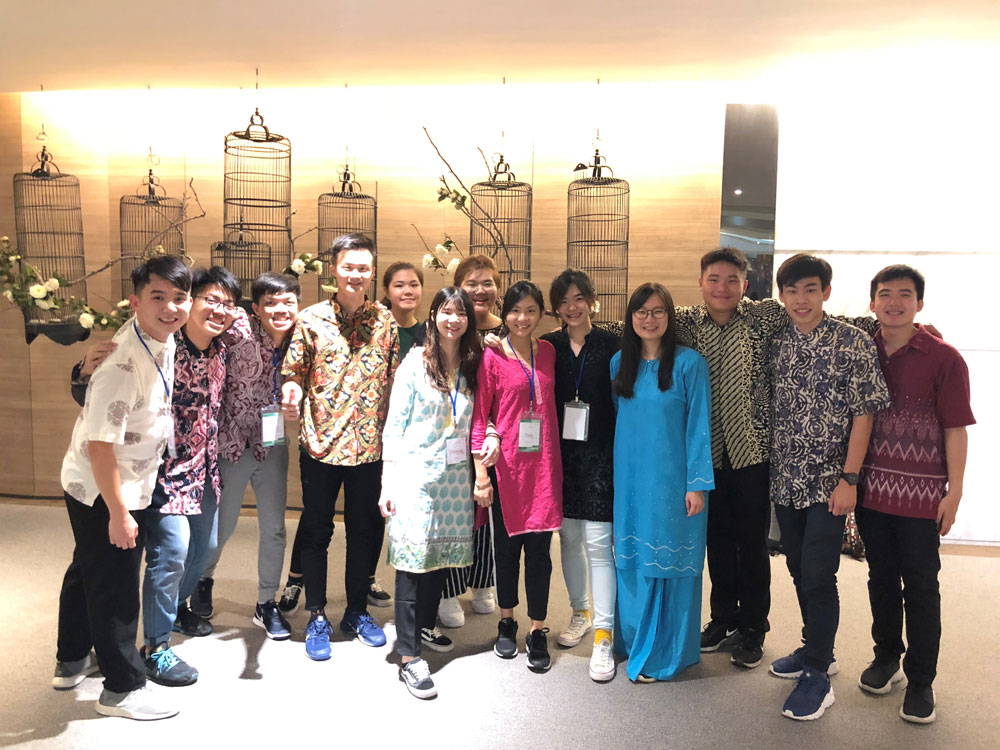 Ho Swii Yitt (in blue baju kurung) and her students all decked in Malaysian traditional costumes as they attend the Cultural Night at the 10th Asia Physical Therapy Student Association Congress (APTSA) in Taoyuan City, Taiwan recently.
Siti Noorhaslina Binti Mohd Zaidi
Clinical Instructor
Siti Noorhaslina has been a part of INTI for over a year as a Clinical Instructor, where she provides guidance to students at the INTI Physiotherapy Centre. The Centre is open to members of the public to receive affordable physiotherapy treatments by qualified physiotherapists, while physiotherapy students learn in a real-life clinical setting.
The Universiti Teknologi MARA graduate (UiTM) says the physiotherapy field is always advancing. "In the past, physiotherapists place a lot of emphasis on intervention. Now there is more emphasis on research and it means new and better ways of administering treatments to patients. I foresee a bright future for the field as at the moment, physiotherapists can use 3D printing machines to measure the range of motion of the joint. In time and through the further developments in technology, I am positive that there will be the creation of improved tools and methods for physiotherapists to use to assist members of our community to promote better health and wellness."
Ho Swii Yitt
Assistant Clinical Instructor
Swii Yitt actually gained her qualification from INTI and has been working as an Assistant Clinical Instructor for over a year upon her graduation. "It started when I was looking for a job and came across a note from our Head of Programme for Physiotherapy, Mr Thirumalaya Balaraman to work at INTI as an Assistant Clinical Instructor," she said. "I immediately applied for the position as I had already spent four years on-campus as a student, and believed it would be very interesting to join INTI as an employee. Even as a student, I had often imagined what more I could learn if I joined INTI as a physiotherapist."
Swii Yitt's interest in healthcare began in secondary school, when she served as an active member of the St. John Ambulance chapter at SMK Infant Jesus Convent, Melaka. She shared, "From that experience, I learned how to assist people in need and developed an interest in Health Science. When it was time to further my studies, I did my own research into careers in healthcare and I discovered physiotherapy. As I did more research into the field, I realised I could help people maximise their quality of life with minimal surgery and medication. Also, there was a wide choice of specialised areas to work in such as Musculoskeletal Physiotherapy, Cardiorespiratory Physiotherapy and Sports Physiotherapy."
Now, Swii Yitt works at the INTI Physiotherapy Centre, assessing patients' problems and providing them with the best course of treatment while physiotherapy students observe and learn patient management. She also manages the operations of the centre with the supervision of Mr Rajkumar Krishnan Vasanthi, the Clinical Coordinator.
She realised that practising physiotherapy is different from what she had studied. "Of course all our lessons and examinations are in the English Language, so communication was very straightforward. But in reality, we will have patients and their family members who may not know English very well and this may alter how patients perceive or receive information in English," Swii Yitt explained. "But living in Malaysia, we are blessed with so many cultures and languages. So one of the first things I had to learn was to be flexible and to use the language that is best understood by the patients, so that they will understand the importance of carrying out certain exercises prescribed to them to continue at home."
As we enter IR 4.0, Swii Yitt is excited to see how physiotherapy is embracing the digital age. "We are already starting to see IR 4.0 being implemented in the medical and healthcare fields. There are bots designed to help health professionals determine how patients could better manage their lifestyles. With a better understanding of each patient's behaviour, we as physiotherapists can predict how much of a risk that person may be in, and customise an early prevention plan."
"There is also exergaming," enthused Swii Yiit. "Physiotherapists can integrate games into our patients' exercises to improve their motivation and performance. With the usage of Artificial Intelligence or AI, physiotherapists can determine the level of activity for the patient and programme the activity so that the patient can have increased physical activity while being safely monitored. The activity can also be a virtual coach and prescribe games to solve the patient's health problems."
Swii Yitt continued, "We may be able to see robotics used in physiotherapy as well, with patients with neurological conditions benefitting the most as robotics can help initiate movements. IR 4.0 makes physiotherapy more engaging for both physiotherapists and patients, and I hope with the current technological advancements, there will be improved awareness of the field among school leavers who are looking at study options in healthcare, and also among members of the community who could benefit from physiotherapy treatments."