In enriching the teaching and learning approach offered at INTI by bridging the gaps between industry and academia, a two-day Global Business Services (GBS) Boot Camp was organised recently for more than a hundred business undergraduates at INTI International College Penang, with the aim of educating them on today's hiring needs and trends.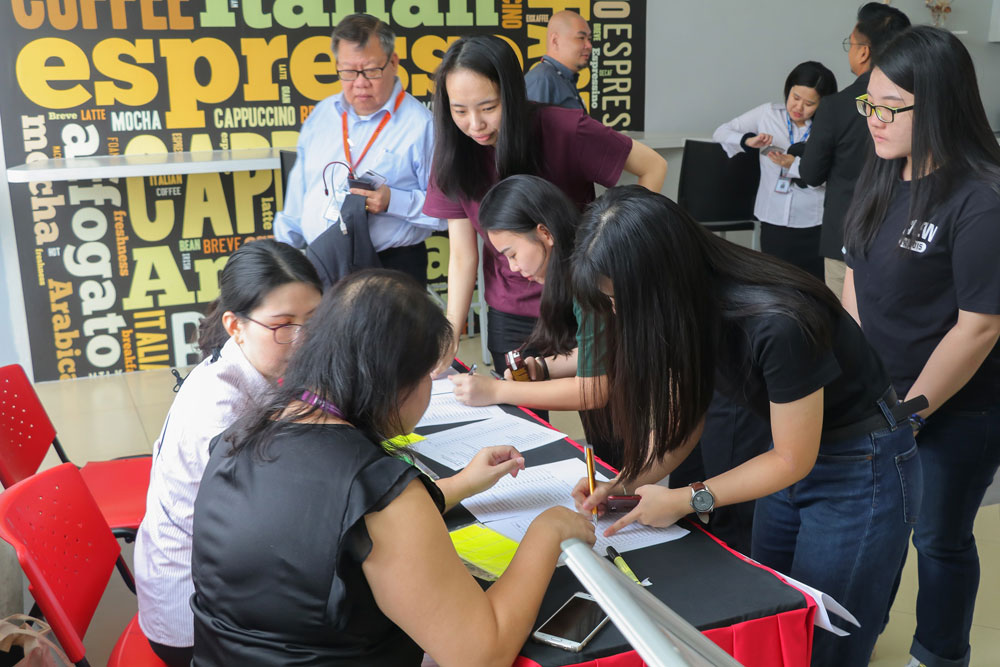 Students from INTI Penang excitedly participating the Global Business Service (GBS) Boot Camp to have a preview of the future of work in this industry.
GBS refers to a more integrated system of service delivery compared to Shared Services Centres (SSC). GBS are usually made up of centralised back-office operations that are used by multiple divisions within the same organisation, in handling tasks such as accounting, human resources, payroll, information technology, legal, compliance, purchasing and security.
Instead of operating numerous SSC, GBS provides an integrated means of governance, serving multi locations and consolidated business practices to all shared services and outsourcing activities across an enterprise. Moreover, GBS deploys far more advanced systems and technology to deliver scalability to the business, and leverages business service delivery across all international operations.
It is well known that skill sets required by the GBS industry are multi-facetted, highly specialized and niche. The GBS industry in Malaysia is estimated to make up for USD 6 billion at the compound annual growth rate (CAGR) of 10% to 15% per annum and employs more than 100,000 professionals1. "Job opportunities for business graduates are not limited to customer service and telemarketing. For present and future professionals in the industry to scale up their competencies and build on long term careers, they need to be exposed to the current trends within the industry and keep up with the changing demands brought about by the technological evolution," advised Hemalatha Murugiah, Chief Executive of INTI International College Penang.
Attended by 120 students, 30 lecturers and 30 business partners who were vital to the sharing and learning process, the boot camp themed "Future-proofing Today's Talent" was a joint effort between INTI and Invest Penang, a non-profit entity of the Penang State Government. Among the participating organisations were world-renowned technology giants namely INTEL, Jabil and Motorola Solutions, who shared their best business operating practices with the participants.
Launched by Tan Lin Nah, Acting Chief Executive Officer, INTI International University & Colleges, the participants were exposed to advanced skills and practices which are not usually taught in classrooms. Apart from that, they were introduced to prospective careers in the GBS field through dialogue and sharing sessions.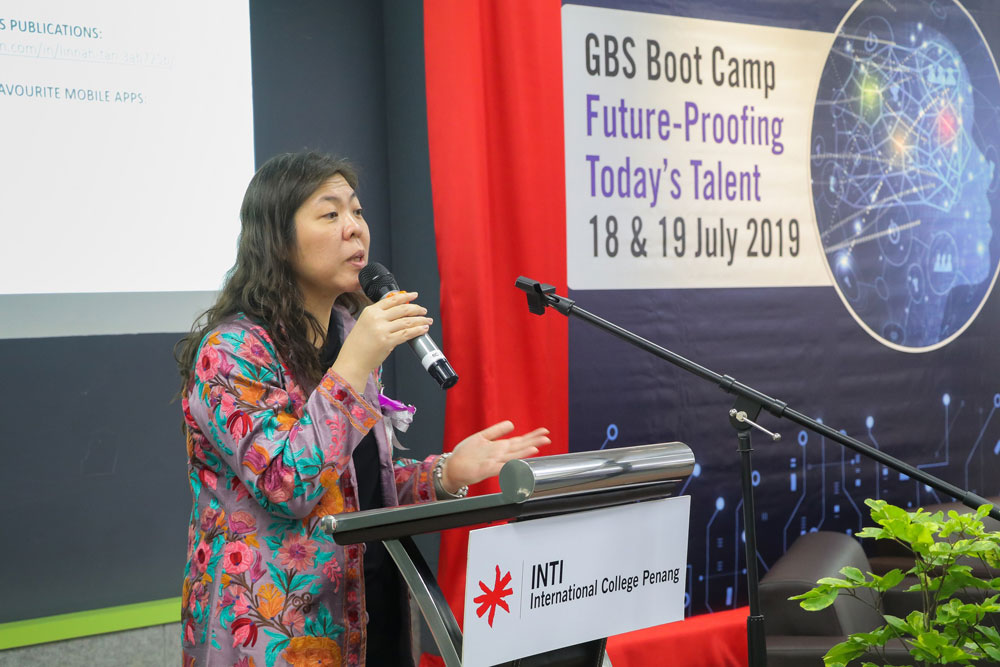 Tan Lin Nah, Acting Chief Executive Officer, INTI International University& Colleges sets the scene on Global Business Services for the audience.
Delivering the keynote address Kim Chin Kuang, Vice President of Global Business Services, Jabil and GBS Malaysia Chairman shared his thoughts on GBS and the future of work. He stressed that with digitization, artificial intelligence and automation becoming a significant part of the workplace in the era of IR4.0, employees needed to develop new competencies to keep up with the times.
"Despite the changing landscape, every cloud has a silver lining. For those with inquiring minds who want to make a difference, advanced career skills training could be the right fit for them," he said.
Following the official opening ceremony, GBS Forums were arranged over these two days. Panellists for the first forum, "Trends in GBS: People, Process and Technology" were made up of Tan Lin Nah and Mr Teoh Teik Lee, Jabil's Director of Supply Chain Development; Mr Sherman See, Motorola Solutions Head of Finance Shared Services Asia Pacific; and Mr Amit Minocha, Intel's Finance Director.
The two-day event also included a competition where participants were tasked to pitch their ideas to the judges in finding solutions for modern business challenges faced within GBS. Apart from levelling up students' critical thinking and problem solving skills, the event also saw industry partners and INTI's academicians coming together to address concerns such as building a competent and specialised pipeline of talent from graduating students to the industry, how academics could better collaborate with the industry partners in preparing students to enter into the GBS industry, and what were the important modules or hands on experiences that could enhance graduate's skills in pursuing GBS careers.
By collaborating closely with industry, INTI continues to enhance its programmes for the business and Information Technology students by giving them the edge in Robotic process automation (RPA) and GBS knowledge prior to their graduation.
Guided by the tagline "Your Future Built Today", INTI is bridging the needs of tomorrow by building up the competencies of its students, to ensure these undergraduates gain the competencies needed for the workplace of the future, and are able to work alongside the digital transformation driving global businesses in the era of IR4.0.
1 http://www.bernama.com/en/news.php?id=1707336
Global Business Services (GBS) Industry Will Be Adversely Impacted By Curtailing Highly Skilled Expatriates Into The Country, BERNAMA, 20th March 2019.