Stampede Solutions recently offered scholarships to two outstanding students from INTI International University & Colleges (INTI) worth approximately RM40, 000. The scholarships came off the back of INTI's ongoing partnership with Stampede Solutions, a multinational software development company, and were provided to assist these students in completing their Bachelor of Computer Science degrees from the University of Wollongong, Australia (UOW) at INTI.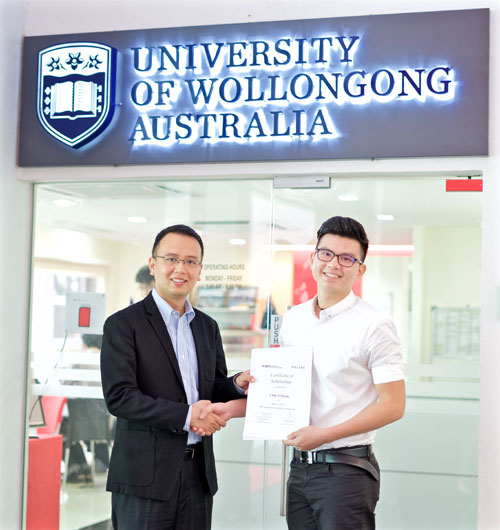 Kris Uttraphan, CEO of Stampede Solutions, presents the Certificate of Scholarship to Chin Yi Kang.
Kris Uttraphan, Founder and CEO of Stampede Solutions said, "Our decision to offer these scholarships was based on the fact that our success depends on the talents that institutions like INTI nurtures. It was natural for us to give back by providing scholarships and to work with the college to ensure these students have the financial support they need to successfully complete their studies."
Chin Yi Kang, 23, one of the scholarship recipients and a final year student at INTI expressed his gratitude on receiving the scholarship. "I am currently working as a freelance programmer to support myself. I was really grateful to receive this scholarship as it helps ease my finances and allows me to focus on my studies."
The second recipient and also a final year student, Eljae Lee Leong Jiann, 20, shared, "Computer Science has been my passion since I was eight and I chose to study at UOW as it is among the top 2% of universities in the world and continuously improves its courses to align with the today's IT trends.
"Studying here has also given me the opportunity to lead a very active student life, including initiating and managing UniCode, an inter-university programming contest. Taking part in competitions and events has helped me to grow my skills and also exposed me to potential employers like Stampede Solutions."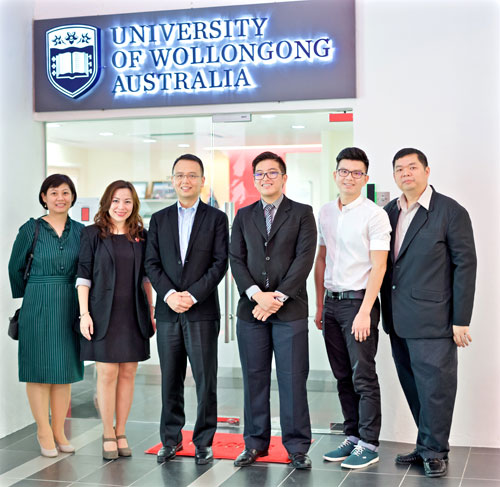 (L-R) : Jenny Be, HR Manager of Stampede Solutions; Dr Jane Lim, Chief Executive of INTI International College Subang; Kris Uttraphan, CEO of Stampede Solutions; Eljae Lee Leong Jiann and Chin Yi Kang, third year students, UOW Bachelor of Computer Science programme at INTI; and Vincent Loh, Dean of UOW at INTI.
INTI's partnership with Stampede Solutions previously also led to the successful hiring of INTI graduates into the organisation. Dyalan Shanmugarajah, a Junior Software Engineer and Pierre Wong Chieh Yie, a Junior Software Developer both joined Stampede Solutions in early 2016. Dyalan completed his UOW Bachelor of Computer Science programme in December 2015, having completed two years at INTI and finishing his final year at UOW's Australia campus; while Pierre simultaneously completed the programme fully in Malaysia – highlighting the flexibility of the programme for students seeking international qualifications and experiences.
"Studying at INTI enabled me to gain a foundation in computer science and exposed me to working with employers. In one project with the Malaysian Institute of Human Resource Management, my project was selected from among 14 others as the one to be implemented," shared Pierre.
Dyalan adds, "Working at Stampede Solutions has not only taught me more about software development and databases, but it has also helped me to recognise the importance of personal initiative in learning. This has empowered me to be more independent and to continue exploring new ideas and technologies."
Uttraphan explained that computer sciences and IT continue to be growing industries which offer rewarding and exciting careers. "Almost every aspect of our lives depends on IT and we have already seen trends of older industries integrating software into their processes. There will always be significant demand for talented professionals both in Malaysia and internationally and through working with institutions such as INTI, we hope to encourage interest in IT among the next generation."
Dr Jane Lim, Chief Executive of INTI International College Subang shared, "With today's employers expecting more from their graduate hires, INTI aims to minimise the expectations gap by working closely with employers and incorporating their expertise into our curriculum. Not only does this help students to gain practical experiences, understand employer needs, and receive opportunities for scholarships and grants, it also opens up potential job offers in the future."
INTI's ongoing collaborations with more than 450 employers across industries is also one of the key reasons why it recorded outstanding employability outcomes for 2015 as validated by BDO Governance Advisory – with 98% of students being employed within six months of graduating, 25% securing jobs even before they graduate, and 82% being offered higher salaries than the market average.
"We truly appreciate this scholarship which has been offered by Kris and Stampede Solutions and look forward to working with them in building up Malaysia's future IT talents," concluded Dr Jane.