INTI International College Subang today launched its newly redeveloped South Block, offering a fresh, cosmopolitan learning environment to suit its dynamic student population. The multimillion ringgit redevelopment leverages innovative and creative designs within its classrooms and throughout its five collective blocks, offering an enhanced teaching and learning setting that emphasises openness and collaborative learning.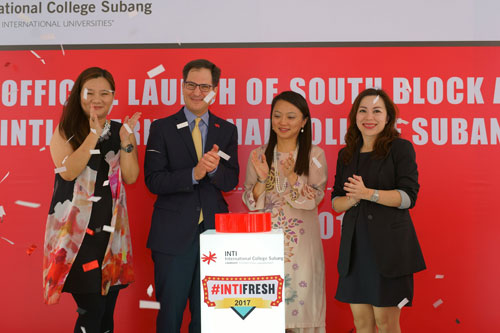 (From L-R) Tan Ling Ling, former Chief Executive of INTI International College Subang, Tim Bulow, Yang Berhormat Hannah Yeoh and Dr Jane Lim, Chief Executive of INTI International College Subang launching the newly developed South Block at INTI International College Subang.
Tim Bulow, CEO of INTI International University & Colleges said, "The redevelopment of the South Block provides a conducive, student-centred experience that reflects the dynamism of 21st century learning. It also promotes opportunities for students to collaborate and practise their capabilities as they become the next generation of leaders. These redevelopments were heavily-based on the feedback and insights from our students, through ongoing conversations and our annual student survey. This ensured that the new facilities were designed with students' expectations in mind and reflects INTI's commitment to act on our students' input and feedback."
Also present at the event was Yang Berhormat Hannah Yeoh, Speaker, Selangor State Legislative Assembly; selected leaders from INTI's industry partners; representatives from INTI's partner schools; and INTI's senior management including Dr Jane Lim, the newly appointed Chief Executive for INTI International College Subang.
"It is an honour to be invited for the re-launch of this historical campus. This campus has played a significant role in Subang Jaya for more than two decades. This iconic site has been a landmark to the locals in our immediate community and has hosted scores of Malaysian and international students – empowering them with world class education and equipping them for careers in various fields. The rejuvenation of this campus signifies INTI's long-term commitment to their former, present and future students, their families and the households in Subang Jaya in facilitating not just academic growth but also the economic growth here.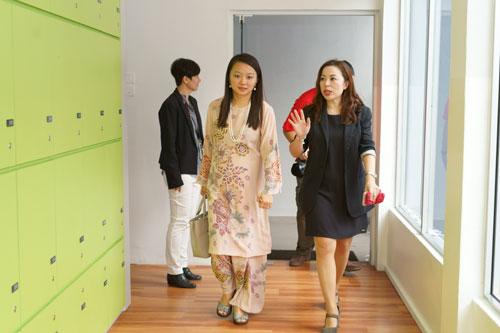 (From R-L) Dr Jane Lim giving a tour of the new facilities to Yang Berhormat Hannah Yeoh
"Great leaders have been groomed here. Professionals in various fields were trained here. New standards in higher education have been raised here. More importantly, INTI is here to stay – to develop the current and future generation of young Malaysians – a pivotal cause for this nation, one which I am more than pleased to support and be a part of," shared YB Hannah Yeoh.
Housing three faculties – the University of Wollongong, the School of Business and the School of Hospitality – the refurbishments include an open garden space with a giant chess set that promotes cognitive stimulation, a new café for students from the School of Hospitality to train in F&B management, and uniquely designed locker cum discussion and tutorial spaces. Innovating our methods of teaching and learning, a number of classrooms have also been redesigned to improve inclusive collaboration and two way communications between students and lecturers, further encouraging teaming, training and practical skills development.
The redeveloped space also boasts a 3-storey Student Hub complete with café at the ground level, a one of a kind "snooze area" for students to recharge at the first level, and a cosy open space for discussions at the top level – aptly named Refresh, Recharge and Reconnect respectively.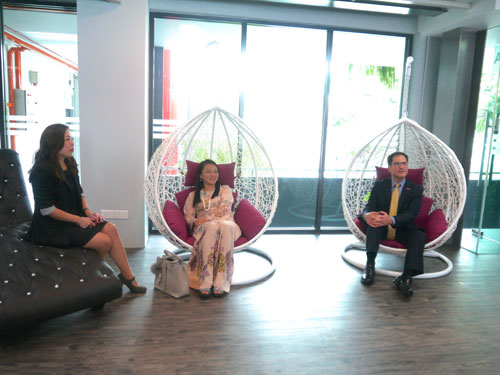 (From L-R) Dr Jane Lim, Yang Berhormat Hannah Yeoh and Mr Tim Bulow checking out the facilities at the Snooze Area called Recharge
Additionally, extensive refurbishments were also made to the Lee Fah Onn Library, named after one of INTI's founders and located at the main block. This important facility now provides a choice of study spaces including a Quiet Zone for students to read newspapers and magazines; individual carrels with plug points for intensive study; a dedicated zone for group projects and informal discussions; as well as an in-house café. Students can also access digital materials, including global resources for INTI's most recent programmes from Southern New Hampshire University, USA and the IBM Innovation Centre for Education.
Bulow continues, "INTI is committed to ensuring outstanding student outcomes. In 2015, INTI Subang received 6 Stars in the cluster-based rating for General Programmes and Services at the MyQUEST 2014/2015 award ceremony; while in 2015, INTI also collectively recorded our highest employability results as validated by BDO Governance Advisory – with 98% of our students being employed within six months of graduating, 25% securing jobs even before they graduate, and 82% being offered higher salaries than the market average."
"More importantly, we empower our students to continuously develop and make an impact in the world, regardless of whichever path they pursue. This redevelopment reflects INTI's own efforts towards enabling continuous growth and lifelong learning," explained Bulow.
INTI will also be opening its doors to the community for a two-day carnival, known as #INTIFRESH, on 17 and 18 March 2017. The festivities will include a flea market, food bazaar, games, and performances by local artists including K Town Clan, Talitha Tan, Back to Basics and DJ Mastermind. The public will also be invited to participate in unique workshops and talks by local celebrities, including Danish Harraz, the 10-year-old baking prodigy who will be conducting a culinary workshop; and Ruby Subramaniam from Art Jam who will be organising an art battle.
Participants will also be invited to a fashion show by the final year Diploma in Fashion Design students from the INTI's Centre of Art & Design. For more details, kindly refer to INTI Facebook page – https://www.facebook.com/INTI.edu.