Two awards were won by INTI students in a creative design competition organised by Malaysian Institute of Interior Designers (MIID). Lucas Lim Wei Zun and the trio of Lam Bao Yi, Koh Boyang and Winnie Say Yih Ling bagged Second Prize for Fantastic Residential Design and Fantastic Table Lamp Design respectively.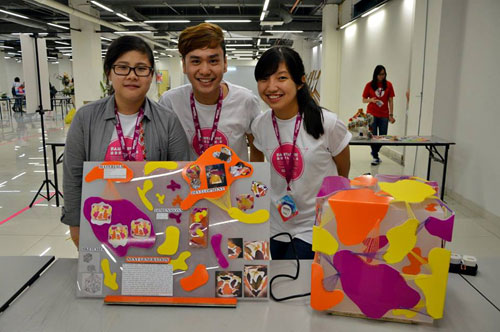 Lam Bao Yi, Koh Boyang and Winnie Say Yih Ling with the Next Generation Light
Held during MIID Student's Saturday, a platform for youths to participate in creative competitions, games, seminars and lectures and engage with one another, the competition was an experience in innovative learning for the students.
"I submitted a design for a double-storey house incorporating minimal interior space with a bright and contrasting colour scheme. Each space has the potential to be extraordinary so there is no reason to look down on small space. I injected little bursts of colour throughout the house and included quirky items such as a lime green TV console top, bar counter top and sky blue cushions to create life and warmth," said Lucas, a Diploma in Interior Design student.
Bao Yi, Boyang and Winnie, semester two BA (Hons) in Interior Design students at INTI, had to exercise their collaborative, thinking and creative skills to design their table lamp.
"Our design which we call 'The Next Generation Light' expresses that the life we live today really impacts our tomorrow. The cubic shape represents the present. We are caged in our present yet how we live our present will determine the future. The lamp's organic colours and shapes represent the future taking shape today. Today's plans, actions and decisions illuminate tomorrow, bringing hope that the future will be fantastic!" said Bao Yi.
The students' achievements reflect INTI's efforts in fostering positive graduate outcomes. Emphasis is placed on the development of 21st century skills encompassing the 4 C's: critical thinking, communication, collaboration and creativity – among all INTI students to prepare them for the future global workforce. By providing students like Lucas, Bao Yi, Boyang and Winnie the opportunity to participate in competitions and learning beyond the classroom, INTI delivers graduates with high level of skills and competencies.
INTI Centre of Art & Design (ICAD), a new faculty at INTI International College Subang, offers career-focused art and design programmes backed by state-of-the-art facilities, strong industry links and global resources for a truly world-class education. Formerly the PJ College of Art & Design (PJCAD), ICAD draws on an established legacy of creative excellence and a proven record for producing top-notch professionals.