Meeting and learning from a veteran correspondent who has reported on some of the most important events in Asia since the mid-1970s, including the death of Mao Zedong, the "People Power" revolt in the Philippines, the Tiananmen Square crisis, the rise of China, the Hong Kong handover, the Southeast Asian tsunami, and developments in North Korea, was a boon for students of INTI.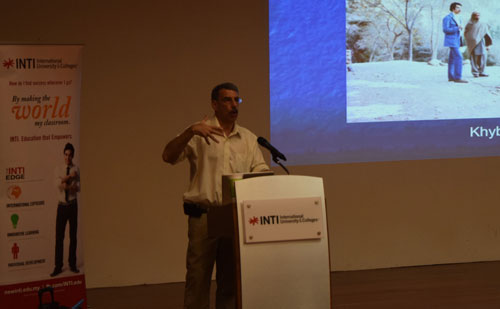 Chinoy describing the changes that have taken place in the media landscape over the years
Mike Chinoy, former CNN Asia Correspondent and a Senior Fellow at the U.S.-China Institute at the University of Southern California, was a special guest at INTI's Subang campus where he shared his insights on journalism and the evolving media landscape.
With 24 years of experience as a foreign correspondent for CNN, including stints as a roving reporter based in London, eight years as the network's first Bureau Chief in Beijing, Bureau Chief in Hong Kong, and, from 2001-2006, Senior Asia Correspondent responsible for coverage throughout the Asia-Pacific Region, Chinoy spoke eloquently on the challenges faced by journalists and news agencies in delivering almost instantaneous news across the globe while upholding standards of accuracy and fairness.
Chinoy, who began his career working for CBS News and NBC News in Hong Kong in the 1970s, also provided his perspectives on what is required from the younger generation today to drive the future of the mass communication industry in Malaysia.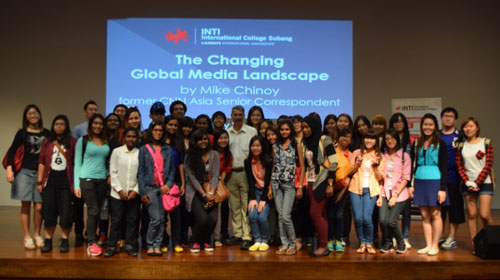 Chinoy poses with members of the audience
"It is a tremendous honour to have Mike Chinoy address our students. The opportunity to meet and learn from someone of his caliber and experience brings real significance to the concept of international education," said Rohit Sharma, CEO of INTI International University & Colleges.
"At INTI, International Exposure, Innovative Learning and Individual Development are the key pillars that support the learning experience of our students. Through our partnership with Laureate International Universities – the world's largest private university network – we also introduce other international experiences to our students, such as the opportunity to enjoy guest lectures and talks from any of Laureate's 80 institutions that are spread over 29 countries. Last year, Tony Blair, former Prime Minister of the United Kingdom, presented to our students and we have also had President Bill Clinton, Honorary Chancellor of Laureate International Universities, addressing our students here in Malaysia," he added.
INTI students also have exclusive access and the chance to attend some prestigious world-class events, such as the World Business Forum that takes place in New York, Sydney and Mexico City. They also have had the unique opportunity to be part of the Clinton Global Initiative, an event that brings together world-class leaders and young people to help address current global challenges.