One of Malaysia's leading higher education institutions, INTI International University and Colleges (INTI), has announced a strategic collaboration with the world's largest online professional network, LinkedIn, to nurture industry-ready graduates by building and aligning their online credentials and skills with future employers.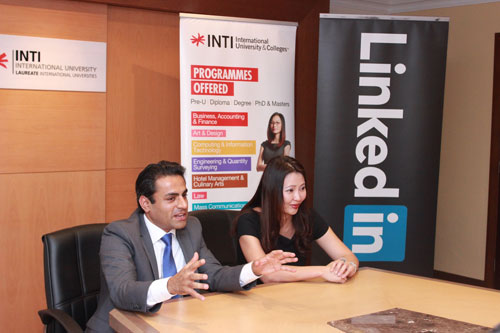 Rohit Sharma and Feon Ang
This collaboration is in line with INTI's #rethinkEDU initiative, which aims to change the public's perception on the roles of higher learning institutions by focusing on a more holistic, beyond-classroom experience for its students in their development to be the leaders of tomorrow.
Speaking on the collaboration, Mr. Rohit Sharma, Chief Executive Officer of INTI, said, "We believe that by collaborating with LinkedIn, our students are given the opportunity to be professionally prepared and equipped with the right tools prior to entering the workforce. At INTI, we want to be the Champion of Change. We understand the fast moving pace of the employee market today, and as such, it is integral for us to capitalise on the digital space by bringing students a step closer to their prospective employers through accentuating their skills, strengths and credentials."
"We at INTI place a strong emphasis on producing industry-ready graduates and aim to equip our students with 21st century skills which we call the 4 C's: Critical Thinking, Communication, Collaboration and Creativity. It is through these skills that approximately 96% of INTI graduates are being employed within 12 months of graduation. Placing our students on the world's largest networking platform, LinkedIn, will ultimately put them on an advantageous position in view of the borderless, competitive talent scene," Rohit added.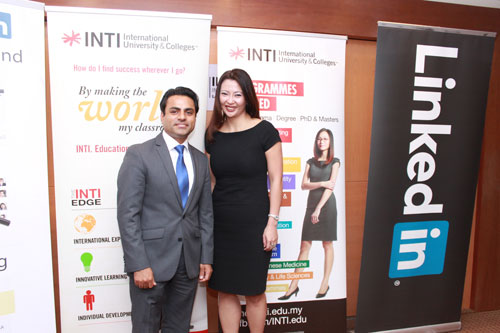 Rohit Sharma and Feon Ang
INTI's collaboration with LinkedIn kicked off with a briefing and facilitation workshop conducted amongst INTI students at its Subang Jaya campus, with live streaming held across its other campuses at Nilai, Kuala Lumpur, Penang and Sabah. A sharing session entitled "Leading With your Own Voice" was also conducted by Ms. Feon Ang, Director of LinkedIn Talent Solutions, Asia-Pacific, with INTI students at its Nilai campus, focusing on the unconventional approaches to leadership and how students can optimise their confidence in leading a team to success.
Elaborating on the collaboration, Feon Ang said, "LinkedIn is excited to collaborate with INTI, an institution that shares our belief, particularly in connecting talent with opportunities. We believe our collaboration will go a long way in helping students at INTI find their dream jobs by leveraging this powerful networking tool to connect with industry professionals, enhance their visibility in the competitive job space and access jobs either in or outside Malaysia."
LinkedIn operates the world's largest professional network on the Internet with more than 347 million members in over 200 countries and territories. There are over 39 million students and recent college graduates on LinkedIn, which is its fastest-growing demographic. Last month, LinkedIn announced that it has surpassed two million members in Malaysia of which 72% of members are in the 25 to 44 age group. Approximately 73% of Malaysians utilise LinkedIn to connect with other professionals while 53% consider LinkedIn as a medium to seek job opportunities.