It was an especially jubilant moment for 14 students from INTI International University & Colleges when they obtained 4A*s in the Cambridge A Level (CAL) Examinations held in May this year. Simultaneously, 25% of all INTI students who sat the examinations obtained 3As and above, reflecting the consistent high quality across all three of its six campuses nationwide who offer the programme.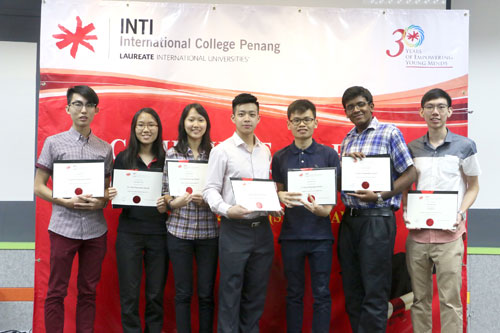 Recipients of 4A*s from INTI Penang
This year's line-up of remarkable students to receive these high honours included Ooi Zher Ying, INTI International College Penang (INTI Penang); Tan Jian Xiang, INTI International College Subang (INTI Subang); and Lim Chiah Chien, INTI College Nilai, who were also the recipients of the Cambridge Outstanding Learners Awards earlier this year. All three were awarded the Top in the World for AS Mathematics, while Zher Ying was also named the Top in the World for AS Physics, and Chiah Chien was awarded Top in Malaysia for Biology.
The fourth recipient of the Outstanding Learners Awards, Christopher Joseph Guo Wei-Yan, INTI College Nilai, who received the award for Top in the World for AS Law also achieved an impressive 3A*s and 1A.
Dennison Lau, another student from INTI College Nilai who achieved 4A*s shared that proper planning in advance and managing his time well were the foundations of his success. The former student from Zenith International School who hopes to pursue a degree in Electrical and Electronic Engineering in the United States of America explained: "While it takes a lot of effort and time to properly plan a schedule, it helped me tremendously to balance between my studies and other extracurricular programmes. Doing so helped to improve the way I studied and minimised the stress that comes with last minute work. Understanding my subjects well and identifying the gaps early in my studies also allowed me to reach out to my lecturers who were more than willing to help me learn better."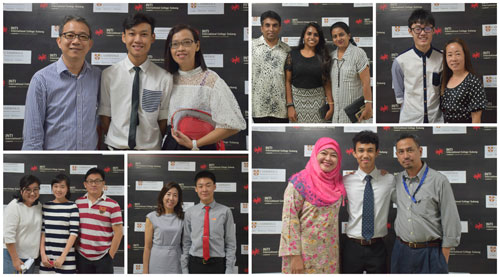 A collage of students and their proud parents from INTI Subang's Awards Ceremony
Sherry Cheung Sau Mun, a 4A*s recipient from INTI Subang said, "INTI was my first choice when I was a fresh SPM graduate as it has a very good reputation and was known to have reasonable tuition fees among competitive private colleges in Malaysia. I also received the INTI Leadership X-Cellence Scholarship award which covered half of my tuition fees for the whole course."
An aspiring student with a passion for healthcare and treating diseases, Sherry will be transferring to the prestigious University College London to pursue a Masters in Pharmacy. In sharing what were the most important qualities for students to have in order to do well, Sherry advised that self-discipline, self-motivation, and efficiency were the most important and explained that studying at INTI had helped her to develop these aspects of her own life.
Former alumni of SMK Convent Green Lane in Penang, Ooi Hui Jean is another successful 4A*s student who is transferring abroad. She will be moving to the University of California San Diego to pursue a major in biochemistry and cell biology in September.
"My lecturers played an important role in helping me achieve my results, and were very supportive, caring and patient. The even helped me with my university application process and prepared a letter of recommendation which strengthened my application and helped me to stand out. Simultaneously, they also guided us to learn about things outside of the classroom such as a project we did on endangered ecosystems in Penang's seagrass bed which gave us a more holistic learning experience," commented Hui Jean.
INTI's established Cambridge A Level curriculum provides a solid foundation of fundamental knowledge and preparation for progression to international tertiary programmes. Assessments are based on students' mastery of subjects and their ability to apply their learning in real world scenarios. Through the dedicated efforts of its experienced faculty and access to global resources, INTI students are provided a pathway to global success both in their choice of universities and future employment.