INTI International University & Colleges (INTI) has signed a Memorandum of Understanding (MOU) with Methodist College Kuala Lumpur (MCKL) in offering established degree programmes for students progressing from the UK General Certificate of Education Advanced Levels (GCE A-Level) and Australian Matriculation (AUSMAT) offered by MCKL. The MOU comes off the back of INTI's efforts to offer a seamless transition for these students seeking to further their tertiary education.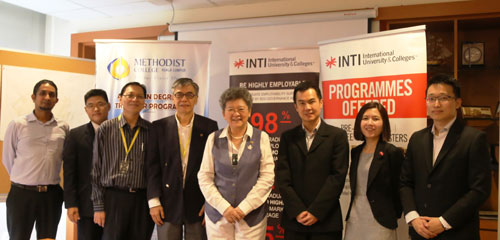 INTI: Mr Roy Heong, SVP, Sales, INTI and Ms Moey Yoke Lai, CEO, Methodist College Kuala Lumpur (third and fourth respectively from right) and representatives from both institutions at the MOU signing ceremony.
Roy Heong, Senior Vice President, Sales, INTI said, "We are very pleased to partner MCKL in this endeavour as both institutions share similar missions of encouraging excellence in all things, and in developing graduates to not only achieve their own personal goals but to make a difference in the world. Through this collaboration we hope to provide students with early insights into the wide range of education pathways that will support their long-term career aspirations."
In its efforts to provide high quality and affordable education to students from all backgrounds, the partnership also includes a full scholarship for one outstanding MCKL student, as well as partial tuition fee waivers for each student who meets the minimum academic requirements in transferring into INTI's degree programmes.
Established in 1983, MCKL offers a range of programmes including the GCE A-Level and AUSMAT programmes. Both programmes have successfully prepared numerous students for admission to overseas universities in the United Kingdom, Australia, New Zealand, Canada, U.S.A., Singapore, India and many other countries as well as to local private university colleges such as INTI.
Heong explains, "Like our partnership with the Department of Polytechnic Education earlier this year, this partnership reflects INTI's hopes of working with other institutions to support students in progressing through their learning journey and to enhance the Malaysian education landscape. Through bursaries and counselling sessions at MCKL's campus, we strive to ensure students have all the information and opportunities they need in taking this first step towards achieving their dreams."
Through these partnerships with other institutions and industry partners, and in helping students tap into their capabilities and career goals early on in their studies, INTI recorded its best graduate outcomes in 2015, with 98% of students receiving job offers within six months of graduating and 25% securing jobs even before they graduate. 82% also received higher salaries than the market average, emphasising the quality of INTI graduates.