INTI International College Subang (INTI) has successfully received an accreditation by Lembaga Arkitek Malaysia (Malaysian Board of Architects) for its 3.5+0 Bachelor of Arts in Interior Design programme. The programme is offered in collaboration with Sheffield Hallam University, an established UK university which ranks among the top 100 universities in the UK, and home to UK's largest practising community of artists and designers outside of London.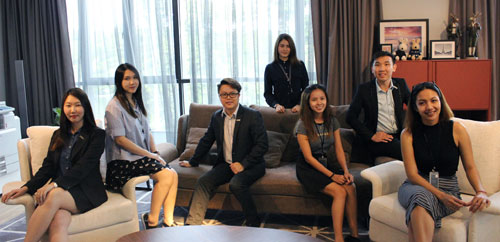 Nur Qadriya (farthest right) with colleagues from One Space Sdn Bhd.
One of only four Higher Learning Institutions (HEI) in Malaysia to receive the accreditation, INTI is the only HEI to receive the accreditation for a franchised programme.
Ms Ang Tong Yin, Dean of INTI's Centre of Art & Design (ICAD) said, "Receiving this accreditation enhances the recognition of this programme among Malaysian employers and reflects the high qualifications INTI students bring with them to the workplace. In addition to understand the standards upheld by the Board, students will also indirectly gain exposure to established professionals in this field, assisting them in their future careers."
A creative and challenging programme that introduces students to all aspects of interior design, students not only develop their skills within INTI's well equipped studio but also gain the opportunities to visit design consultancies, industrial facilities, museums and exhibitions. These visits contribute to the development of a deeper contextual and industrial understanding of interior design, with direct links to their projects and theoretical studies.
Additionally, students also work collaboratively with clients and industry professionals on actual projects that mirror the employment experience. These commercial projects help students understand the business context of design, preparing them to stand out from their peers when they enter the industry.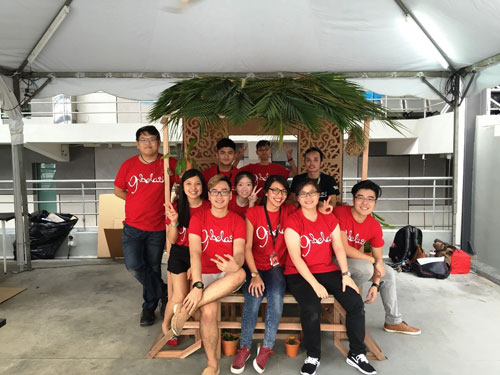 Cheah Jia Jen (at the far back) with fellow students and lecturer Mohd Sufi (in black) with a design that they developed and built
Nur Qadriya and Cheah Jia Jen are final year students who are currently undergoing their industrial placement and have received job offers from their current employers.
Cheah, 22, shared "I chose to study interior design at INTI as it has been a long term passion of mine, and INTI offered an internationally recognised degree from Sheffield Hallam University. Working at Black Point, an independent interior design and consultancy practice who have worked for the likes of Petronas and Deloitte, was an eye opening experience as I gained a lot of hands on experience and practical knowledge into this field. I was very happy when I was offered a full time job with them and will start as soon as I complete my internship."
Having also received a full time offer from One Space, a specialised design-and- build organisation, Nur Qadriya, 23, said, "INTI gave me good foundation in my design knowledge and interview process. Coming into this internship, I also learnt how to work with clients and to read construction drawings. My advice to students is to always ask a lot of questions and get out of your comfort zone because that is the best way to learn."
Ang explains, "With today's employers expecting more from their graduate hires, this accreditation and our close collaboration with over 450 industry partners helps students to gain practical experiences, understand employer needs, and receive opportunities for scholarships and potential job offers even before they graduate. These opportunities add to our outstanding employability outcomes, which are validated through BDO Governance Advisory."
INTI's 2015 graduate employability outcomes included 98% of students being employed within six months of graduating, 25% securing jobs even before they graduate, and 82% being offered higher salaries than the market average.