In an effort to provide students the opportunity to gain real-life work experiences, INTI International University & Colleges (INTI) collaborated with UBER Malaysia, a one-of-a-kind service provider with a dynamic approach to doing business. As a young, growing organisation, UBER presented students the chance to gain hands-on experience into two significant parts of its business – research into starting up new markets in Malaysia, as well as the development of advertising ideas to boost its brand.

Emily Yoon, Community Manager for UBER Malaysia, together with participating students from INTI International College Subang
Frederick Lo, Lecturer of Global Perspectives in Economics at INTI College Sabah, commented, "Working with UBER was an exciting experience for our students. Not only are they a young and vibrant organisation, but they also cater to the lifestyle and interests of today's generation. Teaming up with them enabled us to diversify the types of industries and organisations our students were exposed to while at INTI, and broadened their options for their future careers."
The two month long project was simultaneously launched across three of INTI's campuses, including INTI International College Subang, INTI International University, Nilai, and INTI College Sabah. At the end of the project, students were required to present their proposals to UBER Malaysia's Head of Marketing & Partnerships, Lakshmi Patmarajah, as well as representatives from UBER's management team.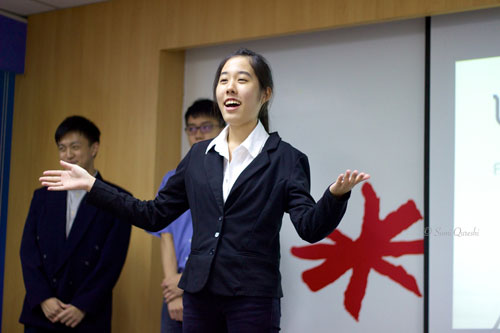 Students from INTI INternational College Subang presenting their advertising proposals to UBER Malaysia
INTI's collaboration with UBER was made all the more relevant as it aligned classroom learning to actual hands on practice of subjects being taught. Across the three campuses, four specific classes focusing on business, advertising, economics and creative thinking skills were selected to carry out the projects, creating a holistic understanding for students spanning theory to practice.
Frederick explained, "The projects correlated well with those subjects, and empowered students to expand their creative thinking skills in developing their proposals. We were pleased to see these students pushing the envelope not only in researching the information they needed, but also in understanding UBER's culture and direction. Many teams also took the extra step to leverage various technologies, giving a professional air to their final presentations."
"Our goal at INTI is to not only provide students knowledge but to prepare them for the demands of the working world. As competition increases to hire the best and brightest, we strive to match graduate outcomes with employer expectations. The exposure to employer projects such as those with UBER enriches our curriculum and better prepares our students for their career needs tomorrow," he concludes.