As part of its ongoing bid to promote the development of work-ready skills in higher education, INTI International College Subang Jaya participated in the HSBC Case Study Competition, a programme aimed at bringing together students from the best institutions of higher education in Malaysia to showcase their ability to apply quantitative, qualitative and communication skills when evaluating business cases.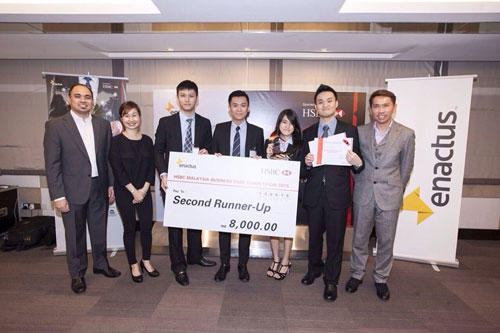 HSBC Competition_INTI Students win second runner up
The competition, which kicked off with a two-day training workshop in Cyberjaya saw the participation of 16 highly competitive institutions, and ran over a course of two weeks starting with the Preliminary competition in Istana Hotel Kuala Lumpur on 29 April 2015, the Semi-finals on 6 May 2015 and Finals on 7 May 2015, both in Best Western Hotel, Petaling Jaya.
INTI was represented by four dynamic University of Hertfordshire undergraduates, namely: Nicole Chew Ye Tung and Loh Khai Ren, Bachelor of Finance; and Lee Kok Meng and Justin Yong Quo Li, Bachelor of Marketing. INTI successfully completed both the preliminary and semi-final stages of the competition and moved into the final leg to compete with Nottingham University, Monash University and Sunway University.
Commenting on the competition and the oppprtunity to learn directly from industry leaders, Nicole Chew shared, "This was an invaluable experience as we were not only able to mingle with professionals, but also work with them. Through their guidance we learnt how to analyse cases, make well-thought decisions and develop our presentation skills. The opportunity not only taught us these vital skills but also allowed us to network with these potential future employers."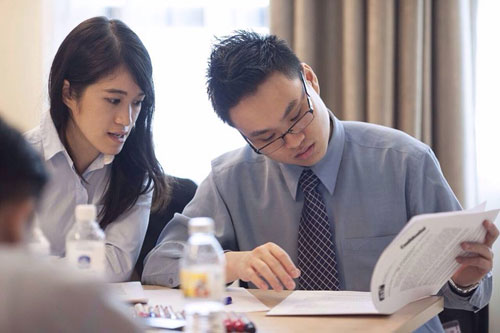 HSBC Competition_INTI Students preparing for their case presentation
INTI's team emerged as the Second Runner-Up in the competition, securing the prize of RM 8,000.00 and greater share of confidence from presenting their findings to the judges as well as top corporate heads.
"The key skills I learnt from this competition was the need to be versatile and adaptable, not only in working through the different case scenarios, but even more so in addressing and responding to our judges who were from various backgrounds," Justin Yong explained. "Participating in the competition really showed us how developing the ability to collaborate, creatively respond to challenges and to critical asses varying scenarious are the foundations to success."
The popularity of programmes such as the HSBC Case Study is evidence of the crucial skills employers are now looking for even among students in higher education. Through its focus on developing students' abilities to collaborate, critically assess challenges, create suitable solutions and clearly communicate their ideas, INTI is providing young people the edge not only for their success in competitions, but also in their future careers.